Rita's, restaurant review: A bold adventuring in unfamiliar territory - but you may need to consult a dictionary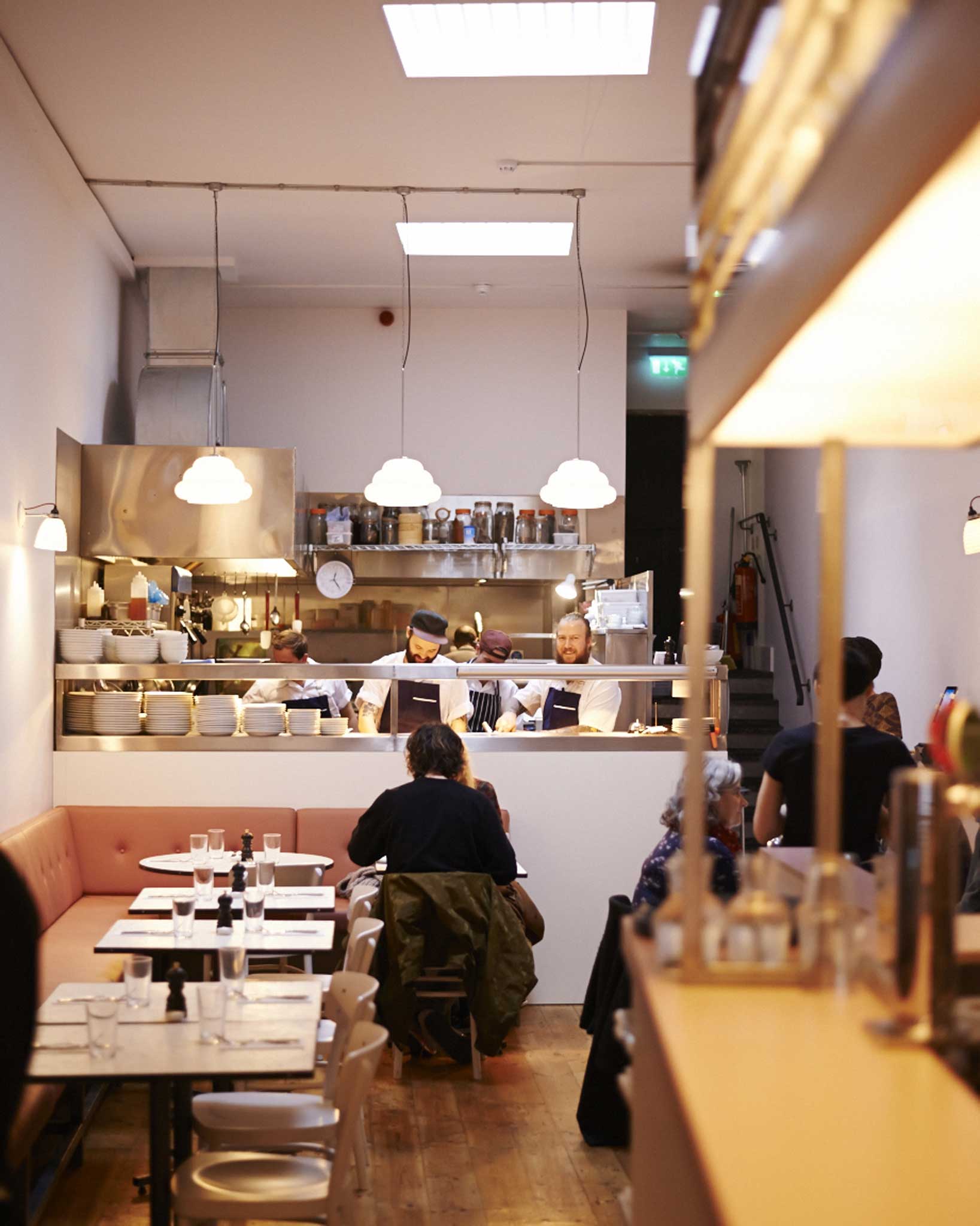 I don't know about this no-bookings policy that's taken over the capital's eating houses. What's the protocol? Do you ring and say, "I know I can't book a table, but I thought I'd mention that we're coming to your restaurant tonight and, er..." or do you walk in, in your eating-out finery, and say, "Hi! We were wondering if we could have dinner this evening. What, you have none free? Oh right..."?
I tried the walking-in-off-the-street approach last week and frankly it didn't work. I had the recommendations, the address, the press release, everything; the only thing I didn't have was a means of getting in. There was this big shutter, you see, with the restaurant's name on it in huge, theatrical letters as though on the safety curtain of a West End show – but this iron curtain wasn't going to rise any time soon.
What do you do, at 8.35pm in trendy E8, with two children to feed and no idea where to find a place worth reviewing? You hit the phones, monster your foodie pals and ask for advice. We rang three recommended restaurants, but they were full up. At the fourth, the front-of-house lady was briskly unhelpful when I explained that I was a reviewer desperate to find a suitable, you know, victim.
Then someone mentioned Rita's in Mare Street. I'd heard about Rita's. It used to be a pop-up kitchen in the Birthdays Bar in Dalston, offering American-grunge dishes like Southern-fried chicken roll in a bun; but in November it found a proper home in Hackney. The ubiquitous Jackson Boxer, from the Brunswick House Café, is a consultant. The chef, Andrew Clarke, came on board from The Salt Yard, the up-market, Spanish-Italian tapas joint in Goodge Street.
We rushed over. It's not prepossessing at first sight, because it's a thin, train-carriage of a place, with white walls, high stools, a blackboard menu and a view of a glamorous dining area beyond the bar. What you mainly notice is the buzz. The music of humanity is in force at Rita's, yakking and gossiping at volume.
Mr Clarke – a vivid, spade-bearded, tattooed presence like a jovial Hell's Angel – is clearly obsessed with Asian, especially Chinese, Japanese, Korean and Thai, cuisine. He offers 'fusion' food that's seldom been seen before: braised goat tacos, miso grilled aubergine, ox cheek with nam prik pla. He loves foreign words like calcots, toban, sriracha, congee and blintz, chucking them around like a drunken lexicographer.
A commitment to hefty flavours was apparent from the start, soy and ginger hot chicken wings were a tangy dream of Shanghai backstreets, all spice and suck and burnt lips. Poached calcots (they're Catalonian scallions, somewhere between spring onions and leeks) with minced pork brought a balance of allium pungency with piggy roughness; I wasn't keen on the Szechuan pepper squid, which seemed bizarrely sweet (but my young companions loved it).
The mains arrived with indecent haste while we were still polishing off the starters. I ordered, mostly from curiosity, the barbecued Szechuan lamb ribs with chicoria, fermented bean curd and buttermilk (had Mr Clarke been raiding the Chinatown supermarket?). Lamb ribs are big on bone and short on lamb, but these were as meaty as pork belly: soft, unctuous, cooked for ages on a low flame, the flavours conducted through pipes of white muscle.
Albert's chopped rabbit with wild garlic, peas and salami was a handsome, gutsy dish. "The rabbit's very chewy, but not in a bad way," he mused, "and the peas and salami go together just fine." Sophie's ox cheek, miraculously tender and blackened outside, startlingly red inside, reared like a fortress out of a rice-and-barley paddyfield – a 'congee', or south China porridge, non-specific-umami gloop that was oddly comforting. Mustard greens were sharply tasty; purple sprouting broccoli, cooked with miso butter, seemed a little soggy and sad.
Rita's selection of puddings don't do anything as conventional as crème brûlée or tiramisu. Here, instead, is 'Coconut lemongrass pudding with Avion mango'. Here's the Argentine favourite, dulce de leche beignets – but for an extra quid you can have a topping of foie gras. Yum. It reminded me of the salsicche at Bocca Di Lupo, which was a chocolate mousse with black pudding, but I didn't have the nerve to try it. Instead, I had a crème caramel which was fine, though I resented the presence of a praline in its depths. Crème caramel absolutely does not benefit from balancing crunchiness.
I was grateful for the serendipitous route that brought us to Rita's. Dinner here is a journey through weird sights and tastes, a bold adventuring in unfamiliar territory, steered by a charming and welcoming crew. But you may need to consult a dictionary back home, to find out what you've been eating.
Food ***
Ambience ***
Service ****
Rita's,175 Mare Street, London E8 (020-3096 1530). Around £85 for two, including wine
Join our commenting forum
Join thought-provoking conversations, follow other Independent readers and see their replies