The Begging Bowl, restaurant review: Thai street-food heaven in south-east London
The Begging Bowl, 168 Bellenden Road, London, SE15 tel: 020 7635 2627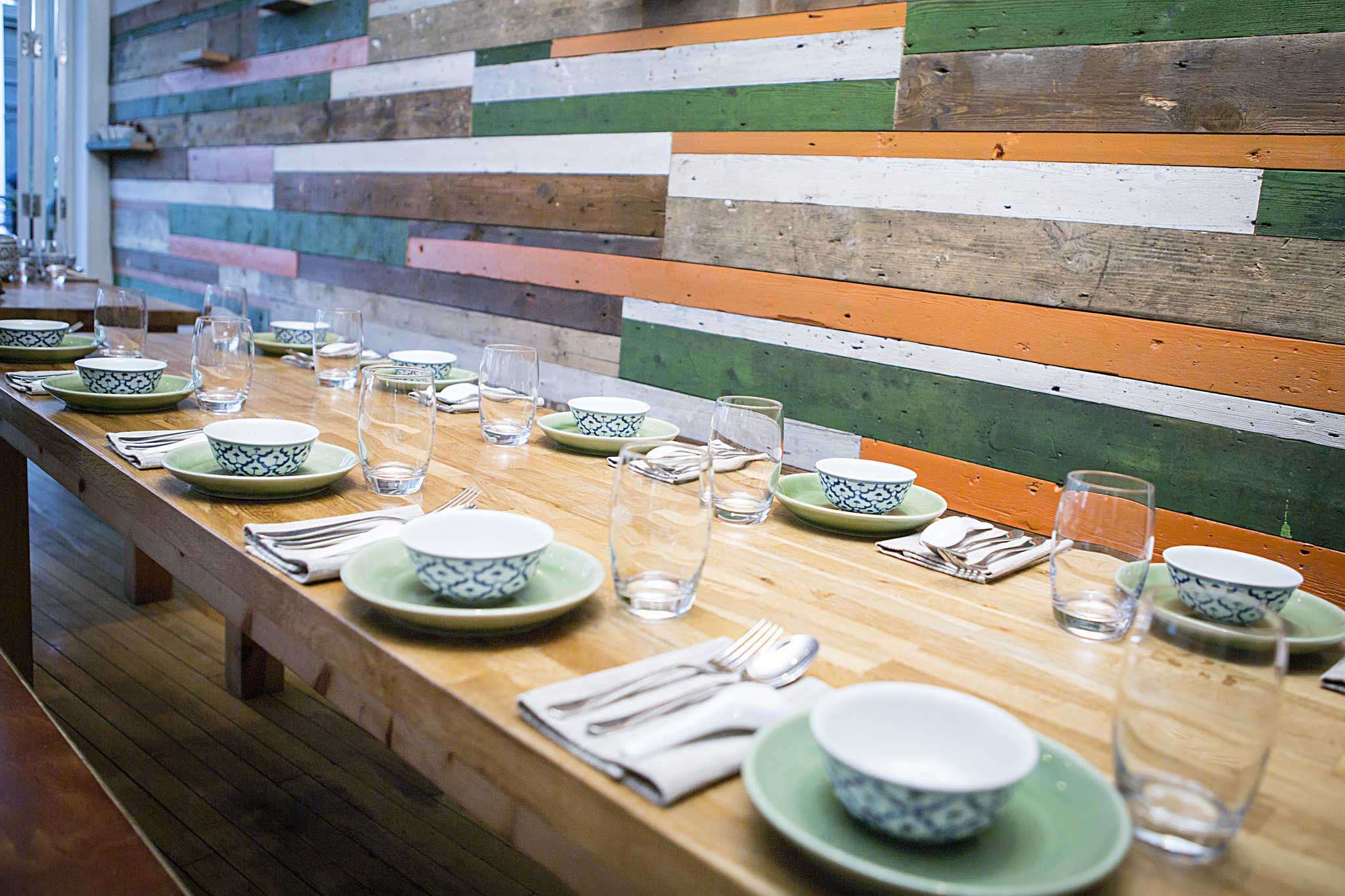 A hot dusty journey back from the seaside and a surfeit of ice-cream led Mr M and me to one thought: spicy food. There's nothing finer for blowing away the tastebud's cobwebs and for making summer feel RIGHT HERE than hot and sour soups, crunchy peanut-encrusted salads and rich coconut curries that bring out beads of sweat on the brow.
But where? There's a terrific Thai café near our house but there's several miles and a taxi-roadblock between us and it. We'd seen a fun-looking place in Hove, where we'd just been (see below), but turning back is insanity. Then we remember the smugness with which our south-London-dwelling friends have been going on about their array of local restaurants. One of these is The Begging Bowl, a Thai-street-food place in Peckham. So that's that.
We crawl along the road, looking for one of those undistinguished plain fronts that the best Asian cafés seem to have. We stop at a leafy corner restaurant with abundant plants out front and wooden benches to ask where it is – it is, of course, The Begging Bowl, as a discreet sign on the wooden verandah reveals.
And perhaps it's the sunny day, or the relief at being out of the car – or genuinely the look of the place – but we feel instantly relaxed.
We've got in just under the wire, as lunch is served till 2.30pm and no matter how many strollers-by stop and ask for a table, they stick to it. That shows confidence radiating from the tiny kitchen at the back of the light, airy room.
Soon after that, the unmistakable sound of woks in action kicks in: we've ordered five dishes from the 12-item menu, colour-coded for prices. (Dishes are for sharing. Yes, I know I grumbled about these the other day, but the glory of spicy food is in the dipping in and out of the heat; sharing is perfect for that.)
First up, a green curry with poached chicken, baby corn, pea aubergines and Thai basil – what elevates it stratospherically from the norm are the beautifully cooked chicken – in tender, properly cooked slivers rather than depressing waxy cubes – and the intense sour spicing that give my mouth an internal goosebumps moment. That unmistakeable whack of lime and fish sauce, chilli and coriander in a murky muddle – wow.
I dip from this into a delightfully huge and juicy green papaya salad – the strips of tangy fruit and heaps of peanuts make a soothing crunch (not quite so sure about the random tomato…). Each of these is £10.50 and definitely big enough for sharing. The salad comes with – if you like – four huge, unctuous chunks of sticky pork belly.
Having not clocked that, we've ordered pork shin, slow-braised in cassia bark, dark soy, star anise, with pickled mustard greens and a duck egg. Oh good grief, it's great. It's earthy and stringy and pungent, all good things in a dish such as this.
Rounding things out, two veggie dishes (each £6.25) also above and beyond. Stir-fried asparagus with garlic and soy is a crisp, subtle delight and "sweet potato, sweetcorn and turmeric fritters", which turns out to be one big tangle of crisp strips of lurid orange, dotted with kernels of corn. It looks a bit like one of those 3D kids' toys that expands and contracts – this one only contracts, straight into our mouths, with a peanutty sweet chilli sauce.
Sweet, sour, salty, rich: all the greatest hits are here, and did I mention that the £1 portion of jasmine or sticky rice is limitless?
We've slaked our thirst with the local brew, Peckham IPA. If we'd come at nighttime, when things are – locals tell me – very busy as there are no reservations, we could have had a discounted pint at the pub down the road and received a text message when a table comes free.
With service like that, New Zealander chef/owner Jane Alty and team seem to have it sussed. Later, I discover that she's worked with the don of Thai food, David Thompson, which explains the imaginative menu.
A bit more attention to details such as replacing the chipped bits of pretty china and picking up litter under the pavement tables, and there'd be nothing to fault. Certainly I'd come begging for more (groan).
8/10
The Begging Bowl, 168 Bellenden Road, London, SE15 tel: 020 7635 2627. Price: £50 for two
Four more things I've been eating this week
Ice-cream
After extensive research, I can confirm that there's no finer ice-cream in London than at Gelupo, Jacob Kenedy's Bocca di Lupo spin-off.
Unithai
Liked the look of this tiny Thai supermarket-cum-café in the back streets of Hove but it was 10am, too early for spicy noodles. Seaside friends say it's fab.
'Love your lunchbox'
Supperclub entrepreneur and author James Ramsden comes up trumps again with a book full of delicious, unusual dishes to end sandwich ennui.
Summer parties
I was surprised and delighted to find bright, beautiful and cheap trays in Ikea that would make great plate/drink holders for guests.
Join our commenting forum
Join thought-provoking conversations, follow other Independent readers and see their replies