The Butley Orford Oysterage, restaurant review: The menu is resolutely untrendy
Christopher Hirst reviews a Suffolk oyster and fish joint that continues to do the simple things very, very well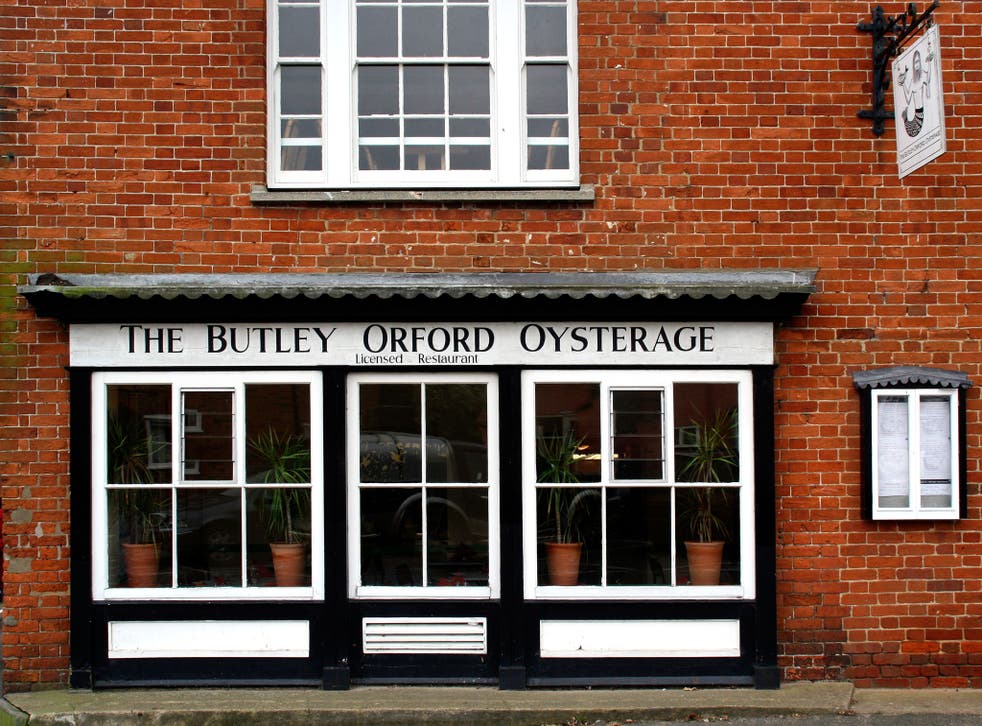 Described in Pevsner as an "extremely pleasant brick and timber village", the Suffolk community of Orford also boasts eye-catching defences both ancient (12th century keep) and modern (abandoned atomic weapons research establishment). Despite such attractions, most people come here for the food. There's the excellent Pump Street Bakery & Café in the village square, and Ruth Watson of Hotel Inspector fame rules the range at the Crown & Castle Hotel. But the greatest lure is the near-legendary Butley Orford Oysterage.
It came as a shock to realise that, despite being a regular visitor to the Suffolk coast, it must be 20 years since I last ate at this temptingly named (at least to lovers of the bivalve) institution. A lot can happen to a restaurant in two decades. Cooks move on, owners sell up, ridiculous novelties oust old favourites. I need not have worried. The Oysterage has changed scarcely a jot. The oysters (£16 a dozen) still come from Butley Creek, where the Pinney family has been farming them since 1959, while the smoked fish comes from Pinney's Orford smokehouse and much of the white fish (Dover sole, skate, sea bass) is caught by the restaurant's brace of day boats. The cuisine remains resolutely untrendy. The moules are marinière, the cod parsleyed.
Though my wife Alison maintained that the metal-framed wooden chairs were an innovation, they struck me as being pretty much what you might have found in a junior school c.1959 (you don't come to the Oysterage for luxurious fittings). No matter. On a dreary Thursday lunchtime, the dining room overlooking the village square was packed, mainly with couples of a certain age, obviously devotees of good value. One such pair seated near us tucked into potted shrimps with obvious gusto.
Alison embarked with angels on horseback – three for £7.50. I've often heard of this Thirties classic but have rarely encountered it in the flesh, which specifically is oysters wrapped in rashers of smoked bacon.
Nibbling a generously donated one-third of her portion, my palate was transported by the marriage of salt and sweet. My starter was smoked fish hors d'oeuvres (a hefty £13.80 but it would happily serve two) consisting of folds of subtly smoked salmon, smoked mackerel, smoked prawns (five), a long stiletto of smoked eel given a stab of heat by horseradish sauce, fresh oysters (three) and a bulging lump of smoked cod's roe. The latter came with a dab of thick, translucent mustard sauce (I doubt if our household is the only one to refer to it as "earwax") that is Pinney's own invention. Together they form one of the world's great gastronomic combinations, up there with pork pie and mustard or sushi and soy sauce.
When a main course of skate wings in a generous pool of brown butter and caper sauce was placed before her, Alison sniffed the caramelised fumes like a Bisto kid. "Mmm – smells like toffee." The wings were prodigious, around an inch thick and packed with flesh between their cartilaginous fronds. "I love them!" My Dover soles (two) were firm, plump and deeply satisfying. The Oysterage is one of the few places that still supplies fish knives. Despite Betjeman's affectionate put-down of this bourgeois accessory ("Phone for the fish knives, Norman"), they did a fine job at extracting the flakes. The solitary accompaniment to both dishes was a few new potatoes, but what else do you need? It was as if we were eating a simple meal cooked by the fishermen who caught the ingredients, which was, of course, pretty much the case.
At the next table, the potted shrimp couple moved on to the "Griddled Selection" (prawns, squid, sardines and mussels) with equal keenness. Amid much backslapping and hilarity, a party of four middle-aged men, possibly a school reunion, paid their bill. "It's worth turning up every year just to eat that," one announced. (Skate wings.) It is hard to think of many other restaurants that prompt such enthusiasm.
After this fishy onslaught, which left me feeling a close kin of the scaly-tailed merman who is the symbol of the Oysterage, we were about to turn down the substantial desserts (sticky toffee pudding, treacle tart) until I discovered that they included the glacial nonpareil made by Criterion Ices of Bury St Edmunds (formerly Sydenham where they were regularly patronised by this reviewer). The vanilla and pistachio proved to be every bit as good as I remembered.
Any oyster lovers bemused by my meagre mollusc intake should rest assured that I made up for it with a takeaway of 48, at £7 a dozen, from Pinney's shop at Orford harbour. Is there a better way to spend £28?
Food ****
Ambience ***
Service ****
The Butley Orford Oysterage, Market Hill, Orford, Suffolk IP12 2LH (01394 450277). Around £20 a head, before wine and service
Register for free to continue reading
Registration is a free and easy way to support our truly independent journalism
By registering, you will also enjoy limited access to Premium articles, exclusive newsletters, commenting, and virtual events with our leading journalists
Already have an account? sign in
Register for free to continue reading
Registration is a free and easy way to support our truly independent journalism
By registering, you will also enjoy limited access to Premium articles, exclusive newsletters, commenting, and virtual events with our leading journalists
Already have an account? sign in
Join our new commenting forum
Join thought-provoking conversations, follow other Independent readers and see their replies