The Cobbles Inn, 7 Bowmont Street, Kelso, Scotland
Our critic scours Kelso for a restaurant as special as its surroundings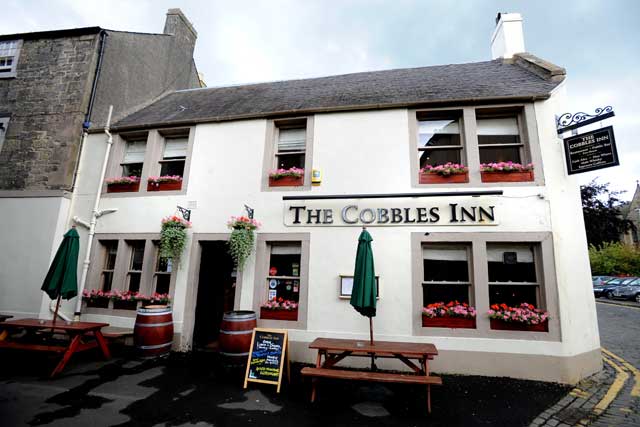 Sir Walter Scott, a man whose judgement on these matters can usually be trusted, described Kelso as "the most beautiful if not the most romantic village in Scotland". This is pleasantly ironic given the only reasonable way to describe its central square is French. Aside from the large, ugly hotel, there are enchanting tea rooms, under-the-arches tables, and hunched tenements redolent of nothing so much as little Condom or Montreal in Agen, halfway between Toulouse and Bordeaux, rather than halfway between Edinburgh and Newcastle, as this is. Then there are the cobbles.
This vast sea of stones, each one a painful protrusion from the earth but, collectively, a joyful massage to the feet, gives the small town a rustic civility. When we arrive it is lashing with rain, gloomy above (despite the long evenings at this latitude), and precisely the kind of inclement weather to make the always-cheery Celeste, our eight-month-old companion, rise from her slumber and threaten violence upon the ears of her parents, our fellow diners tonight. Fortunately, just off the main square, The Cobbles Inn – which began life as a Victorian coaching inn – offers salvation.
There is a main bar on the right as we enter, offering casked local ales and single-malt whiskies devoured by locals, who clearly took refuge from the rain several hours ago, so crimson are their faces. To the left, a carpeted eating area unfolds, revealing a bevy of elderly Scots whose uproarious laughter stops us from feeling as though we have entered a retirement home. Celeste, the only under-25 around tonight, is an instant hit with both the locals and the attentive waiting staff, which leaves us with an immediately overwhelming feeling of being cared for.
The set-price dining menu is about the right length – four starters and six mains plus desserts – and not a bad price: £15.95 for a main only, £20.95 for two courses, and £24.95 for three. Among the starters, an oak-smoked salmon, spinach and cream-cheese roulade, which comes with pickled-cucumber salad and tarragon oil, is an avalanche of flavours when a stream would do. The salmon is of itself excellent, but the cheese is too determined to dominate, so the poor tarragon oil doesn't get a look in. There is also a whole roast tomato with feta, chorizo and balsamic dressing, which similarly doesn't quite hold together. Again it is not especially bad, but the tomato tastes more microwave-heated (not that it was) than cooked through.
The main courses go into a higher gear. Iestyn's marvellous spatchcock poussin with lemon and honey glaze has the clever accompaniment of wedges, with fennel and red pepper "slaw", though why they bother Americanising coleslaw in this part of the Borders I've yet to discover. I can well believe my local pork belly is "twice-cooked", because it is a fraction too dry; but this can be forgiven given the beastly quality of the Stornoway black pudding, as full of flavour as I've had, and a very decent mustard mash with cider jus.
Ella and Charlotte have a rib-eye and sirloin steak respectively, for which there is a £5 supplement, and both are cooked as requested and delivered in a hot peppercorn sauce. Ella has had her eye on the beer-battered onion rings (£2.25) from the minute we walked in, and now that these elliptical wonders have turned up the locals have at least two new friends for life. Proper onion rings are an endangered species, and those whose batter tastes of a flavour beyond grease rarer still – but here in Kelso they are thriving. The house salad, though, is a little limp and obvious, with wedges of tomato thrown against bland lettuce.
The best is saved to last. A mango panna cotta and coconut macaroon and a rhubarb-and-strawberry sorbet are both superb, but the ginger-and-date pudding with toffee sauce and vanilla ice-cream is exceptional, regardless of whether you take it with one of the two dessert wines on a modestly priced list.
Kelso is unique among Scottish towns in having a cobbled square fed by four cobbled streets. As we emerge from this adjacent inn, it is darkness all around, save for lampposts peering over the square. They give such a lovely light. The whole town suddenly feels overcome by an enchanting solemnity, and you can see precisely what Sir Walter meant.
7/10
Scores: 1-3 stay home and cook, 4 needs help, 5 does the job, 6 flashes of promise, 7 good, 8 special, can't wait to go back, 9-10 as good as it gets
The Cobbles Inn 7 Bowmont Street, Kelso, Scotland, tel: 01573 223 548 Lunch and dinner, Tuesday-Sunday. About £170 for four, including wine
Scottish sensations
La Potinière
Main Street, Gullane, East Lothian, tel: 01620 843 214
The cooking at Keith Marley and Mary Runciman's traditionally styled restaurant can be excellent
Glenapp Castle
Ballantrae, south Ayrshire, tel: 01465 831 212
A magnificent-looking castle with top-flight cuisine, professional service and lovely reception and dining-rooms
Braidwoods
Drumastle Mill Cottage, Dalry, Ayrshire, tel: 01294 833 544
A wee, converted cottage on a hillside, serving the best food in Scotland (well, nearly) – the cuisine at Keith and Nicola Braidwood's tremendous, friendly restaurant simply never disappoints
Reviews extracted from 'Harden's London and UK Restaurant Guides 2011' www.hardens.com
Join our commenting forum
Join thought-provoking conversations, follow other Independent readers and see their replies