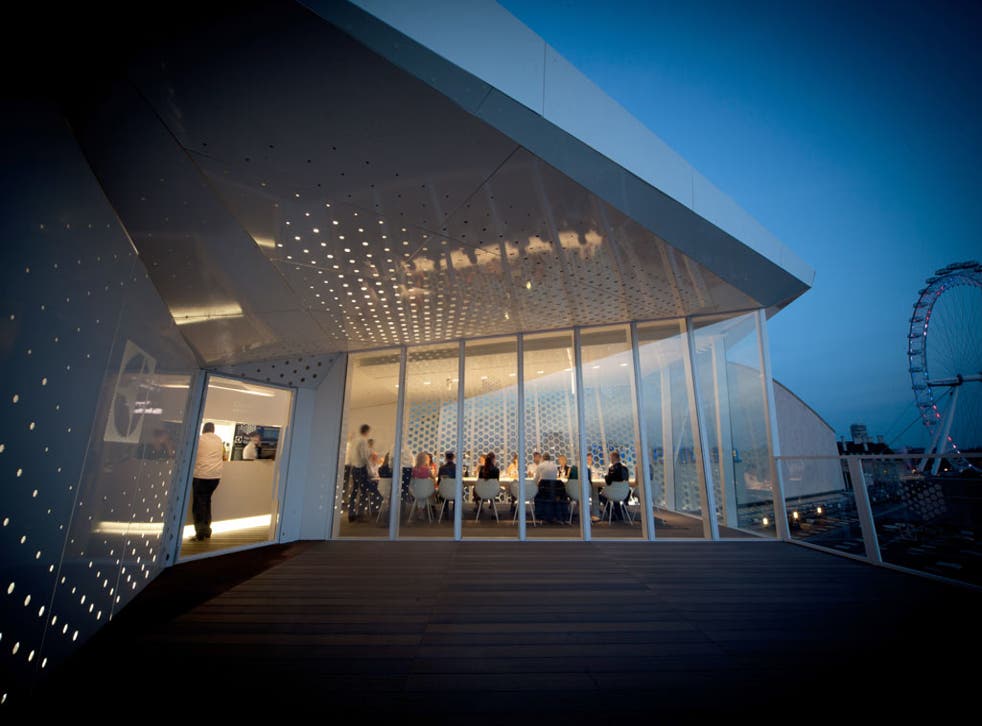 The Cube by Electrolux, The Royal Festival Hall, London, SE1
With prices as high as its position above the Thames, are you ready to enter The Cube?
Lisa Markwell
Wednesday 27 June 2012 22:51 Comments
The list of restaurants doing well in the teeth of a recession is astounding. At one end, the bright and breezy, cheap-as-chips (but far tastier) street-food-inspired places. At the other, the extraordinarily ritzy places are packing them in, too. For these, reservations are necessary and best made months in advance.
So where does a place that is temporary but very, very expensive fit in? I'm about to find out. The Cube is a pop-up restaurant that has already popped up in Stockholm, Milan and Brussels; it is a concept created by the Electrolux brand to show off its birthday: it has been creating slick kitchens for 90 years.
If all that sounds a bit corporate and dull, it's not. The space, for one thing, is pretty dazzling. Perched above London's Royal Festival Hall, the white box has joyous views out across the Thames. You find it via a fire exit and a windswept walkway. Inside is brilliant white, from the walls to the table to the equipment.
Also dressed in sparkling white is Sat Bains, who's knocking up a few dishes this evening. Electrolux has invited a selection of stellar chefs to cook in rotation, including Tom Kitchin, Claude Bosi and Daniel Clifford. For Londoners, it's a chance to experience Michelin stars from other parts of Britain. For the chefs – well, there are the views, and the bonkersness of cooking in a box.
I've wanted to taste the cooking of Bains for ages but not found a sneaky window to get up to Nottingham. Now here he is, grinning and pressing a glass of NG7 2SA into my hand. Eh?
It's the start of a whirlwind tour of Bains's inventive, eclectic dishes. The menu reveals, by way of different coloured and sized dots, what is salt, sweet, sour, bitter and umami in flavour for the seven courses ahead. And the name of the welcoming cocktail is, of course, the postcode of his own restaurant. It's pretty complex from the off – the glass fizzes with an aftertaste of lovage and lemon balm as the 18 guests take their seats at one long table.
How you feel about paying north of £200 to sit next to a stranger will define your evening. But this is as much fascinating theatre as it is dining out, and my justification (OK, it might be a bit of a stretch) is that on the strength of this, a visit to Nottingham for those of us outside striking distance is to be arranged at speed.
So, hunker munker with affluent foodies, I experience such delights as a horseradish pannacotta topped with wild-garlic soup, the heat of the latter muddling them deliciously. Then scallops seared on one side, with elderflower mayonnaise (nicer than it sounds) and a basil-and-strawberry sauce that teeters on too sweet. It is testament to Bains's skill that it comes off.
A blackened leek purée is a sinister backdrop for a ragu of spring lamb, but blobs of lemon purée elevate it and highlight the flavour of the meltingly soft lamb. More and more arrives but – for brevity – here's a high and a low of the seven courses. A small bowl of Jersey royal potatoes with dashi, pork fat, ham and pickled shallot is, well, nasty. The little spuds are a bit too firm to enjoy, and the fat not quite rendered enough to lose its chew. It's the one plate I don't consider licking clean. But each dish has been accompanied by an excellent wine and the highlight is a Lachamte sparkling sake served with a treacle sponge that tastes like pine-scented paradise and stops everyone in their tracks.
By then I'd been blindsided by a Banbury cake with a hefty slab of Beauvale cheese (a blue from the butter people making their first foray into cheese) and a port syrup, then a dainty chocolate "cake" (more of a ganache) topped with cleansing yoghurt. Notes here descend into "mmmnnnn".
Did we need a top-up of whichever wine we liked best and a home-made raspberry "mivvi"? We did not. But in our cups, in our Cube, this collection of diners wanted the night to go on and on. Bains is still grinning at the end of the marathon and heading, in a neat circle of "what's hot", to the queue-ridden, fast-turnaround burger shrine MeatLiquor.
If you can save up, you're in for something unusual and exemplary at The Cube. It's in London till September and Sat Bains is back later in the run.
8/10
Scores: 1-3 stay home and cook, 4 needs help, 5 does the job, 6 flashes of promise, 7 good, 8 special, can't wait to go back, 9-10 as good as it gets
The Cube by Electrolux The Royal Festival Hall, London SE1, tel: 020 7288 6450. Open daily, lunch at 12pm, £175; dinner 7pm, £215 (price includes champagne reception, minimum six-course tasting menu and matched wines)
Sky-high rooms
Ashmolean Dining Room
Beaumont Street, Oxford, tel: 01865 553 823
Overlooking the rooftops of Oxford, you can't beat the view from the airy top-floor dining-room of the famous museum
Hall & Woodhouse
1 Old King Street, Bath, tel: 01225 469 259
This spectacular conversion of Bonhams' old auction rooms features a magnificent staircase leading to an always buzzing stunning roof terrace; a good place to meet up, even if the food can be unexciting
Panoramic
Beetham West Tower, Brook Street, Liverpool, tel: 0151 236 5534
The views from this 34th-floor eyrie are fabulous, and the food is excellent; prices, though, can be daft
Reviews extracted from 'Harden's London and UK Restaurant Guides 2012' www.hardens.com
Register for free to continue reading
Registration is a free and easy way to support our truly independent journalism
By registering, you will also enjoy limited access to Premium articles, exclusive newsletters, commenting, and virtual events with our leading journalists
Already have an account? sign in
Join our new commenting forum
Join thought-provoking conversations, follow other Independent readers and see their replies