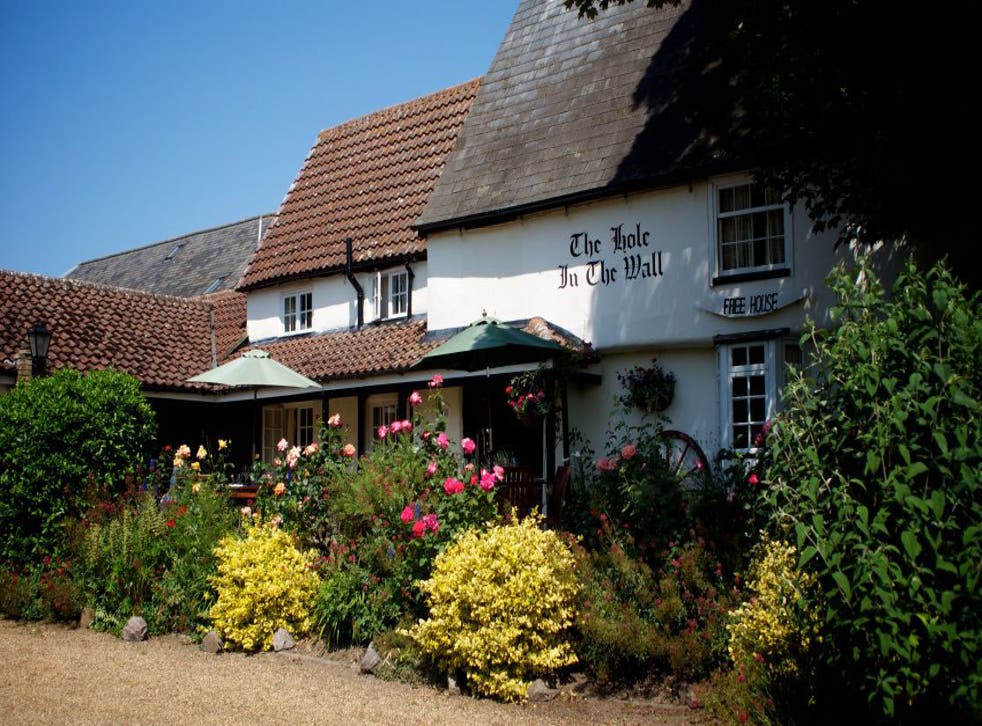 The Hole in the Wall, restaurant review: A MasterChef graduate plays an irresistible hand
According to reports, Alex Rushmer and Ben Maude met as freshers in Trinity Hall, Cambridge, in October 2002, which means we probably have a huge number of mates in common. I was at a different college, but a few of my dearest and nearest were at Tit Hall, as it's widely and chauvinistically known, which means that when the fateful meeting between these two took place, my friends were probably just metres away, dressed in a toga and carrying a bong.
I say the above as a disclaimer, because while Rushmer and Maude haven't gone very far geographically, they have come a very long way professionally, and now run what must be one of the best country pubs in England. The Hole in the Wall in Little Wilbraham, a soporific village between Cambridge and Newmarket, does food that is technically exceptional, deserving of a Michelin star, unusually affordable, and served with panache in a setting that oozes charm. And I say all that despite, rather than because, of the probability that our social networks intersect.
By unusually affordable, I am referring to a £45 tasting menu of seven courses, or an à la carte menu with starters ranging from £6 to £9 and mains from £13 to £22. This is astonishing value - and all the more so at lunch, when two courses are £16 and three courses are £18. Frankly speaking, I'd be surprised if the prices stay in this territory for very long.
Each course of the tasting menu has countless parts. First up is curried parsnip soup that is thick and spicy, and comes with potato crisps that are blissfully free of grease. This is followed by a gluten offensive: tomato-and-oregano focaccia, black-treacle soda bread and poacher butter. Individually, these elements are superb: the focaccia is imbued with a musty, Mediterranean odour, and the black treacle is sweet without being sickly. My only gripe: why have this as a heavy second course? Better, I think, to stick with the light stuff at this point - especially given what's still to come.
This includes a magnificent offering of cauliflower florets with seriously smoked goat's cheese, which has a smooth, pasty texture, and then a beautiful, delicate square of sea-bass fillet with crunchy khaki-coloured kale and onion. I wouldn't have thought to put these elements together, but they work very well, the flaky fish acting as a warm anchor.
Perhaps the best course, however, is the beating heart of the tasting menu: duck, pickled cucumber and spiced caramel. Two things strike me about this dish. First, it reminds me of a similar plate I once had at Dabbous, the brilliant restaurant in the heart of London. Second, this was the dish that made Rushmer famous, as a MasterChef finalist in 2010. And with good reason: it is very hard to fault, and very easy to eat.
By now the going is pretty heavy, and some light relief is welcome. It comes in the form of a lemon and Earl Grey posset with fennel, a silky mixture of bergamot and aniseed flavours that sit in very happy union, while being mildly sweet. That prepares our palates for a tub-thumping dessert course of exquisitely poached pear, somehow hard and soft at the same time, with white- and dark-chocolate cubes. All of which is a preparation for a toy playground of sugar-coated doughnuts, which in turn is a preparation for a spot of liposuction at nearby Addenbrooke's hospital, should you now need it.
No tasting menu is designed to leave you hungry, but it is fair to say that this one has left us fuller than most. If you get the matching flight of wine, at £35 per head, as we did, you'll be even more appreciative of what is a very smartly put-together nine courses, rather than outright sozzled.
The Hole in the Wall satisfies four of my abiding loves - a proper English pub, Cambridgeshire, fantastic food, and real value for money - and all under the aegis of two young guns who appear to have real star quality as both entrepreneurs and gastronomes.
I get the impression that you'll be hearing a lot more from Rushmer and Maude - and not just on this page.
8.5/10
The Hole in the Wall, Primrose Farm Road, Little Wilbraham, Cambridgeshire. Tel: 01223 812 282. £160 tasting menu for two, with wine
Four more things I've been eating this week
DASSAI SAKE: At a dinner for the Japanese Prime Minister, we had special bottles of this stuff: think sake mixed with champagne. Think boozy.
BIRCHER MUESLI: I generally try to avoid breakfast, but if needs must, this is now my default option. The Delaunay does a wonderfully rich version.
BACON & LENTIL SOUP: Soup really is magic: tastes like a whole meal, sod-all calories. M&S does an exceptional range, of which this is my favourite.
LADY GREY TEA: Perhaps the greatest of all tea flavours, less smoky than Earl Grey with lemon or orange oil. Makes a Saturday morning.
Join our new commenting forum
Join thought-provoking conversations, follow other Independent readers and see their replies