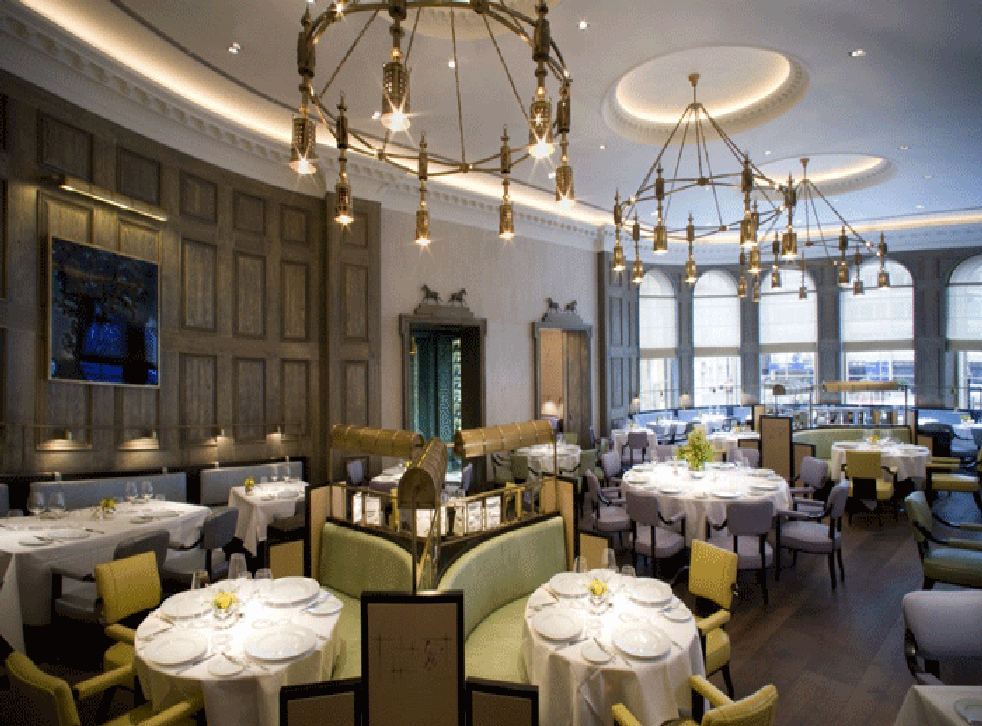 The Landau, Langham Hotel
1c Portland Place, London W1 (020-7965 0165)
The Langham Hotel was Europe's first deluxe hotel when it opened in 1865, half a century before César Ritz thought of opening a place bearing his name at the vulgar end of Piccadilly. The Langham invented several things (such as thick carpets in the bathrooms) that defined luxury in the leisure industry. So when they open a flagship restaurant after a multi-million-quid refit, you know that it's going to be dead glamorous. When you arrive, you're met by a twinkling maitre d' who knows your name and the time your table's booked. He takes you past gorgeous glass cabinets displaying bottles of Côte Rôtie and Chateau Mouton Rothschild, and waves you into the dining room with its slightly strained décor: gilded wood panelling at one end, acid-stripped wooden doors hung with Japanese paintings of trees at the other. It seemed to have been dreamt up by two rival designers in the middle of a row. The clientele (who included Hugh Laurie, on a break from playing the croaky-voiced House in Los Angeles) looked well-heeled and well-tended.
The menu introduces you to head chef Andrew Turner's signature offering: the multi-course "grazing menu" which he pioneered at Brown's Hotel, Mayfair. "Grazing" means you're given five or six courses (£55 and £65) of miniaturised dishes from the à la carte menu, to nibble exquisitely, as though in a frighteningly chic tapas bar. My friend Angie and I went for the main menu, where starters are still a gasp-making £14 and £16, and main courses strain against the emotional barrier of paying £30 for a lump of fish, no matter how glamorous. The wine list offers enthusiastic lectures about each oenological region. Under "South America", it dilates at length about the wonders of Malbec; unfortunately it doesn't sell any Malbec.
An amuse bouche of smoked salmon arrived, arrayed two ways: rolled around some goat's cheese (perilously close to Marks & Sparks salmon '*' cream cheese) and puréed. I tried the pressed Landes foie gras and smoked duck, passion fruit and vanilla, and found before me a slab of smooth goose pâté with a mysterious grey line through it ("That's the duck," whispered the friendly waitress) and two fat, Paisley-pattern swirls of fruity, jammy stuff. With the jammy stuff, the accompanying brioche and a spoonful of onion marmalade, this was the most glutinously sweet hors- d'oeuvre I've ever eaten; the whiff of vanilla reminded me of Body Shop foot scrub. The Cornish crab with avocado, with lemon myrtle and pickled apple purée, meanwhile, cleverly resembled a teatime millefeuille, the avocado puréed to a sauce and laid on a small tranche of crabmeat. It tasted delicious, "but why," asked Angie, "is it sitting on a base of parmesan? Crab and cheese? That doesn't work at all."
I feel terrible about criticising two dishes over which such evident care had been taken, but the Landau, for all its grandeur and deluxury (the service was especially charming), values special effects over coherent cooking. My main-course rack of lamb featured gorgeously succulent meat, but came surrounded by an art gallery of weirdness, described as "Confit of Merton Farm mutton breast pudding, mint, artichokes and crispy organic hen's yolk". Is there a more off-putting form of words than "mutton breast pudding"? (It was a little suet pud, stuffed with some haggis-y mince.) Why the portion of lamb belly deep-fried in batter? As for the crispy egg yolk, which squidged out all over my plate – who in God's name decided that a dish of roast lamb chops was improved by a runny egg? Angie's Dover sole arrived looking "like a game of Go!" with six purple ovals (they were potato) ranged above the fish, and six teensy black cubes (were they gelatine?) below. The fish was boneless and resembled a steak – or, to be blunt, a Bernard Matthews turkey fillet. The waiter explained they used a special machine to debone fish, then they stuck it back together with "meat glue". Yeech. It was strangely tasteless, as if the machine had removed flavour along with the bones.
The only real success was a second amuse bouche, a slice of coconut that was actually a chocolate base with a coconut sorbet, a runny panna cotta and a slice of pineapple. Cleverness was, for once, put at the service of tastiness. We shared a caramelised Comice pear with milk and maple sorbet and hazelnut crumble: the pear was fine, the crumble a tiny slice and the sorbet indistinguishable from evaporated milk.
I'm probably the wrong diner for the disguise-everything, prestidigitatory cuisine of the Landau. Some people will, I'm sure, fall on its arty productions with glee. Others may find them the biggest waste of human ingenuity outside an advertising agency.
The Landau, Langham Hotel, 1c Portland Place, London W1 (020-7965 0165)
Food:
Ambience:
Service:
Around £180 for two with wine
Side orders: Hot hotels
Rhodes W1
With a perfect balance of flavours and textures, the cooking at Gary Rhodes's Michelin-starred London outpost at the Cumberland Hotel is faultless - and matched by a suitably opulent Kelly Hoppen-styled interior. Prices are predictably high: three courses cost £45.
Great Cumberland Place, London W1 (020-7479 3737)
Alain Ducasse
The Alain Ducasse empire marches on with this extremely luxurious Gallic dining room at the Dorchester. Expect formidable French food with a twist, sky-high prices and the odd strange design flourish. Watch out for a la carte supplements, though.
53 Park Lane, London W1 (020-7629 8888)
Locanda Locatelli
The A-list can't get enough of Giorgio Locatelli's deeply glamorous Italian restaurant discreetly located at The Churchill Hotel. The pasta is a perennial highlight, and the Italian wine list the best in town. Prices around £50 per head.
The Churchill, 8 Seymour Street, W1 (020 7935 9088)
Boxwood Café
This classic from the Gordon Ramsay stable provides deliciously healthy food for the Knightsbridge ladies who lunch as well as more indulgent offerings – mains include grilled Black Angus rib-eye chop with beef marrowbone and port wine braised shallots (£29).
The Berkeley, Wilton Place, London SW1 (020-7235 1010)
Join our new commenting forum
Join thought-provoking conversations, follow other Independent readers and see their replies