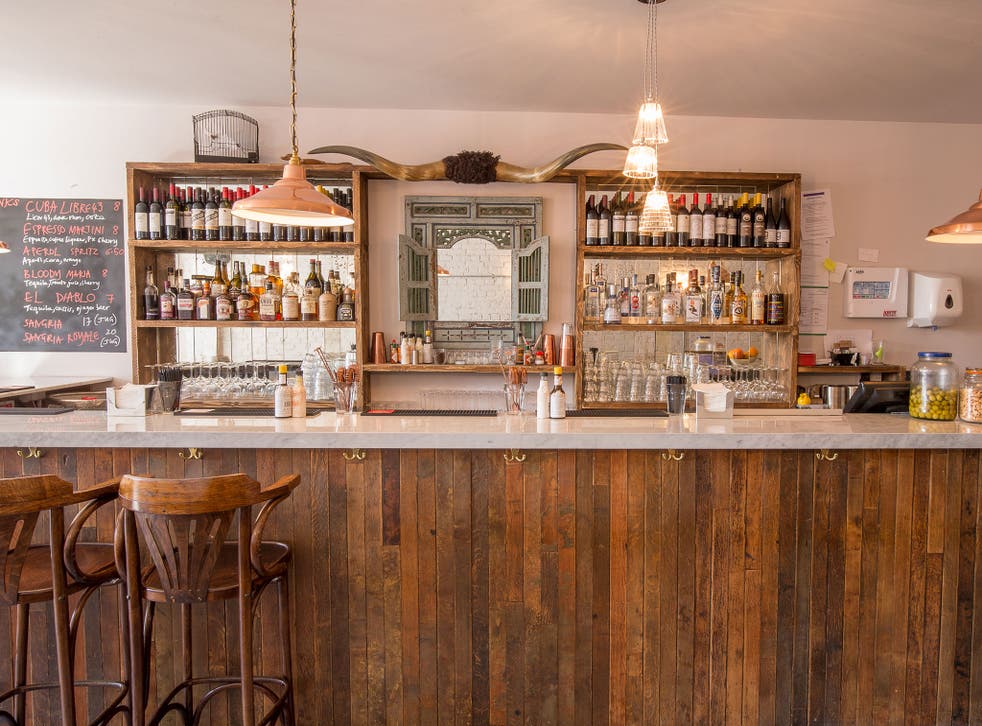 The Little Taperia, restaurant review: A south London pet shop has been turned into the home of great tapas
143 Tooting High St, London SW17 0SY (0208 682 3303)
Who would have predicted that Tooting, for decades a byword for unlovely Sarf Lahn- den grot, would start turning into a new Hackney or Dalston? A couple of years ago, I reviewed a new Lebanese restaurant there called Meza. It was not the most sophisticated joint but the food was excellent, especially farrouj meshwi, a poussin that had been spatchcocked, de-boned, marinated in garlic, peppers, lemon and oil for 24 hours then roasted over charcoal. It was sublime. The guy in charge, Hikmat Antippa, had a fancy pedigree far from Beirut – at Caprice Holdings, to be precise. He used to work at J Sheekey.
Around the same time, The Little Bar opened up in Mitcham Road, run by Madeleine Lim, who used to commission articles for The Independent Magazine. It was indeed small, but lively: people sat along the bar trading smart remarks with the staff, like London versions of Norm and Cliff in Cheers. Soon after it arrived, Nick Jones of Soho House opened one of his Chicken Shops on the high street.
Now, just as a new wine bar is being constructed at the Trafalgar Arms, look what's happened. In a perfect storm of neighbourliness, Mr Antippa and Ms Lim have combined forces to open a tapas restaurant, right next door to Mr Jones's chicken run. The Little Taperia opened in May on the site of an old pet shop. Like its predecessor, it's dominated by a long marble-topped bar, but is twice as wide to accommodate a dozen tables. The bar is lovely, but deceptive. The bentwood stools look as if they were looted from an Andalucian palace, but are from a warehouse in Kent. The totally authentic Middle Eastern tiles are from Tiles Direct in Leeds. And the weathered wood panels at the front weren't sourced from the cedars of Lebanon: they were found in a salvage yard and come from the floorboards of Bush House, circa 1943. There's extra seating at the back, beside the kitchen, and those waiting for a table can shelter from the elements in a lean-to shack under a corrugated roof.
The chat level in the place was considerable when we visited, the clientele mostly young professionals (have they all just moved into the neighbourhood?). The first page and a half of the wine list is occupied with cocktails, sherry, port and cava: you can choose between three Negronis, none of them (hooray) made with Aperol. My Classic went down a treat with morcilla Scotch egg, the carapace made of black pudding, served on pequillo sweet peppers with star anise, a wallop of pure liquorice in your mouth.
Why tapas? "Because there are no good ones for miles," said Lim. "Not in Wimbledon, Balham, Earlsfield, Streatham… We were inspired by Brindisa and Jose Pizarro." The Spanish chef, Javier Vincente Rejas, is from Valencia by way of the Hilton hotel chain and Rules restaurant. He displays a nicely old-fashioned approach to classic Hispano cuisine: keep it simple, keep it tasty.
So the pan con tomate was just crushed tomatoes on garlicky sourdough toast – essentially bruschetta, but ten times livelier. Boquerones were a shoal of sleek and slender anchovies, becalmed in olive oil. Angie's salad of Spanish blue cheese, pear and walnuts was a joy – the cheese fighting for mastery of the cider-poached pear against the crunch of walnuts. Catalan spinach was more than just a side dish, when sautéed in light olive oil and served with pinenuts and raisins.
We ordered eight dishes between three of us – more than enough. Pig cheeks were impossibly dark, sexy and mysterious, as though directed by Pedro Almodovar. They'd been slow-cooked in the traditional way, Javier told me. Sensationally dense and pungent, they could easily have been ox.
A tranche of hake, lovingly cooked at only 70 degrees, was the last word in purity. It was served with Basque salsa verde, which is pea and parsley soup – an eccentric but delicious combo. Arroz negro was bomba (risotto) rice cooked to Stygian blackness in squid ink, with squid and prawns – well, more langoustines, actually – a lovely harmony of sweet and shellfishy. My grilled octopus had been monstered, in the Galician way, by hot spices and pungent addenda – chilli, paprika, capers, parsley and pimento. It was mouth-tingling stuff.
We shared a manchego cheesecake with rosemary and summer berries. Did you know manchego comes from La Mancha, the home of Don Quixote? The chronically puzzled knight might have wondered if rosemary is quite the thing to put with berries but it decidedly is. This was a triple-decker delight, the cheesy basement yielding to an intermediate herby tang surmounted by sweet berry jam. A lovely climax to a succession of intensely satisfying little treats from this Spanish diamond in the (decreasingly) rough environs of SW17.
Food ***
Ambience ***
Service ****
The Little Taperia, 143 Tooting High St, London SW17 0SY (0208 682 3303). Around £26 a head, before wine and service
Join our new commenting forum
Join thought-provoking conversations, follow other Independent readers and see their replies