The Restaurant at the Royal Academy, Burlington House, Piccadilly, London W1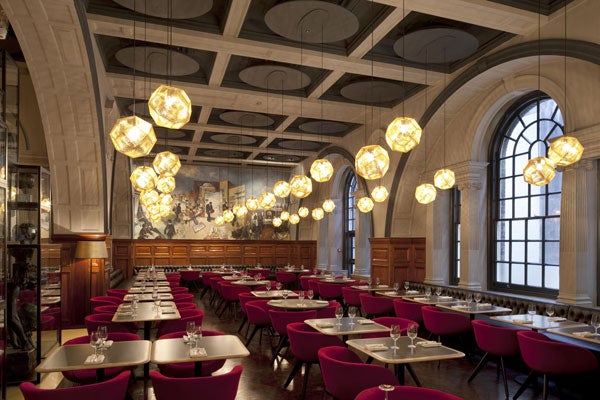 The problem with the RA's new restaurant is the level of its ambition. Is it to be a scoff-and-refuel addition to a few hours of art consumption? Or a destination in its own right, a recommendable eaterie which happens to have an art gallery attached?
It's hard to imagine The Restaurant as a drop-by kinda place. That majestic arched gateway, opening on to the courtyard that dates back to the 1760s, the statue of Joshua Reynolds posing against the London sky, the grey stonework – it's a lot of obstacles to negotiate past, if you're just looking for a plate of calves' liver and bacon.
I welcome the new management, however, because I ate at the old RA restaurant last July, when I took my youngest, Clementine, to the Summer Exhibition and hauled her into the café for some reviving lunch. It was an awful experience. Located beside a lavatory, the entrance ramp smelt of battered cod, boiled mince, overcooked custard and other things that used to arrive in a reeking metal trolley when I was in primary school.
We served ourselves on RA plastic trays, adding dollops of cold pasta or tomato salad on to whatever passed as a main course, and paid at a separate cash till. My daughter and I ate it, but it was a dispiriting experience. This was one of the golden temples of western art, for heaven's sake, in the heart of the English metropolis, and the restaurant would have disgraced the works canteen in a Uttoxeter cardboard factory.
The man responsible for the place's new look is Oliver Peyton, the Irish makeover king who brought the Atlantic Bar and Grill to life in the 1990s, and who has transformed the kitchens at the National Gallery and the Wallace Collection. His company, Peyton and Byrne, has stripped out the RA's buffet, and made the room far more attractive. Original features, such as the wood panelling and the enormous murals, have been buffed and highlighted. Two dozen busts by Royal Academicians have been exhumed from the vaults and stuck inside black-framed vitrines. Polyhedronic wire lightshades lower the ceiling to manageable proportions, while the red-upholstered chairs and stone tables make you feel welcome, warm and cosy.
I was told that Peyton had barely two weeks to transform the place, which might account for the slenderness of the menu. The food seemed an afterthought to the decor. Cauliflower soup, pumpkin and Stilton soufflé, foie gras terrine – these are not starters to inspire great art. I can't imagine JMW Turner falling with rapture on the ravioli with pecorino and shaved truffle. I searched high and low for a beef extravaganza, a chicken concoction, a duck adventure. There weren't any. It's a hard thing for the professional glutton to say, but I searched in vain for anything that suggested a gastronomic good time.
A wild sea bass carpaccio with mandolined lime slices was brinily pleasant, mainly because the fish wasn't really carpaccio'd – the slices were quite plump and succulent. A duck egg and Parmesan salad came with fennel and celeriac in little bootlace strips, which were nicely crunchy and cleansing. The duck egg, perfectly boiled to keep the yolk runny, was covered in balsamic vinegar and surprisingly, teeth-freezingly cold, which didn't seem right for a salad. Main-course pig's cheek with pommes mousseline looked frightful – as if someone had dolloped two large spoonfuls of Branston pickle on to a bed of mash, ignorantly embedded with bits of broccoli and carrot. The piggy flesh (that's what the pickle turned out to be) had a dense, gelatinous tenderness which worked with the "mousseline" exactly like lamb shanks with mash. These were the most densely padded cheeks I've encountered since The Godfather.
Cornish flounder was flavoured by capers and a buttery sauce, but my date and I floundered to find any taste in the actual fish. We agreed that both main dishes were superior home cooking. We could imagine either being served in a friend's kitchen.
The desserts wouldn't make Gauguin punch a hole in his canvas. Milk chocolate mousse was bland nursery food, overseen by grown-up almond-orange tuile biscuits. A strudel "reinterpretation" offered a pastry wedge with icing sugar, that surmounted some delicious cinnamon ice cream and lumps of apple that had become overcaramelised. If they'd been left inside the pastry, as with a normal strudel, they'd have been more successful.
The RA restaurant looks lovely, the wine list is appealing and well-priced, and our Lithuanian waitress Karolina was completely charming. The cooking, though, has a pinched, defeatist, uncertain quality about it. The menu needs a re-think, the chef needs a trip to some decent meat and poultry suppliers, and Mr Peyton, invoking the spirit of his Sligo ancestors, should get some blood and guts into the kitchen. His restaurant is using too much pastel and watercolour. It needs some primary colours pronto.
The Restaurant at the Royal Academy, Burlington House, Piccadilly, London W1 (020-7300 5608)
Food
Ambience
Service
About £100 for two, with wine
Tipping policy: "Service charge is 12.5 per cent discretionary, of which 100 per cent goes to the staff; all tips go to the staff"
Side Orders: Culture club
Dining at the Grange Park Opera
24 Broad St, Alresford, Hampshire (01962 737367)
Try the exquisite pot-roast guinea fowl at this country manor-cum-opera house in Hampshire.
Manchester Art Gallery Restaurant
Mosley Street, Manchester (0161 235 8888)
A new venture featuring locally sourced ingredients and comforting home cooking.
Almeida Restaurant
30 Almeida St, London N1 (020-7354 4777)
Modern French food in an airy space opposite the Almeida theatre – try the steamed sea trout, cockles and smoked bacon chowder.
Join our commenting forum
Join thought-provoking conversations, follow other Independent readers and see their replies