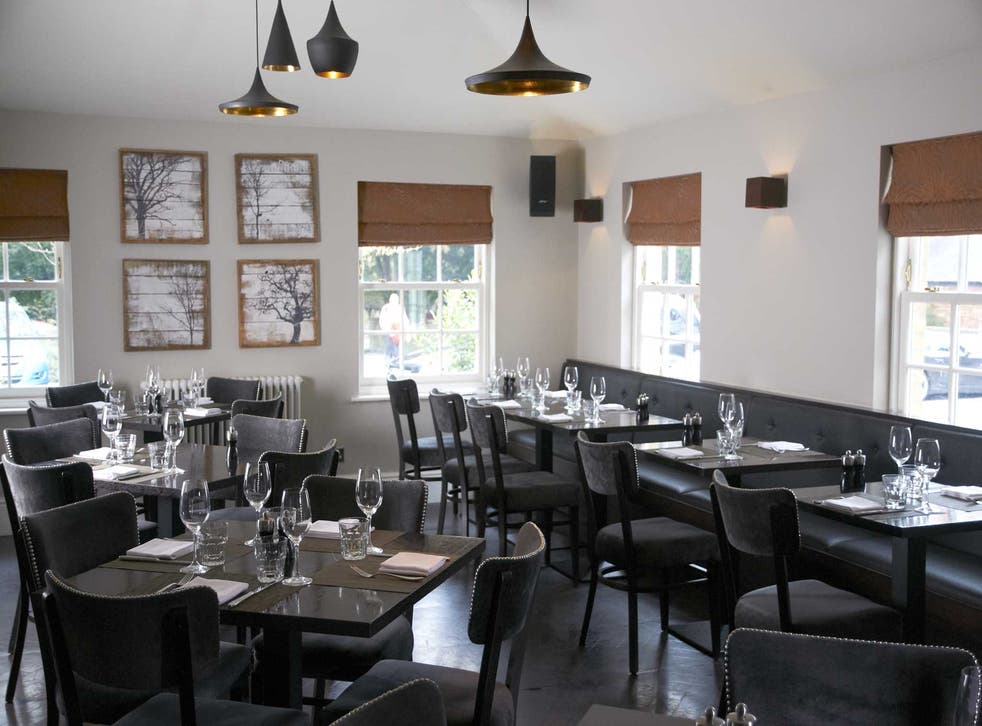 The Westwood, restaurant review: 'A lump of grilled halibut might have come from the creature that housed Jonah'
The Westwood, New Walk, Beverley, East Yorkshire (01482 881999). Around £120 for two, including wine. Set menu £22.50 for three courses (Tue-Fri)
When you discover that a restaurant called The Westwood is owned and run by youthful brother-and-sister twins, it comes as a slight disappointment to learn that they are not called Hansel and Gretel.
Nor is the structure made from gingerbread, though it is equally singular. Opened eight years ago by the Barkers, Matthew (chef) and Michele (maîtresse d'), The Westwood occupies a wing of the former Georgian courthouse in Beverley, East Yorkshire. Described in Pevsner as "most handsome", it boasts a soaring ionic portico topped by a figure of Justice holding her trademark scales.
The courtroom is now home to a spa/hairdresser's called Sessions (it was the Sessions House), while The Westwood rambles through a series of opened-up anterooms including the holding cells, now mercifully bar-free (unless you count the alcoholic variety). Wisely, the décor stresses the arboreal rather than the judicial. In a dark wood setting, tree motifs recur on stools, wallpaper and artworks. On the misty Wednesday night when my wife and I sat in judgement, the place was packed with 80-odd diners.
Our starters provided an instant explanation of this potent appeal. Though not cheap (£10.95), my curried scallops scored on quantity and finesse. Four whoppers served on the half-shell were tinged with delicate curry sauce on the caramelised exterior and were fresh and creamy inside. Even this generous plateful was surpassed by Alison's aromatic, crisp duck salad. A pile that could happily have passed as a main course, it was given crunch and interest with cashews, white radish and pomegranate seeds.
A hiccup came with the eclectic wine list in which bottles were "arranged from lightest to heaviest". Four successive whites were £29, £38, £24 and £58. Though arguably more logical, it took a little working out. Like the qwerty keyboard, a price-arranged wine list may be irrational, but we know where to go. A Brazilian pinot noir (£24) caught my eye. "It stands up quite well against the French," said Michele Barker. "But if you don't like it, you can swap." We didn't (a bit thin and tannic) so we traded up to a Vivanco Chrianza rioja (£34). Though the label carried some blithering nonsense comparing the wine to "art, religion, literature", it delivered impressive depth and a good blast of vanilla.
From a shortish choice of mains (three fish, two meat, five steaks), I went for '4hr-cooked porchetta'. My slice arrived in a perfect circle resembling a fat hamburger topped with a wigwam of tiny, balsamic-infused carrots. At the first touch of my fork, it fell into its constituent parts of crisp skin, pork meat heftily spiked with fennel seeds and melting nuggets of fat. With a knock-you-down richness of flavour, it was a perfect rendition. "Lovely," declared my wife as she nibbled a forkful. "God, that's good. Wanna swap?"
Not that she fared too badly. Alison's lump of grilled halibut might have come from the creature that housed Jonah. Possibly the largest portion of halibut I've ever seen, it was served on a very French bed of peas, lettuce, lardons and silverskin onions that might have been a meal in itself. Our single side dish of sautéed ratte potatoes and wild mushrooms was as generous as it was superfluous.
This magazine's food writer proved to be a major influence in the pud dept. Shipwreck tart and Scandinavian iced berries with hot white chocolate have both been signature desserts at establishments associated with Mark Hix. Sadly, we could do no more than share a buttermilk panna cotta – restrained in its sweetness and all the better for it – accompanied by simmered clementine slices and the world's slenderest brandysnap.
Before our meal, I'd checked The Westwood's website, which mentioned that the owners had been separately associated with "Sir Richard Branson, Jean-Georges Vongerichten and Alain Ducasse". Wrong-headedly, I presumed that Michele had served in some capacity for the buccaneering entrepreneur while Matthew had worked with the culinary superstars. In fact, it was the other way round. The talented chef cooked First Class vittles for Virgin Atlantic, while Michele sorted out front-of-house for Vongerichten and Ducasse when they opened new restaurants in New York.
When the twins decided to open their own place, they returned to home turf and applied the lessons learnt at their parents' pub in nearby Lockington. "Small portions are the kiss of death in Yorkshire," said Michele, though the success of The Westwood surely owes as much to her deft combination of attentive efficiency and relaxed charm. When Heston Blumenthal was once asked if food or service were more important in a restaurant, he replied, "Service, every time".
Food ****
Ambience ****
Service *****
The Westwood, New Walk, Beverley, East Yorkshire (01482 881999). Around £120 for two, including wine. Set menu £22.50 for three courses (Tue-Fri)
Christopher Hirst is nominated for Journalist of the Year at the 2014 Guild of Food Writers Awards
Join our new commenting forum
Join thought-provoking conversations, follow other Independent readers and see their replies