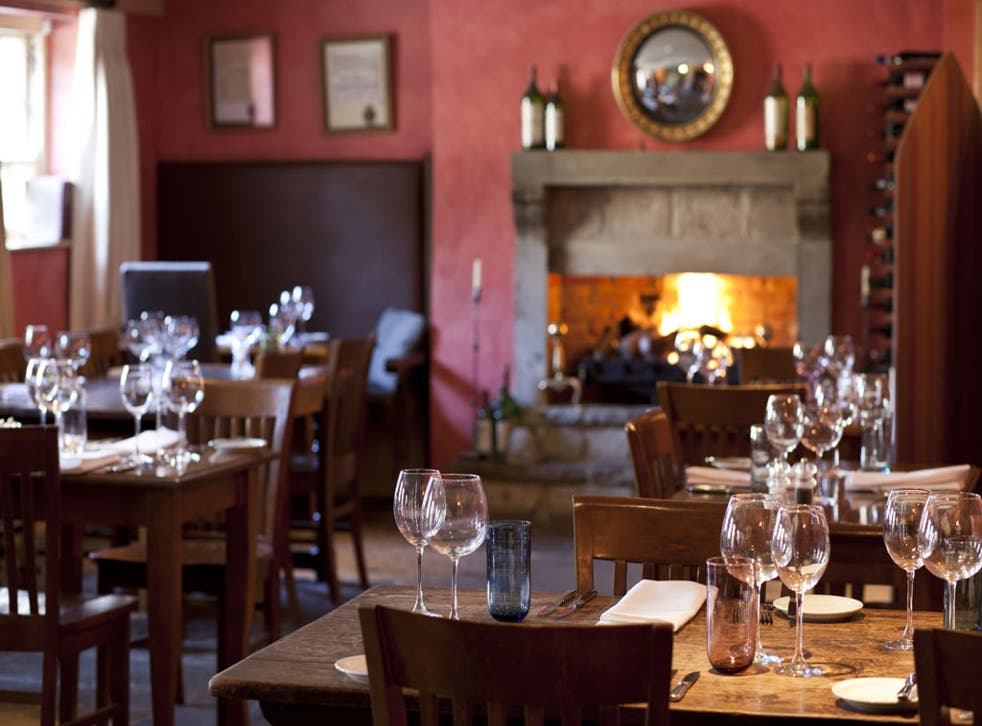 The White Swan Inn, Market Place, Pickering, North Yorkshire
Pickering in North Yorkshire is a country town with exactly the right sort of attractions: 12th-century castle; bustling steam railway; church with medieval wall paintings admired by Pevsner and, not least, a quietly handsome inn on the high street.
So often, this kind of establishment can disappoint. Outside, they look tempting but inside, the piped music, the laminated menu, the knocked-through walls, the dreary, bland décor with food to match indicates the dread-hand of corporate ownership.
Entering the White Swan, owned by the Buchanan family, a small, wooden bar selling Black Sheep ale from Masham is the first indication that you have struck gold. Seating 10 maximum, it is the definition of cosiness. Any overflow can be accommodated in a comfortable bay-windowed lounge.
Long, low and rectangular, the dining room at the back of the inn is an object lesson in refurb, with maroon walls, stone-flagged floor and room dividers in the form of folding screens. At 8pm on a Thursday night, it was filled with a friendly buzz of chat and singularly well-behaved children, who have their own menu at a tempting £5.85. The grown-up menu starts with Black Sheep-battered Whitby fish and chips at £12.95, though most dishes hover around £20. The meat is notable for its provenance. The menu declares: "All meat except feathered or with antlers is from the Ginger Pig".
The three farms that supply this pricey but excellent London chain of butchers are a few miles outside Pickering. For a brief period, the Ginger Pig also sold meat in Pickering and nearby Thornton-le-Dale, but they did not gain traction. Though the prices were a shade down on sister branches in the capital, locals could not 'thoil' them (a characteristic Yorkshire expression meaning, "I've got sufficient funds but prefer to keep them in my pocket"). In consequence, the White Swan acts as the sole local outlet, a carnivorous equivalent of the brewery tap.
The chef, Darren Clemmit, who according to our waitress "has been here for donkey's years", wisely prefers to limit any elaboration of this meaty asset. A starter of potted pork accompanied by rhubarb chutney is about as fancy as he gets. Arriving in a Le Parfait preserving jar, Alison's substantial serving proved to be delicate, smooth and perfectly seasoned; like rillettes but without the fibres. Her kind donation of a sample for tasting purposes prompted me to return for more. Unfortunately, it had disappeared. My Whitby fishcakes with herbed shrimp salad took the form of three small, golden spheres. The interior revealed a delicate Farrow & Ball pink. This was perplexing since it was months before the wild salmon season at Whitby, but undeniably tasty.
Our main courses were hard-core Ginger Pig. Alison's 'roast Levisham spring lamb rump' was immaculately cooked, pink but not bloody. Served on a disc of spinach-enhanced Puy lentils, the plump slices had a sweet, subtle, lingering flavour. The contrast between the crispy surface and juicy, rosé interior is the most powerful argument I know against the cheffy fashion for sous vide cooking.
I went for chargrilled rib-eye of Longhorn beef at a slightly startling (at least for North Yorks) £23.50. The Ginger Pig Meat Book describes this cut as "the youthful, trendy eater's steak" (sirloin is "the city boy or snob's steak", rump is "the steak-eater's steak", while fillet is damned as "the ladies' steak"). Despite corresponding in no respect to this description, I loved my great lump of rib-eye. Accompanied by twice-fried chips and a punchy green peppercorn sauce in a doll's house saucepan, it was steak perfection, miraculously tender and deeply tasty. Our wine was a real discovery. With a label bearing the deific pedigree 'Domains Barons de Rothschild (Lafite)', an extraordinary Argentine malbec called Aruma delivered the cedary nose, velvety texture and layers of complexity of a great claret for £29.45.
Alison declared her two scoops of ices – a sorbet that was the refreshing quintessence of pink rhubarb and a sublime blackberry and plum ice-cream – to be "a very good £4.50-worth". From a cheese board that stuck to local produce, I went for a crumbly white cow's milk cheese called Ryedale and an old favourite called Bluestones, a blue goat's cheese. Flavour and quantity drew contented sighs.
My only gripe concerns our table, which was too small to be illuminated by a night-light. I contrived to set fire to my menu at one point ("We kept smelling burning," admitted our waitress) and Alison singed herself while handing over the occasional forkful. "Thank goodness for that!" she announced when the flame finally guttered out. This quibble aside, it was an exceptionally pleasurable evening. What a shame that the combination of splendid, simple dishes with efficient, friendly service in a pleasant setting is such a rarity in our country towns.
The White Swan Inn, Market Place, Pickering, North Yorkshire (01751 472288)
About £120 for two, with wine
Food ****
Ambience ****
Service ****
Tipping policy: "At the discretion of customers. All tips go to the staff"
Side orders: Yorkshire gold
Green's of Whitby
With seafood straight from Whitby Quay, pick one of the super-fresh catches of the day such as fillet of Whitby turbot with salsa verde.
13 Bridge Street, Whitby, North Yorkshire (01947 600 284)
Piazza by Anthony
Set in Leeds' dramatic Corn Exchange, this restaurant offers good value and impeccable dishes ranging from tapas to Cumberland sausage with mashed potatoes and gravy.
Corn Exchange, Leeds (0113 247 0995)
The Box Tree
This Michelin-starred restaurant is set in a 16th-century cottage – try the squab pigeon 'en vessie'.
35-37 Church St, Ilkley, West Yorkshire (01943 608 484)
Register for free to continue reading
Registration is a free and easy way to support our truly independent journalism
By registering, you will also enjoy limited access to Premium articles, exclusive newsletters, commenting, and virtual events with our leading journalists
Already have an account? sign in
Join our new commenting forum
Join thought-provoking conversations, follow other Independent readers and see their replies