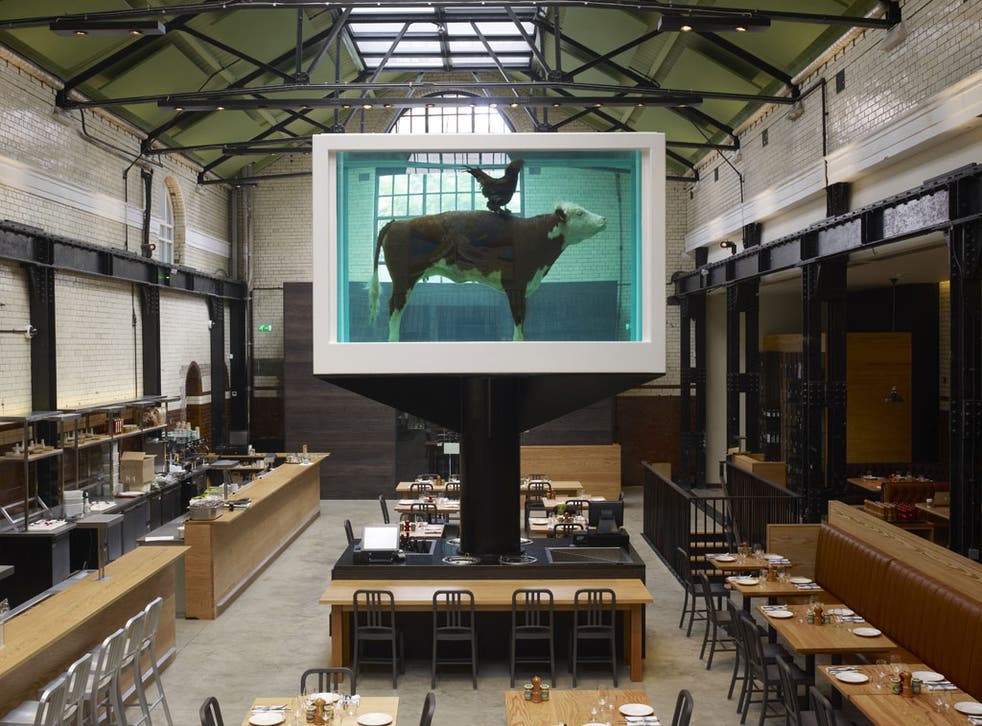 Tramshed, 32 Rivington Street, London EC2
It's a basic principle of the restaurant trade that when planning your adventurous, seasonal menu, you should always include some safe bets. People know what they want when they eat out, and mostly, they want chicken and steak.
Instead of fighting against this tendency, Mark Hix has taken it as a challenge and run with it. His new restaurant, Tramshed, offers only two main-course options: chicken and steak. No fish, nothing for the vegetarians, just plain old chicken and steak. This idea seemed rather kooky when Mark first mooted it; after opening something like eight restaurants, The Independent's favourite chef has encouraged us to expect something more exciting than some Hixian variation on an Angus Steak House.
But beneath his somewhat ramshackle exterior beats the heart of a very canny restaurateur. Once he'd secured the landmark building, a former tramway generating station in the heart of fashionable Shoreditch, Hix knew instinctively what he wanted to do with it. The launch was delayed by planning wrangles for a year, but as the production team on this magazine know all too well, Mark isn't a man to be daunted by a missed deadline.
By the time Tramshed finally opened, that pared-down menu was perfectly in tune with the new trend of doing just a few things sensationally well. The launch generated the kind of excitement normally reserved for obscure pop-ups and secret supper clubs, rather than 150-seat restaurants from established industry figures.
On the first Friday night after opening, the buzz was tremendous. The windowless building is on an epic scale. Only Wapping Food, housed in a converted power station, can match it – and that doesn't have an enormous Damien Hirst vitrine dominating the action, containing an embalmed cow being ridden by a cockerel. The moodily-lit space has been cunningly carved up to create a number of areas: a mezzanine gallery, a wall of huge semi-circular booths, a long Nighthawks-at-the Diner bar counter, and at the front, for walk-ins, shared refectory tables – appropriate for this cathedral-like space. The effect is of a kind of steam-punk gastrodome, both timeless and definitively 2012.
In a previous life, Mark worked for the high-tone Caprice Holdings group, and though the relaxed vibe at Tramshed is a world away from the choreographed perfection of Scott's or The Ivy, there's a common sense of ceremony. Champagne comes in coupes, wine in earthenware carafes and starched linen tea towels serve as napkins.
For £8 a head, you get all three starters – there's no choice, but they change daily – to share with the rest of your party. The star of ours was a single Yorkshire pudding, light and puffy as a brioche, served with whipped chicken livers. Good to see that the kitchen has found a way to use some of the engine, as well as the chassis, of all those noble free-range chooks.
The other two starters were Hix staples: a dish of sharp-sweet heritage tomatoes with shallots, and a salad of finely-shaved celery with pickled walnuts, parsley and Alex James's Blue Monday cheese. With Hirst and James represented, all we needed was an appearance from Keith Allen and we'd have had Fat Les.
There's a Hirst-evoking touch of the macabre in the way the chickens come to table – vertically spiked, with legs crossed, as though they've swan-dived onto the plate. For £25, you get a bird big enough to feed three; for £15.50, a poussin for one, or 'spring chicken' as the menu has it. Slow-reared in Wiltshire, these birds are lean, crisp-skinned and full of flavour. "It's like... so chickeny?" as the young woman at the next table put it. They're also quite hard work. Long after I'd polished off my steak, my guest laboured over his poussin, building up neat heaps of skin and bones as juices pooled in the earthenware dish.
Steak is served medium rare, unless otherwise requested and again, there's no choice – just the 'mighty-marbled Glenarm sirloin', dry-aged in a Himalayan salt chamber and served with Béarnaise sauce and chips. Deep red inside, with a dark and dirty char and a strip of caramelised fat, it was terrific, and decent value at £20 for 250g. The skinny chips taste unmistakeably of rosemary and chicken fat; presumably they're fried in it. A side order of onion rings in scrumpy batter carried the heady whiff of the fairground.
Desserts were good: a spiced apple pie served with custard, and a delicate cheesecake, whose chocolate ripples had an espresso-ish bite.
There's so much to like about Tramshed. It's perfectly pitched to appeal to both hipsters and oldsters. Staff are young and keen. The wine list covers all price points, with selections by the glass, carafe and even magnum. There's a takeaway counter, for steak sandwiches and the like. And children eat free at weekends. Children! There never used to be children in Shoreditch. Never used to be wonderful restaurants like Tramshed, either. In fact I remember the old days, when all you could get to eat around there was chicken and chips...
Tramshed, 32 Rivington Street London EC2 (020-7749 0478)
Around £55 for three courses including wine and service
Food ****
Ambience ****
Service ****
Tipping policy: "Service charge is 12.5 per cent discretionary, of which 100 per cent goes to the staff; all tips go to the staff"
Side orders: Raising the steaks
Kyloe
Edinburgh's first gourmet steak restaurant serves the very best Scottish beef – try the £19.50 steak board, which includes cuts of bavette, onglet and feather.
1-3 Rutland Street, Edinburgh (0131 229 3402)
Nathan Outlaw
Two-Michelin-starred Cornish restaurant serving a simple formula of seafood and steak; a fabulous chargrilled rib-eye will set you back £25.
St Enodoc Hotel, Rock, Cornwall (01208 862 737)
Beef
Choose between charcoal-cooked Highland, Wagyu and USDA steaks at this award-winning and popular local restaurant.
11 Warwick Rd, Kenilworth, Warwickshire (01926 863 311)
Join our new commenting forum
Join thought-provoking conversations, follow other Independent readers and see their replies