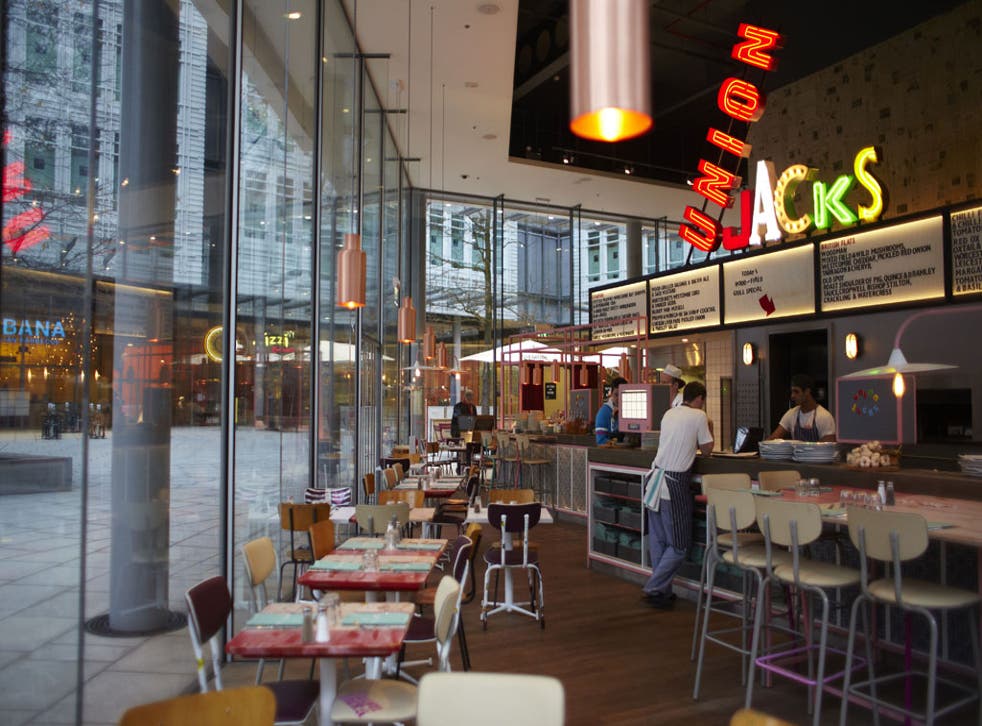 Union Jacks, 4 Central St Giles Piazza, London WC2
At Union Jacks, Jamie Oliver is reimagining the pizza. But did he really need to?
Lisa Markwell
Sunday 04 December 2011 01:00 Comments
Boak. It's a horrible word, really. Boak. But it does sum up how I felt after putting the food at this week's restaurant in my mouth. Boak. Sorry Jamie.
I feel bad because I've got a lot of time for Mr Oliver, whose grand ambition extends to some really rather good recipes and entertaining TV. His Jamie's Italian chain is, by all accounts, pretty decent and I'm fond of the Jme wooden chopping board in my kitchen.
Although it's now been announced that a second branch will open soon in Chiswick, his latest venture, Union Jacks, was supposed to be a one-off in a new development near London's Oxford Street, and the music, décor, drinks and tableware (the plates say "Stop looking at my bottom" on their base) are suitably witty and pretty. But the food is dire.
Actually, that's not fair. The starters and puddings are delicious, with the wit and flair of Jamie Oliver Inc at its best. But the central concept is a reinvention of the pizza. What's that? Pizza doesn't need reinventing, being one of the world's most loved, perfectly assembled dishes? That's where we're wrong, apparently.
Union Jacks is a celebration of British produce and flavours, showcased on "flats" (that's pizzas to you and me, not that you'll see the p-word on the menu). There's nothing wrong with showcasing the fantastic meat, cheeses, veggies and herbs of our nation. Just not on the same plate as a "flat" – not even one made by US chef Chris Bianco, whose pizzas are fabled and who's been brought over by Jamie to recreate his Arizona magic here.
It starts well with roasted beets with Westcombe curd and smoked seeds (£4), prawn and Morecambe Bay shrimp cocktail (£6), potted British seafood (£5.50) and catch-of-the-day fish fingers with tartare sauce (£5). All on the modest side, but that's about right for the price and as a curtain-raiser for something stodgy like pizza, sorry, flats.
The kind of chirpy music familiar from Jamie's telly adventures blares down on the clientele – there's a lot of undercut dos, Movember facial hair and exposed male ankle. They keep coming, attracted from across the new piazza by artfully mismatched lettering and flames licking from that oven. There are skateboarders circling the sculpture outside in such a camera-friendly way that I could swear they've been art-directed by someone from Oliver's army of stylists.
Our effervescent waitress explains with what Twitter would snarkily call *helpful face* how Jamie has done away with boring old mozzarella and tomato to create toppings that are really exciting, yeah? I feel myself becoming convinced that perhaps "Margaret", a Margarita for xenophobes – with Lincolnshire Poacher Cheddar – is a good idea. And Woodman (mixed field and wild mushrooms, Westcombe Cheddar, pickled red onion, tarragon and chervil, £11) sounds tasty.
It's my duty to try one of the more challenging flats myself: Old Spot (roast shoulder of pig, quince and Bramley sauce, Cropwell Bishop Stilton, crackling and watercress, £12). Just like a delicious exploded wintery sandwich, surely. Mr M is known as a chilli freak, so orders a Chilli Freak. Helpful face turns concerned. "It is very, very hot," she explains. "It can be too much." So why serve something called Chilli Freak? He says he can handle the heat. She says she'll bring some cooling curd for when it gets too much. It doesn't. It's spicy, but there's not even one bead of sweat on his brow.
Distracted into thinking I might need to throw a pitcher of water over my husband, I fail to notice the friend who ordered a Margaret has abandoned it after one slice. What could go wrong? It is, after all, cheese on toast with posh cheese and posh toast. I try a bite. Boak.
My Old Spot works best when I eat the shards of crackling piece by piece, followed by the meltingly soft chunks of pork, and slivers of quince. I'm left with vaguely slimy Stilton on chewy bread. In brighter news, the Woodman is a success.
Puddings rally us. Bitter chocolate mousse with "gary-baldy" biscuits (£4) is triumphant, not too sweet and with a fantastically claggy texture. Bish bosh, there's retro Arctic roll too (£4).
I'm sorry, Jamie. But why not put pizza on at Jamie's Italian, then start a chain of British-themed restaurants with ploughman's and doorstop sandwiches and pies? *Helpful face*
5/10
Scores: 1-3 stay home and cook, 4 needs help, 5 does the job, 6 flashes of promise, 7 good, 8 special, can't wait to go back, 9-10 as good as it gets
Union Jacks 4 Central St Giles Piazza, London WC2, tel: 020 3597 7888 Lunch and dinner daily. About £45 for two
Register for free to continue reading
Registration is a free and easy way to support our truly independent journalism
By registering, you will also enjoy limited access to Premium articles, exclusive newsletters, commenting, and virtual events with our leading journalists
Already have an account? sign in
Join our new commenting forum
Join thought-provoking conversations, follow other Independent readers and see their replies