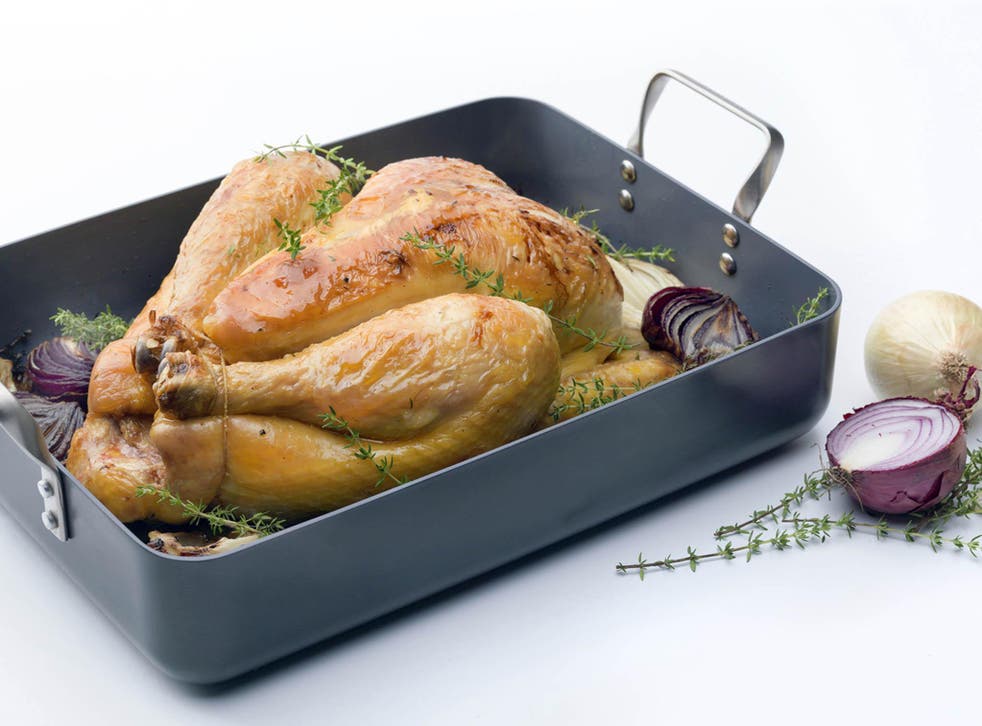 How to roast the perfect Christmas turkey
As with anything at Christmas, cheap and cheerful won't do. Invest in a sturdy roasting tin for the best results
Sturdy, solid and sizeable are the three key words when you're talking turkey and roasting tins. The tin you'd happily use for roasting potatoes or a small chicken might not be up to the challenge of roasting a six kilo bird on Christmas day.
Cheap tins buckle, while small ones crowd the bird so it steams more than roasts. Investing in a well-made roasting tin is a smart move and will save endless headaches on the day.
Start by figuring out what size turkey you'll be cooking this Christmas and shop for a tin that will comfortably hold the turkey with a few centimetres of space on all sides.
But don't go for a tin that is too big, as you may find that the turkey drippings dry out, leaving you without the base for gravy.
Look for a pan with handles as it makes it a lot easier to lift the turkey in and out of the oven.
Also, a pan that can be used in the oven and on the hob is helpful, so you can use the same pan for finishing off the gravy on the stove top.
Costs for a roasting tin can vary enormously but be wary of inexpensive tins as they're probably not up to the job.
Le Creuset makes two roasting pans that would be smart additions to your kitchen. They have a toughened non-stick 35cm roaster with deep sides that is oven-safe to 260C and can be used on the hob and with any heat source. The cast handles are attached with stainless steel rivets so they're super sturdy.
If you're after stainless steel, then Le Creuset's three-ply stainless steel roaster might be the one for you. It is made from a combination of stainless steel and aluminium bonded together to create a material with excellent heat conductivity (key when roasting as it means heat spreads evenly throughout the pan) and durability. It has helpful extras like capacity markings on the side and a pouring rim to keep drips to a minimum, plus it can be used on all heat sources, including induction. They make an optional roasting rack as well if you don't like your turkey sitting directly on the bottom of the pan.
Danish cookware company Scanpan sells a roasting pan that comes with a rack. The Impact Roaster is a generous 44cm x 26cm so it can hold a small or medium sized turkey with ease. It's a solid piece of kit made of heavy-duty stainless steel with a bonded base so it can be used on all hob types, including induction. The cast-steel handles are solid and secure and it is dishwasher safe.
GreenPan's hard anodised aluminium roaster is another option. It boasts the company's special ceramic, non-stick interior, so clean-up is easy. It can be used on the hob as well and is large enough to comfortably hold a small or medium-sized turkey or joint. It has double-riveted stainless steel handles too for easy lifting. Suitable to use on all hobs except induction.
If you're looking for a pan that won't break the budget, then Pyrex makes a carbon steel roasting tin with a non-stick coating. It doesn't have traditional handles but does have a wide lip on one long side that is easy to grab hold of. Bonuses are a handy drip-spout in one corner and the fact that it comes in four sizes – 26, 30, 35 and 40cm. While it's dishwasher safe it's only for use in the oven.
To round out your roasting kit, consider a turkey baster so you can keep your bird moist and succulent during cooking. OXO Good Grips make an angled baster which makes it easy to collect hot juices from the pan. It has a round, silicone bulb with a heat-resistant body so it won't crack, warp or shatter.
OXO also has a handy gravy-fat separator to turn those remaining juices into succulent gravy. Pour juices into the jug, and the built-in strainer catches any bits. The fat rises to the top and there is a squeeze trigger to release the gravy from the bottom, so the fat stays behind. It has measuring markings on the side and when you're done, you can bung the whole thing in the dishwasher for easy clean-up. But after cooking the turkey, surely it's someone else's turn to do the dishes?
Join our new commenting forum
Join thought-provoking conversations, follow other Independent readers and see their replies