Root, restaurant review, Bristol: How Twitter can help honest punters find their way to a better meal
It's a low risk, unfussy space that can be created with as little money as possible, but will dining in a shipping container hit the spot for Ed Cumming?
Wednesday 13 March 2019 19:18 Comments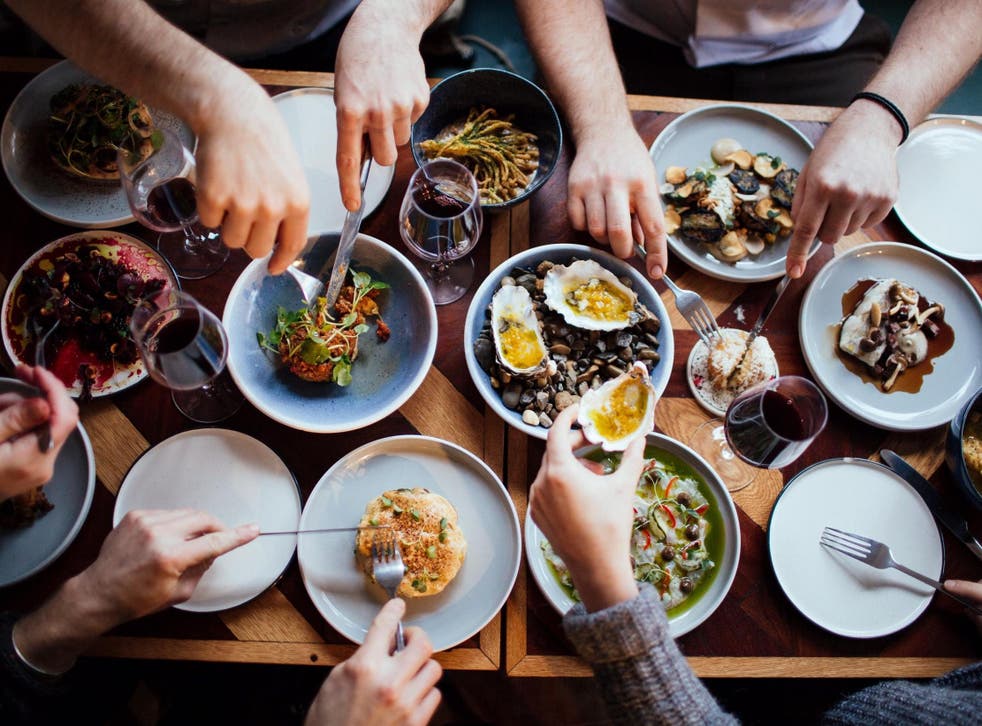 Root is in a shipping container, or rather two containers knocked through, in a "boxpark" on Bristol's new-ish Wapping Wharf. There are comparable set-ups in most cities, and large ones in Brixton and Shordetich, where lots of different restaurants, shops and other businesses can be packed into a space-saving Lego-style block of blocks.
There are disadvantages to eating in a standardised maritime cargo unit: the room is small and doesn't exude much mystery and the loos are outside and downstairs – so in rough weather it feels like you are in fact on a ship in the Irish sea, clutching the railing for dear life as you shuffle down the stairs. To deter non-paying toilet users there is a code on the door which you must remember on the journey downstairs. No mean feat after a couple of sherries, reminiscent of those army challenges where they have to do a sudoku after a run up the Brecon Beacons.
There are advantages to the containers, too, for those who require an unfussy space for as little money as possible. Whack in a stove and some chairs and off you go. If it all goes wrong, and eventually all restaurants do, it's easy for the landlord to install another occupant or look into converting them to an alternative use.
Due to their relatively low risk, they can be a good sandbox for young chefs who want to show what they've got. Box-E, where Tess and Elliot Lidstone's skilful modern-British shtick has won raves aplenty. Root, which opened in August 2017, is not a million miles away. Head chef Rob Howell and his partner, Megan Oakley, the restaurant's manager, preside over a happy little box that is busy even on a Monday night, when much of the rest of the wharf is shuttered.
The menu is vegetable-led in an unobtrusive way, which is to say they serve a steak, so you could bring your dad here without him complaining. It is a finely sliced little curve of sirloin served next a pile of shoestring fries and piquant chimichurri. It's fine, but it's not the point of the place and I'm not sure I'd get it again, especially when there is so much to enjoy elsewhere.
The chicory leaves that cradled ewes curd with finely chopped mint, cucumber and little sourdough croutons. Hispi cabbage – is there any non-hispi cabbage left? – charred in all the right places and presented under a carapace of translucent radish slices. Little cylinders of gnocchi under slices of pickled apple. Cured bream with pickled chilli and cucumber. A no-nonsense list of desserts. I thought it would be too fancy for sticky toffee pudding, but no, it came and delivered, with a scoop of ice cream sliding off a wonky roof.
There were a couple of dodgy moments. A fleshy pearlescent scallop, chopped raw and served in its shell, one of the specials, was overpowered by its chutney. Was it a chutney? Chutney-like substance, anyway. A pickled egg yolk shone vaguely beneath a snot-green sea of barley, garlic and mushrooms.
Still, one person's snot barley is another's manna, and there was no denying the attention to detail in the flavours, curing, pickling, chopping and general presentation. If the same cannot be said of the room, whose main decoration is a curious Estrella Damm spray-painting of some vegetables, then perhaps that's the price of having to think inside the shipping box.
Thanks to the helpful citizens on Twitter who recommended this and many other fine-sounding places in Bristol. Clearly you could browse the city's restaurants for days like a drowsy bee. Any city would be proud of Root and not only on a blustery Monday in March. Most of the time social media is a hell of other people, but perhaps it's worth it if it can help honest punters find their way to better meals in containers. Root talk.
Should you go? Yes, especially if you are anywhere near Bristol
Would I go again? I would, but as I have been in Bristol two nights in the past ten years, I probably won't
Register for free to continue reading
Registration is a free and easy way to support our truly independent journalism
By registering, you will also enjoy limited access to Premium articles, exclusive newsletters, commenting, and virtual events with our leading journalists
Already have an account? sign in
Join our new commenting forum
Join thought-provoking conversations, follow other Independent readers and see their replies