The Independent's journalism is supported by our readers. When you purchase through links on our site, we may earn commission.
Wines of the Week
Eight roses from around the world to drink in the sunshine
As we're now in peak rose season, Terry Kirby suggests the pinks that are perfect whether you're at the beach, having a picnic or going to a barbecue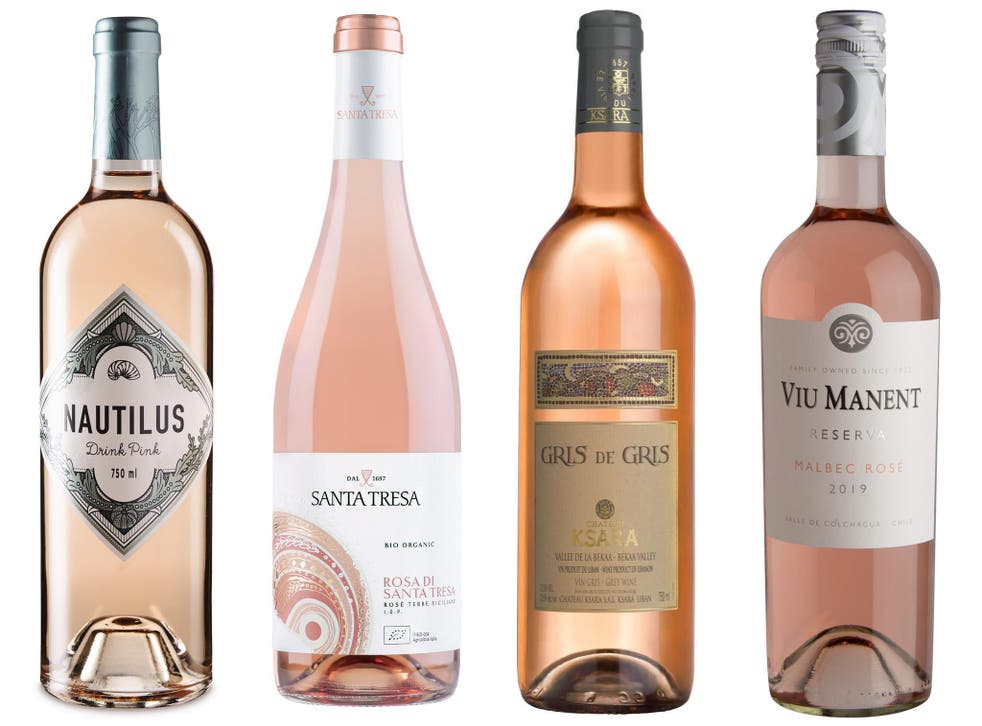 I know, I know, a rose wine is not just for summer, they say. The same people who try to persuade us to drink it in winter and for Christmas, because it's pink, which kinda fits, somehow.
Well, I'm not fully signed up for that, although I will concede that some of you can, just about, drink rose on St Valentines Day, because it might brighten cold and dreary February. But not me, I'm afraid.
So my rose season is limited to the warmer months. And since we are now well into August, we are really at peak rose and the season may not, as is the case with our climate, last very much longer. Unless of course we get an Indian summer in September, which I think we all deserve for very obvious reasons.
It's best to make the most of it now. Last week we toured France for some top-notch roses and now we are off around the rest of Europe and the world for some more pinks… all very food friendly, particularly seafood and lovely for all occasions involving beaches, picnics, gardens and barbecues.
Firstly to Italy or more specifically Sicily and a fantastic organic rose, made from a blend of nero d'avola and frappato, the Rosa Di Santa Tresa 2019; (£12.99 or £10.99 if part of mixed six-bottle purchase, majestic.co.uk) had great fresh acidity from grapes grown on volcanic soils and real, fresh red-fruit flavours. It's a lovely combination, with touches of the pale Provencal style and a more heavy influence from the traditional fruitier rose style of much of southern Italy.
We don't, curiously enough, see much rose from Greece – although the standard of its new whites is very high – so it's great that Aldi's excellent range of summer roses includes this really terrific wine from the Achinos area of the Greek mainland to the north of Athens: the Nautilus Rose (£6.99 aldi.co.uk) is made from a blend of rose staples grenache and syrah with a dash of the local agiorgitiko and is totally in the very pale and very dry, citrus, herbal zone of the Provencal style, with a curiously appealing hint of salinity – and fantastic value.
Rose of course is now made around the world. In Lebanon, winemaking in the illustrious Bekaa Valley has continued despite the troubles that in the past have torn the country, and given the tragedy this week we should certainly support the often excellent Lebanese wine industry. Chateau Ksara is reputedly the country's oldest winery and makes a fantastic rose, the Chateau Ksara Gris de Gris 2018 (£11.00 winepoole.co.uk; £11.49 allaboutwine.co.uk), a very French grenache and carignan blend: very dry, light, refreshing and fragrant, but with a lovely clear fruit flavour at its core and just the slightest sense of the exotic, with hints of jasmine and peach; I'd drink this one with any Middle Eastern food, like falafel and hummus.
Over in South America, the Provencal style also seems to have been married to the usually full-bodied, fruitier roses. The organic, well priced Adobe Rose Reserva 2018 (£8.99 vintageroots.co.uk), from one of Chile's leading organic producers, is a syrah/cabernet sauvignon blend that falls somewhere between the two styles, with richer, fruitier flavours, but very dry, tangy and able to handle substantial foods and even some soft cheeses. You don't see much pure malbec rose in the UK, so the Viu Manent Reserva Malbec Rose 2019 (£11.99 henningswine.co.uk; £9.35; minimum order six bottles, winebuyers.com), from a vineyard in the Colchagua Valley, is a bit of a rarity – the only pure malbec rose made in Chile. A big, fresh mouthful, very forward red-fruit flavours, a hint of pepper and a long finish. Malbec in its red wine version is of course a great pair with steak – I would not go that far here, but it would certainly be excellent with a lightly grilled pork or veal escalope, or a butterflied chicken breast. Another rarity is the Left Field Hawkes Bay Rose 2019 (£11.99 waitrose.com); packed with pomegranate and cranberry flavours, full bodied and dry, and lives up to its name with an unusual blend of merlot, pinotage (a rare sighting outside of South Africa) and arneis, a fairly obscure Italian white grape.
Talking of South Africa – again it's not a country from where we see much rose here, but the Journey's End Wild Child Rose 2019 (£11.80 tanners-wines.co.uk) from the cooler coastal vineyards of the Stellenbosch region is a lovely, light, elegant grenache rose, full of strawberry and raspberry flavours, with some hints of peaches and other stone fruits. More of the same, please...
Finally, after our round the world trip, it's back to the UK for a lovely homegrown rose. Now, while it is right to stress there have been some very creditable English and Welsh roses, they have hardly set the world alight in the same way as English sparkling. Now we have a real star: the Renegade London Wine Jock Rose 2018 (£19.00 renegadelondonwine.com; winebuyers.com) is from the same urban winery, based in Bethnal Green in hipster east London, that produced a stunning chardonnay I recommended a little while ago here, which is unfortunately no longer available.
Like the chardonnay, the rose is made with minimal intervention using grapes sourced from vineyards across southern England, in this case sparkling staples pinot noir and pinot meunier which of course are now grown in abundance in the UK. Yes, it's a bit pricey and so it's a special occasion wine for fine seafood. The result is deliciously different – neither Provencal style or full on fruitiness. It is tangy, very dry, with hints of red berries and a distinct hit of bitter marmalade. Like the chardonnay, this is a limited edition wine, so get it now before it also sells out and before rose season comes to an end – though I'm still hoping for that Indian summer.
Join our new commenting forum
Join thought-provoking conversations, follow other Independent readers and see their replies