The Independent's journalism is supported by our readers. When you purchase through links on our site, we may earn commission.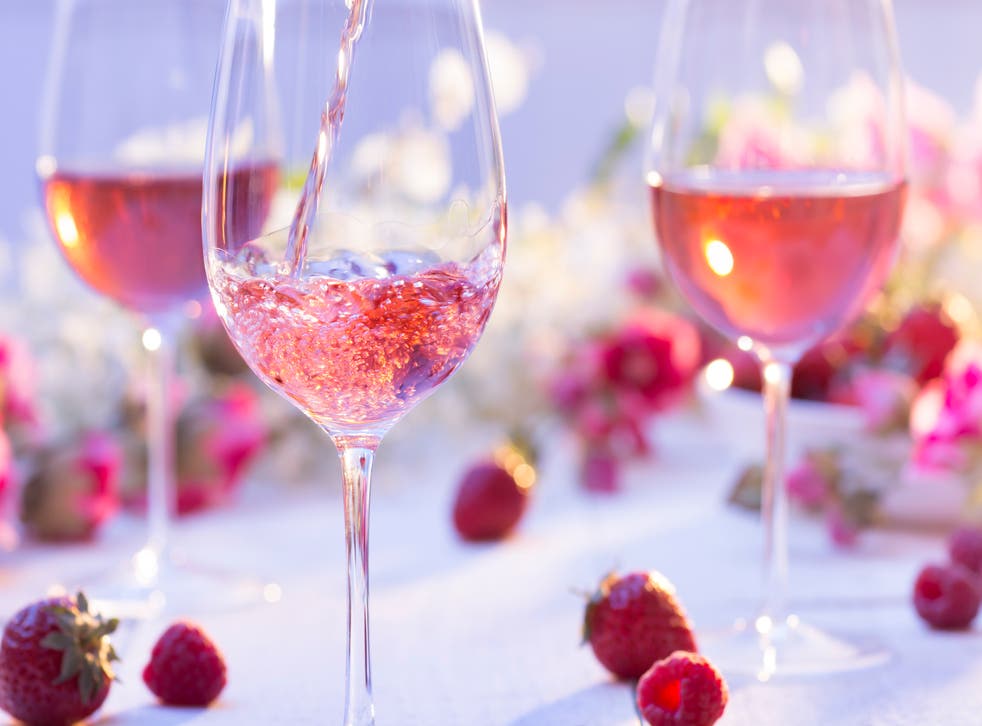 How much you should spend to get a good bottle of rosé, according to wine experts
It's not as much as you might think
It's spring and the UK is experiencing a heat wave which can only mean one thing: Rosé all day.
From frosé cocktails to gummy sweets, chocolate and even alcoholic ice-lollies, there are so many delicious new ways to enjoy the pink tipple.
But for traditionalists in search of a good old-fashioned bottle, knowing which one to choose in a category teeming with enticing options can be baffling.
What's the best region to buy from, how do you know you're getting a decent bottle, and how much should you be spending?
According to Adrian Smith, The Independent's wine and spirits expert and official brand ambassador for Vivino, you can spend anywhere between £7-35, however the sweet spot sits at around £12-15.
"When it comes to the amount you're looking to spend, there are a few factors I'd take into consideration. If you're looking to keep the costs down, it is possible to find some decent rosé around the £7-10 mark," Smith said.
"But for me, I feel the best value/quality split sits at around £12-15. That's not to say there aren't some beautiful rosé's that sit outside that price bracket, with the likes of Domaine Ott producing some sensationally rich and textured rosé wine at around £27-35, dependent on the retailer."
It's also important to pay attention to which area the wine comes from depending on your tastes.
"If you like your rosé dry, pale and not whacking you round the face with fruit, then Côtes de Provence is always a safe bet," Helena Nicklin, head of content for Winerist told The Independent.
"If you like it full and fruity, candy-cane style however, then an inexpensive Californian white Zinfandel will do that job for you. One to try, though it can be pricey, is a Tavel from the Rhône Valley in France.
The 10 countries that drink the most alcohol

Show all 10
"These are usually almost red, a bit grippy and all about savoury spice and wild strawberry. It's also fantastic with barbecued meat."
And when it comes to serving rosé, Smith says the bottle should be as chilled as possible.
"In this weather? Nice and cold, but not freezing. You want to get those beautiful fruity aromas, so don't leave it in the freezer too long in an attempt to cool it down quicker," he explains.
"I'd say bang it in the fridge for about 45 minutes before pouring and you'll find the sweet spot. If you've got an ice bucket, keep that on hand, if not, just make sure it's kept chilled in the fridge."
Whatever method you choose though, Smith insists that you should never add ice cubes to your glass as it dilutes the flavour.
"No one wants watered down rosé," he says.
There is undoubtedly a lot of rosé out there but to help you narrow it down Smith has revealed some of his top choices for both value and quality, including a few that come with bubbles – the ideal tipple for a sizzling afternoon or evening.
Best Rosé Wines
Mirabeau Pure - £13.99 from Waitrose
Mirabeau Etoile - £16 from Sainsbury's
Clos Mireille Domaine Ott - £26.21 from Vinatis
The Exquisite Collection Côtes de Provence Rosé – £6.69 from Aldi
Fontaine Du Clos Certitude Rose - £9.67 from Wanderlust Wines
Cantine San Marzano Tramari Rosé di Primitivo - £11 from Vivino
Château de Campuget 1753 Syrah - Vermentino Rosé - £14 from Vivino
Villa Wolf Pinot Noir Rosé 2016 - £11 from Vivino
Best Sparkling Rosé Wines
Mirabeau La Folie Rosé (Provence, France) - £13.99 from Waitrose
Laurent Perrier Rosé Brut (Champagne, France) - £60 from Sainsbury's
Wiston Estate Rosé Brut 2014 (Sussex, England) - £35.95 from Wiston Estate
Meinklang Frizzante Pinot Noir Rosé 2016 (Burgenland, Austria) - £11.99 from Vivino
Marksman Ridge Rose Brut (Sussex, England) - £26 from M&S
Deutz Rosé Brut (Champagne, France) - £47.50 from Ocado
Ruinart Rosé Brut (Champagne, France) - £48.53 from Master of Malt
Raventos I Blanc Cava de Nit Rosado 2015 (Cava, Spain) - £19.80 from Vivino
Register for free to continue reading
Registration is a free and easy way to support our truly independent journalism
By registering, you will also enjoy limited access to Premium articles, exclusive newsletters, commenting, and virtual events with our leading journalists
Already have an account? sign in
Register for free to continue reading
Registration is a free and easy way to support our truly independent journalism
By registering, you will also enjoy limited access to Premium articles, exclusive newsletters, commenting, and virtual events with our leading journalists
Already have an account? sign in
Join our new commenting forum
Join thought-provoking conversations, follow other Independent readers and see their replies