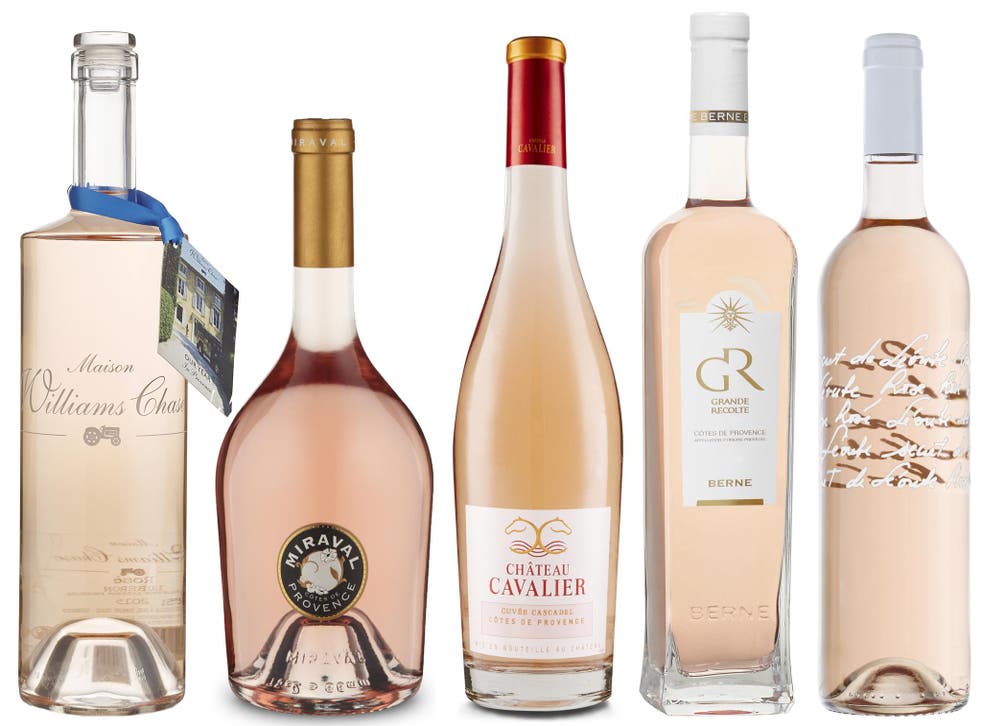 Rose wines from Southern France's Provence area
Sultry summer days and nights with picnics on the beach and barbecues in the garden call for only one type of drink: a chilled rose
Terry Kirby
Friday 21 July 2017 17:42 Comments
In the second of our two rosé columns, we turn inevitably to Provence in the South of France, comfortably the largest rosé-producing area in the world and delivering a highly individual style a long way from the sweeter, fruitier rosés of the New World.
The Provencal rosé is a very pale orange-tinted pink colour. This belies an assertive, complex and dry flavour palate, usually involving green and dried herbs, tastes of red berries, grapefruit, tangerine and sometimes subtle hints of spice, fennel or green peppers.
Most are made from the blends of the local grapes like Grenache, Cinsault, Mourvedre and Syrah, sometimes with the more obscure Rolle added. And very food friendly – think pink again: crustacea, anything involving tomato-based Mediterranean dishes and, of course, the ultimate Provencal fish soup: bouillabaisse.
Elegant and beguiling, Provence rosé tends to command higher prices than other rosés. And in recent years there has been a number of new premium-priced wines, expensively packaged in carefully designed, modish bottles, which are so, so, Instagrammable. And in most cases the noise is probably justified: these are not just cheap quaffers, but mostly seriously well made wines, just right for when you lob your lobster onto the barbecue at the poolside.
One must-try wine – and not just for the back story – is Chateau Miraval 2016 (£16.76 thedrinkshop.com; £19.50 Marks and Spencers), from the glorious C17th Var estate where Brad Pitt and Angelina Jolie married in 2014, and which they still own despite their later separation.
One good decision they made was employing a wine maker from the illustrious Perrins family (which makes fabulous Rhone wines) to create this determinedly up-market bottle: complex flavours and a long finish.
There are also a number of British-owned Provencal estates producing good wines of equal distinction. These include the organic Chateau Leoube 2016 (£11.99, reduced from £14.99 until August 8, ocado.com; £13.95 ndjohn.co.uk) from the vineyard owned by Carole Bamford, founder of posh Cotswold-based organic farmshops Daylesford Organic and wife of the owner of the JCB tractor empire.
Then there is William Chase, the Herefordshire potato farmer who founded Tyrrells Crisps and now makes Chase Gin and Vodka from the same crop. He is using the same bottle design for his excellent and previously recommended Maison William Chase rosé 2016 (£16.00 williamschase.co.uk; £15.50 ewwines.co.uk), but thankfully made from his own French vines.
I'm not sure anyone of note produces Chateau Cavalier, Cuvee Cascadel 2016 (£13.00 Marksandspencers.com; normally £13.50, on offer for £11.99 henningswine.co.uk) but that doesn't stop it being a lovely wine in a lovely bottle: fresh summer fruits, slightly spicy, very typical Provence.
If your budget doesn't quite stretch to these wines, then seek out the equally satisfying Berne Grande Recolte 2016 (£10.00 Tesco.com; £10.99 Majestic.co.uk) which shows that you that Provencal style doesn't have to come at Riviera prices.
Register for free to continue reading
Registration is a free and easy way to support our truly independent journalism
By registering, you will also enjoy limited access to Premium articles, exclusive newsletters, commenting, and virtual events with our leading journalists
Already have an account? sign in
Join our new commenting forum
Join thought-provoking conversations, follow other Independent readers and see their replies