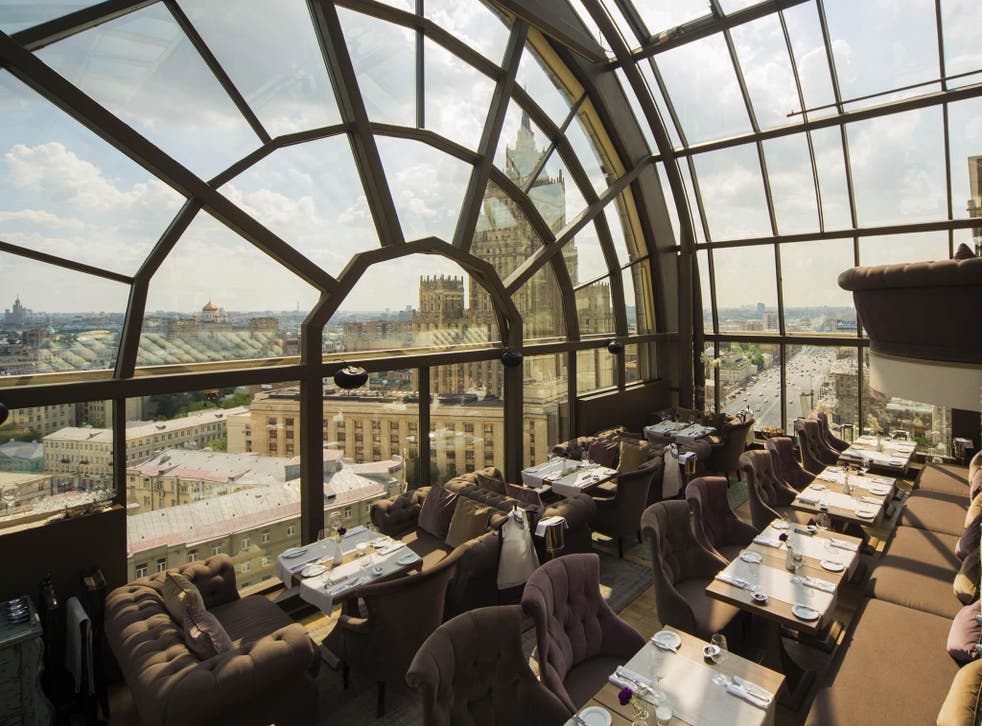 How Russian food has bounced back after sanctions and stereotypes
The current threat of sanctions by the UK against Russia could be seen to be damaging for the former Soviet republic. But if the food scene is anything to go by, even though the Michelin inspectors don't even bother to cross the Urals, the reality is actually the opposite. Since 2014, when the Kremlin angrily decreed they'd no longer be importing food from the EU, Russian chefs and food lovers have turned to their own native larder and burgeoning band of small producers to create an exciting and contemporary take on traditional eating.
Sanctions in 2014 could easily have been the death knell for Moscow's top chefs, used to importing the best French cheeses, fruit from Poland, seafood from Spain and Greece, and lamb from all over Europe. But nothing could be further from the truth.
They may not have stars, but there are an impressive three Moscow restaurants in the World's Top 100 – Twins (recently reopened as Twins Garden), White Rabbit and Selfie. White Rabbit is as well known for its domed glass 16th-floor rooftop windows with 360-degree Kremlin views as for the food, although that's pretty damn good too: its talented, charismatic chef, Vladimir Mukhin, also oversees Selfie.
His love of local and seasonal ingredients marries sourdough rye borodinsky bread with caviar; rabbit and mini cabbage rolls in foie gras; scallop, pomegranate and salted tomatoes; caviar of sea urchin, sea buckthorn and sea water. Old meets new as borscht is teamed with baked beans and turnip crisps while veal tongue is transformed in bird cherry dough with morel sauce.
Minimalist Selfie's sanction-friendly menu, too, is all about seasonality, a careful attitude to tradition and present-day cooking techniques: Russian classic products with Asian-inspired twists such as salad of tomato and roasted eggplant in a sweet chilli and oyster sauce; strawberries, fried tofu and salad kale; baked plum with coconut ice cream.
Identical twin chefs Ivan and Sergey Berezutskiy of Twins Garden have recently opened Crab and Wine, a basement restaurant with a domed turquoise ceiling, white walls and a vast tank full of live crabs: snow, Kamchatka king, Murmansk king, helmet, spanner, blue king and hanasaki (all appearing soon on a dinner plate near you). These huge creatures now dominating the seas in the Baltic region are a great example of making full use of a local ingredient and, according to the twins: "Kamchatka crab is the sweetest crab meat in the world. We like to serve it with a southern spicy dip, adjika, traditionally eaten with meat, but we find that its slight piquancy emphasises the crabs' sweetness. In southern Russia, where we were born, this sauce is very important." The tasting menu, matched with superb Russian and Georgian wines, runs the gamut from soft shell crab with lemongrass to an aromatic parcel of crab with lemon and parsley.
If you're in the mood for old-style food, eat like a Soviet at Stolovaya 57, a no-nonsense self-service cafe on the third floor of the huge GUM department store off Red Square. Forget Throwback Thursday, this is Throwback Thirties, with long queues waiting to eat retro food at retro prices: herrings under a fur coat (pickled herrings topped with shredded beetroot, egg and mayonnaise), beetroot salad, syrnik (fried curd cake served with a dollop of smetana – local sour cream) and meat-filled pelmeni dumplings. Food labels have been typed out on a 1930s Olivetti typewriter and there's a stern sign on every lace tablecloth-covered table: "Comrade let us have a deal – clean your table after meal!"
But if Stolovaya 57 represents the old Russia, chef Andrey Shmakov at the Hotel Metropol's Savva restaurant is most definitely 21st-century, even if the historic Metropol (formerly Soviet HQ, where Lenin and Trotsky held meetings and the KGB quizzed the spies) oozes 1905 elegance with marble columns, fountain, stained-glass ceiling and resident harpist (when Michael Jackson stayed, he bounded up on stage and took over for a while).
An Estonian, who commutes between the Russian capital and his wife and daughters in Tallinn, warm, outgoing Andrey brings a strong Nordic element to his cooking. His set lunch menu mixes old and new elements, featuring traditional dark borodinsky sourdough rye bread, topped with a tangle of sprats, marinated onions, egg and homemade horseradish vodka, followed by a stunning langoustine with osietra caviar, buttermilk and a splash of cedar-green dill oil.
Australia's new foodie hub, the Barossa Valley

Show all 7
As our visit coincides with maslenitsa (pre-Lenten pancake week) one course had to be buckwheat blinis with Kamchatka crab, chive and butter sauce; another Nordic favourite, reindeer, combined with jerusalem artichoke, truffle, apple and Douglas fir. Matsoni (homemade yogurt, originating from Georgia) was given a contemporary twist with walnuts, to complete the feast.
When he arrived at Savva five years ago, "the kitchen was full of grannies, who didn't even know what a Thermomix was". These days, he has a hardworking team of 13, although it's challenging to find well-trained chefs: "One guy recently asked me what the 'green sticks' were – he'd never seen asparagus."
His producers, too, have had to change. "I love cooking with root vegetables," says Andrey. "But here in Russia they're used to feed pigs. I had to persuade an old lady to add jerusalem artichokes to her potato-growing repertoire and only succeeded when she realised she could make a killing!"
This lack of culinary sophistication can extend to customers too. Andrey laughs: "At least once a month, a customer calls me to the table to say, 'Your borscht was very good but my mum's is better'. I tell them, 'Ok, when your mum is free can you ask her to come to my kitchen and she can teach our chefs how to make the borscht…'
"Older people still want traditional Russian food but younger ones – who are travelling more – are more adventurous. When I came to Savva, the owner of the hotel insisted I put a 'menu natura' on – chateaubriand, grilled fish, rack of lamb, salmon, borscht. Sadly, 30 per cent of our customers still order these things but I've implemented a contemporary menu for my passion, which allows me to be creative."
Ironically, it's the sanctions that have really kickstarted the Russian food scene, giving chefs access to ingredients from all over the country, and beyond. Vladimir Mukhin of White Rabbit and Selfie has welcomed the enforced rethink. "It's tough now for chefs here. But I've been working for years with local Russian products so I was ready. People are in a more patriotic mood so everyone's turning to Russian ingredients — whether they like it or not."
His menu at Selfie draws on 15 Russian regions, including pork from Kursk, halibut from Murmansk, veal from Bryansk, asparagus from Tver, truffle from the Crimea.
​Andrey also sees sanctions in a positive light: "Now it's not always possible to get what you want when you want so we've had to adapt. There is nothing grown within 200km of Moscow, but Russia has great diversity in climate, temperature, growing conditions – from the Baltic in the north to the Black Sea in the south. So really we're not suffering at all. For example, wild icefish from Siberia is actually better than farmed Turkish or Greek sea bass." At White Rabbit, too, Vladimir Mukhin makes the most of Black Sea oysters, rapa whelks from Yalta, Crimean truffle and other delicacies.
A visit to the huge, vibrant indoor Dorogomilovsky market bears this abundance out. Aisle upon aisle of producers from as far afield as Georgia, Azerbaijan, Armenia, selling intensely flavoured tomatoes and other fruit and veg, fish from the Baltic Sea or the Black Sea, superb langoustines, artisan-made preserves including mulberry or pine cone jam and honey, pickled everything from eggs to apples, cucumbers and cabbage, local cheeses and ersatz European favourites stilton, gouda and ricotta.
There are caviar counters, too, with special under-counter stashes (and better, no-receipt rates). Andrey tries various (above-counter) proffered spoonfuls of tiny black pearls from Osietra, gleaming red salmon roe and strongly flavoured bright yellow pike before buying for our lunch.
One of his favourite products is lamb from Kazakhstan, transported live then slaughtered in Moscow. "It has superbly flavourful fat and is much better than New Zealand or European lamb," explains Andrey. "A few things are difficult – turbot, for instance. So, instead, I use Black Sea kalkan, which is a good fish, but less juicy than turbot, so needs careful handling. Ever enterprising, some Russians have found a way round the ban: a group of businessmen, for example, imported 1800 goats from France; and the Russian government announced in February that it intends to import breeding sheep from Australia to improve its homegrown lamb.
As the country opens up to tourism and younger Russians understand the value of seasonality and local ingredients, creative young chefs are pushing the boundaries of their country's food. And how.
Register for free to continue reading
Registration is a free and easy way to support our truly independent journalism
By registering, you will also enjoy limited access to Premium articles, exclusive newsletters, commenting, and virtual events with our leading journalists
Already have an account? sign in
Join our new commenting forum
Join thought-provoking conversations, follow other Independent readers and see their replies