The Independent's journalism is supported by our readers. When you purchase through links on our site, we may earn commission.
Wines of the week
10 bottles of sauvignon blanc to enjoy in spring
Terry Kirby rounds up bottles that encapsulate this season – and match with ever-tricky asparagus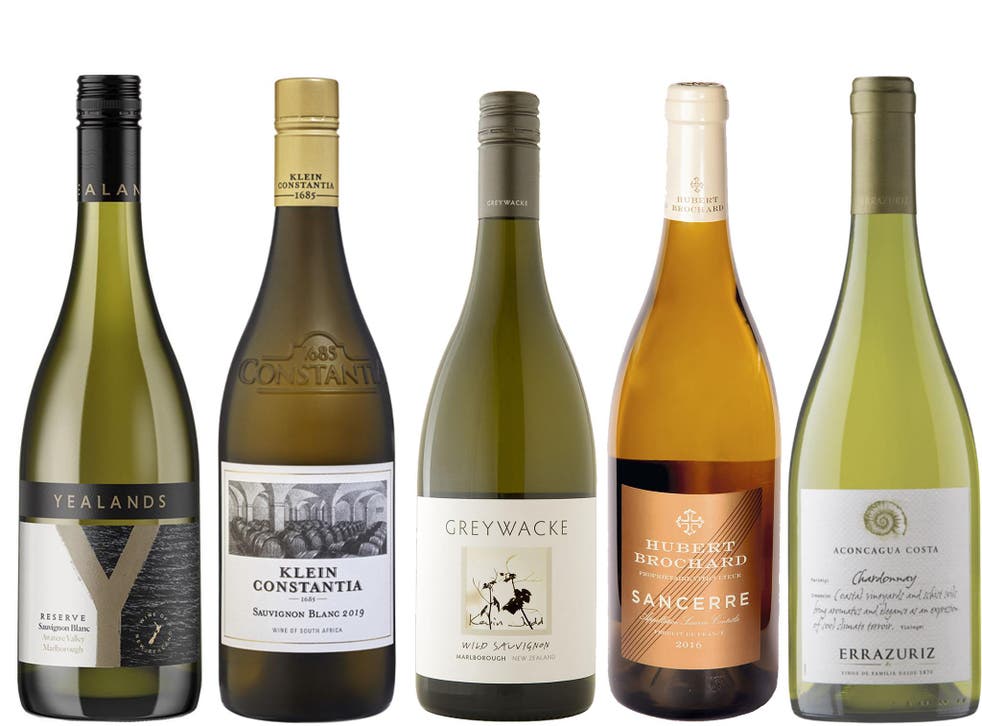 Thursday is St George's Day and the traditional start of the short British asparagus season, some of which is already appearing in our shops. Although there may be some supply difficulties this year for obvious reasons, let's hope we can all find some to use in our newfound home-cooking skills.
An amazingly versatile and enticing vegetable, it is, alongside some citrus fruits and chocolate, a notoriously difficult match for wine. Apart from, of course, sauvignon blanc which, with its zesty, grassy flavours, sometimes tinged with tropical fruits, can be usually found to work well with the vegetable and is also celebrated, appropriately enough, during this period, with Sauvignon Blanc Day on 1 May.
These two together really mark out spring for me. The asparagus season ends at the end of June as we slip into summer, while sauvignon blanc is also a great wine for most lighter spring foods, particularly fish and shellfish and other green vegetables like fresh peas, wild garlic and broad beans, all of which are coming into season right now.
We may all still be on lockdown and unable to fully immerse ourselves in the sun, the fresh air and the blossom, but sauvignon blanc is spring in a glass to me and so here are a few to savour right now...
Although much of the sauvignon we enjoy now comes from New Zealand – of which more later – its spiritual home is in France and it reaches its finest expression around the ancient town of Sancerre, almost in the centre of France, where the chalky, fossil-rich soils left behind by ancient seas deliver a pristine, mineral quality to the wines.
The Hubert Brochard Sancerre 2018 (£16.99 waitrose.com) comes from a long-established family business and is benchmark sancerre – flinty, citrus flavour, with apple and stone-fruit flavours; balanced, refined and elegant. Perfect with that simple plate of asparagus with butter or a lemony dressing.
Over in the New World, sauvignon has been transformed from the somewhat austere European version to encompass vibrant gooseberry and tropical-fruit flavours, with mango, lychees, kiwi, passion-fruit and guava; as well as leafy, vegetal grassy notes sometimes in the mix. Although South Africa may be more known for its chenin blanc, vineyards there do produce some brilliant sauvignons, which fall somewhere between European and Kiwi styles. The Klein Constantia Sauvignon Blanc 2018 (£14.99 or £12.99 if bought as part of mixed six bottle purchase, majestic.co.uk), from the oldest vineyard region in the Cape, has some restrained tropical-fruit flavours, but retains a brisk, refreshing minerality, the balance coming from a touch of added semillon. Whereas the Warwick The First Lady Sauvignon Blanc 2018-19 (£9.16 winebuyers.com) is much more typically tropical, with plenty of gooseberry, kiwi and passion-fruit flavours. Over in South America, Chile also produces excellent sauvignon, such as the Errazuriz Single Vineyard Aconcagua Costa Sauvignon Blanc 2018 (£13.95 winedirect.co.uk), which has restrained tropical fruits and some herbal notes but is marked by vibrant mineral intensity – a great wine for big white-fish dishes or shellfish.
Coronavirus: London on lockdown

Show all 29
Australia tends to be known more for its chardonnay than its sauvignon, but still produces some excellent examples, although the Sidewood Mappinga Fumé Blanc, Adelaide Hills, 2017 (£18.95 davywine.co.uk) has a distinctive creamy, herbal fullness, with some pear and honeysuckle notes but less upfront tropical fruits, in a restrained style. And perfect with any green spring vegetables or even lighter pork dishes.
It is in the Marlborough area of New Zealand that peak sauvignon is to be found, if you prefer the ripe, tropically fruited, sometimes mouth-puckering versions. There are many to choose from and the quality is generally very reliable – it's down to your budget as to whether you go for one of the juicy gooseberry, grapefruit and pineapple guzzlers or the more elegant but still tropical and complex wines for pairing with your finest freshly picked asparagus and shellfish.
It may also depend, these days, on what your local supermarket can offer – we can't quite shop around in the same manner as we might have done before the outbreak – so seek out reliable standbys: Villa Maria is a very familiar name and a reliable purchase from your local supermarket or corner shop, but seek out the Villa Maria Private Bin Sauvignon Blanc 2019 (£9.50 tesco,com; £10.99 or £9.49 if part of mixed six-bottle purchase majestic.co.uk; widely available elsewhere), which has big, refreshing, bracing lime and tropical-fruit flavours – ideal with an Asian spiced foods.
If M&S is your local supermarket during the lockdown, try the excellent, more full-bodied but still vibrant Clocktower Sauvignon Blanc 2018 (£12.00 marksandspencer.com), while in Waitrose, the Yealands Reserve Sauvignon Blanc 2019 (£11.59 waitrose.com) also offers terrific value for money and complex, well balanced mouthfeel. All three good, solid, dependable wines that can be relied on to deliver that grassy, citrus Kiwi SB experience.
But if you want a special bottle for a celebration – whether it's a birthday or just the fact of surviving another week – then you might need to pay a little more and you might want to spend it on what is, for my money, the finest non-French expression of sauvignon blanc – made in Marlborough the estimable Kevin Judd, founder of the equally excellent Cloudy Bay.
The Greywacke Sauvignon Blanc 2018-19 (£18.99 henningswine.co.uk; £22.99 or £17.99 if part of mixed six-bottle purchase, majestic.co.uk) has full, rounded, mouth-filling tropical flavours, some greenish vegetable hints and a long, satisfying finish; or try the more intriguing version: Greywacke Wild Sauvignon Blanc 2016-17 (£24.95 slurp.co.uk; £24.99 nzhouseofwine.co.uk). The grapes are taken from premium vineyards and wild-yeast fermented in used oak – there's a characteristic mineral cleanness on the palate; some tropical and vegetal, herbal hints against a rich, savoury complexity. And it's a long way from Sancerre.
Register for free to continue reading
Registration is a free and easy way to support our truly independent journalism
By registering, you will also enjoy limited access to Premium articles, exclusive newsletters, commenting, and virtual events with our leading journalists
Already have an account? sign in
Register for free to continue reading
Registration is a free and easy way to support our truly independent journalism
By registering, you will also enjoy limited access to Premium articles, exclusive newsletters, commenting, and virtual events with our leading journalists
Already have an account? sign in
Join our new commenting forum
Join thought-provoking conversations, follow other Independent readers and see their replies