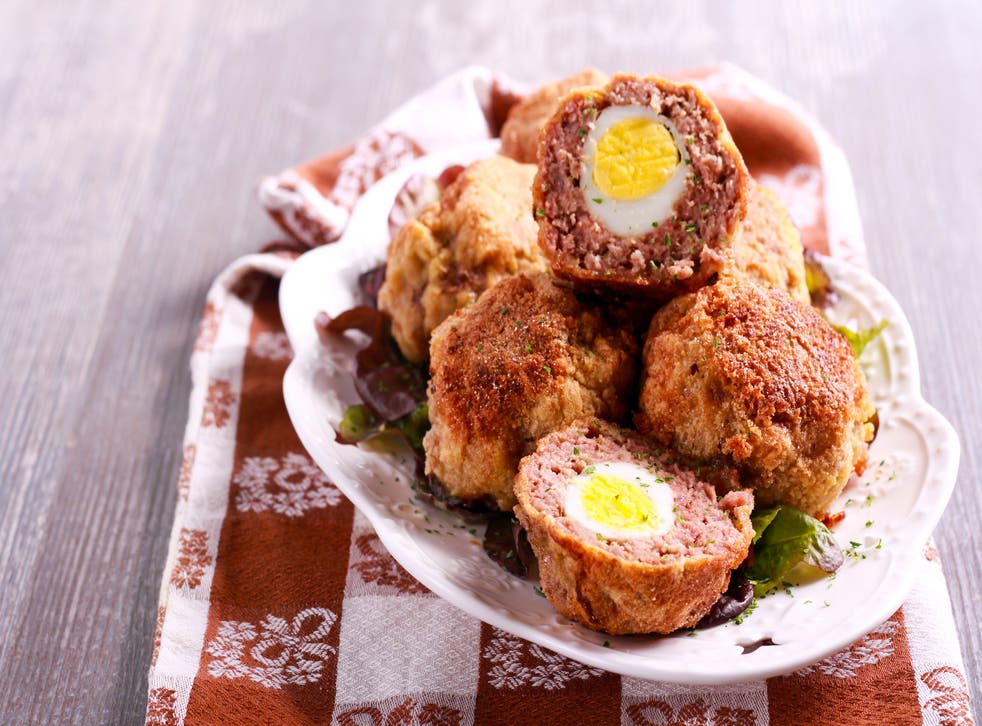 Scotch eggs and haggis voted UK's least popular British foods, sparking heated Twitter debate
Twitter is furious after a new poll finds Scotch eggs, haggis, and steak and kidney pie are among the least popular British foods.
The research, conducted by YouGov, found that classic British delicacies including Beef Wellington and Lancashire hotpot were ranked in the lowest tier on a scale of popularity among Britons.
The poll, which analysed the responses of 6,367 British adults, found that just 50-59 per cent of the country ranked the aforementioned dishes as their most favoured foods.
Among the lowest rated savoury options were jellied eels (6 per cent), Wales' laverbread (20 per cent), and Scotland's faggots (32 per cent) and haggis (37 per cent).
However, the findings have angered several social media users, with some championing scotch eggs and haggis as some of the best British delicacies.
The 20 best food scenes in film

Show all 20
One user tweeted: "Surprised scotch eggs did so badly @mattsmithetc? Nonsense!"
"Haggis is one of the greatest foods ever given to this country. Absolute heathens," commented another.
"Steak and kidney pudding, black pudding, liver and onions and haggis are not crap!" another stated.
"Scotch eggs are 'low tier'? What is wrong with people [sic]."
Meanwhile, others have taken umbrage with the overall colour of the foods rated in the poll.
"Why is everything beige?" asked one user.
Another described the image as: "Beigefest"
"Quite a lot of yellow food!" exclaimed another.
Unsurprisingly, the findings also showed that Britons' most beloved savoury dishes include Yorkshire puddings (85 per cent), fish and chips (84 per cent each), and bacon sandwiches (81 per cent).
As for the most popular sweet dish, 80 per cent of participants ranked scones and Victoria sponge cake as their favourite. Other top desserts include hot cross buns (75 per cent), sticky toffee pudding (73 per cent), Bakewell tart (72 per cent) and Eton mess (70 per cent).
However, it's a sorry day for fans of Battenberg cake, Spotted dick and Eccles cakes, with less than 60 per cent of Britons voting them as their favourite sweet concoctions.
Support free-thinking journalism and attend Independent events
The survey comes weeks after a Channel 5 documentary found that Britain's favourite crisps included Doritos, Pringles and Walkers at the top of the list.
Channel 5 shared these findings in a pyramid format on Twitter, sparking a subsequent outbreak of fury.
Join our new commenting forum
Join thought-provoking conversations, follow other Independent readers and see their replies