How to scrub up well in the kitchen
There is no getting away from it, we have to wash up. Julia Platt Leonard picks up tools that will make that a more attractive prospect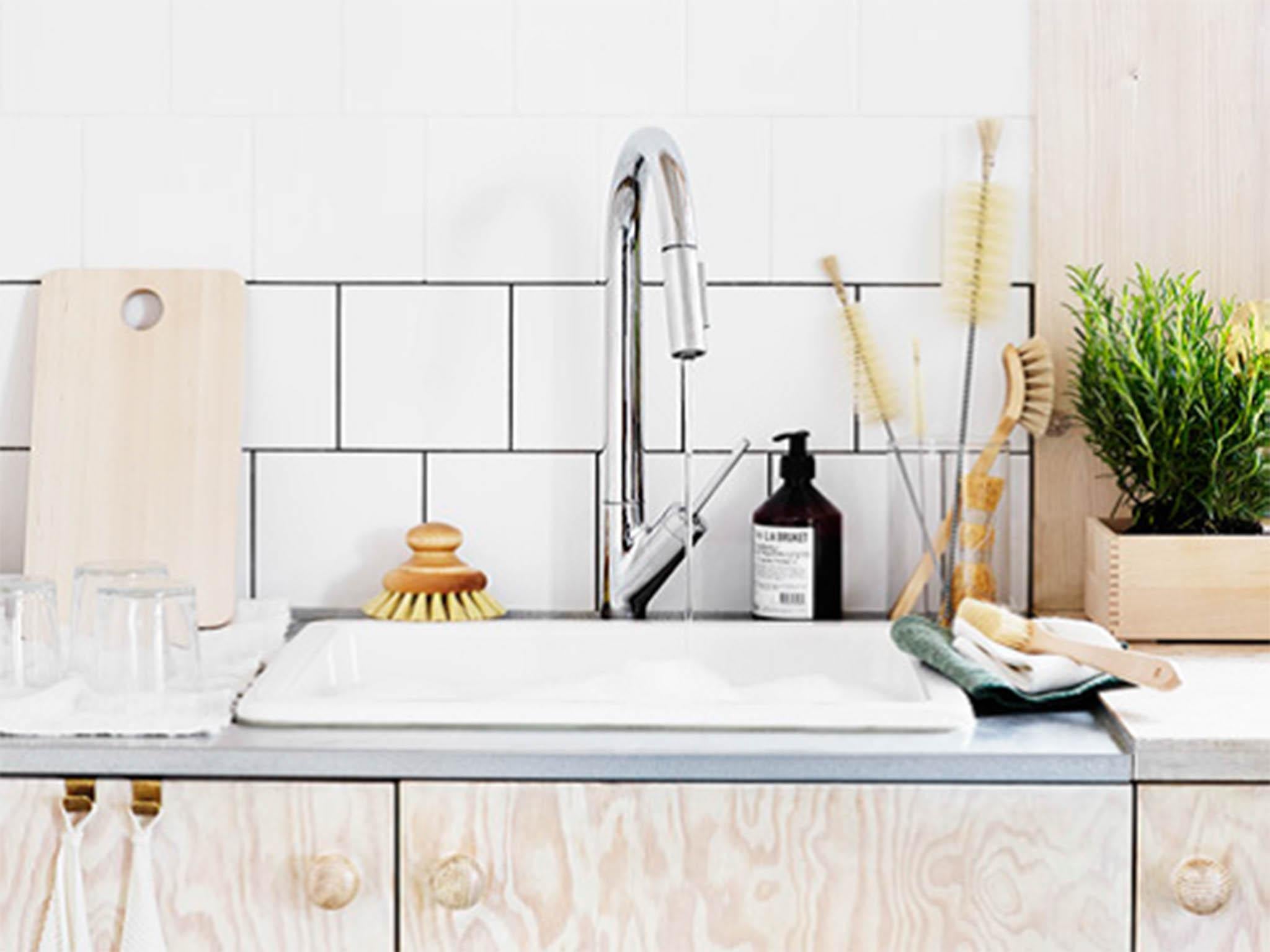 It requires careful planning and military precision. Done well, and the "purity of the food supply" is ensured. Done poorly? Then the result is "careless", "slovenly" and "tainted". In short, washing the dishes isn't a task to be taken lightly.
Of course, Cookery Illustrated and Household Management (published in 1936), also extols the benefit of two sinks, so the parlour maid can tackle glasses, silver and china in one, while the kitchen maid gets to grips with plates, dishes and pots and pans in the other. Perhaps not so relevant today when we're more likely to wonder if it's worth washing up a plastic takeaway container or simply chucking it in the recycling bin.
But what hasn't changed in more than 80 years is how we view washing up. "This is usually looked upon as one of the humblest and most irksome of household tasks," it says. Assessing the detritus after a dinner party, you can't help but agree.
Does washing the dishes have to be dreaded and dull, though? A new book called Washing Up Is Good for You: Mindful Living in the Daily Grind, says not. The premise is that we miss out on a whole chunk of our lives when we rush through everyday tasks like washing up. What if we relished the routine and embraced the everyday? Meredith Whitely, who runs healthy eating website Food at Heart, penned the first chapter, (chapters are by different authors tackling different themes) and says: "There is a beauty and joy in finishing a small task – if we allow ourselves the time to recognise it."
She charts life lessons she learned while washing up including responsibility (washing dishes while working at a bakery at uni), teamwork (dividing and conquering the washing up with her siblings) and understanding (appreciating that she and her husband have different, shall we say, approaches to washing up). And the lesson I loved: clean enough is good enough. As I put away a pan that perhaps wouldn't win the hygiene award, I couldn't agree more.
Perhaps, it's the relentlessness of doing the dishes, that gets us down. No matter how many plates you wash today, there will be more tomorrow. Whitely says don't worry about tomorrow's dishes, simply take a deep breath (or two) and focus on the sink full of bubbles in front of you right now.
If you're after a zen moment of cleaning calm, then surely it makes sense to arm yourselves with the tools to make the task easier? Besides, there's nothing calm or clean about a sponge or old rag that's seen better days.
One cleaning tool that's earned its place in the kitchen sink is Kuhn Rikon's Stay Clean Scrubber. It has 5,000 bristles and is made of non-porous silicone so it dries faster than a traditional sponge and won't harbour bacteria. When you want to really clean it, pop it in the dishwasher or microwave. You can also use it to remove lint and hair, and I'm told by one owner, that it makes a nice exfoliating flannel. Perhaps keep one in the kitchen and one in the bathroom, if you're going down this road. They've now done a version with a flexible scrubber brush on the end of a 31cm-long handle. It's also got a built-in scraper so you can battle it out with the baked on remains of last night's lasagne.
Oxo Good Grips has two cleaning sets that are perfect if you're keen to channel the compulsive cleaner buried deep inside you. One is a deep clean brush set that includes a large brush for places like stovetops, a small brush for fixtures and other tight spaces, and a wiper blade to get rid of built-up dirt from drains. The kitchen appliance set has a scraper to sort out stuck-on food, brushes for hard-to-reach spaces and a tool designed to get into grooves and crevices. No self-respecting speck of dirt will dare to darken your doorway.
On the low-tech end of the cleaning spectrum, are traditional Swedish, handmade bristle-cleaning brushes from Iris Hantverk. The name is derived for the Swedish words for "eye" and "craft" and is inspired by the fact brushes are handmade by visually impaired craftsmen. They've been making brushes by hand for over one hundred years, following traditional Swedish methods. A regular vegetable brush, for example, has 40 holes drilled into a sawn, milled, sanded, and oiled piece of wood. Then a bundle of bristles is attached (they use horse or goat hair or vegetable fibres). The results are stunning.
In 2012, the Government withdrew support for the company, workers were laid off, and the owner decided to sell up. Two passionate employees – Sara Edhall and Richard Sparrenhok – stepped in and rescued the company. Today they sell their gorgeous brushes as well as other products online. This is cleaning-up kit you'll want to leave out and display proudly. As Edhall says: "We believe that good design is both functional and beautiful and that an everyday object that is used frequently should be something that you don't need to hide away."
Pick up one of their round dish brushes made of oiled birch with horse hair bristles. Feel how the rounded end sits comfortably in your palm. Survey the stack of pots and pans before you, breathe deeply, and you just might have a eureka moment. Perhaps washing up is good for you.
'Washing Up Is Good For You: Mindful Living In The Daily Grind', published by Dept. Store for the Mind, priced £13, will be on sale from 19 October.
Join our commenting forum
Join thought-provoking conversations, follow other Independent readers and see their replies