Simon Rogan on why meat is the supporting act, guilty pleasures and branching out from Cartmel
He opened his two-Michelin star restaurant, L'Enclume in 2002 and helped change the image of British food. Now he's opening his sixth restaurant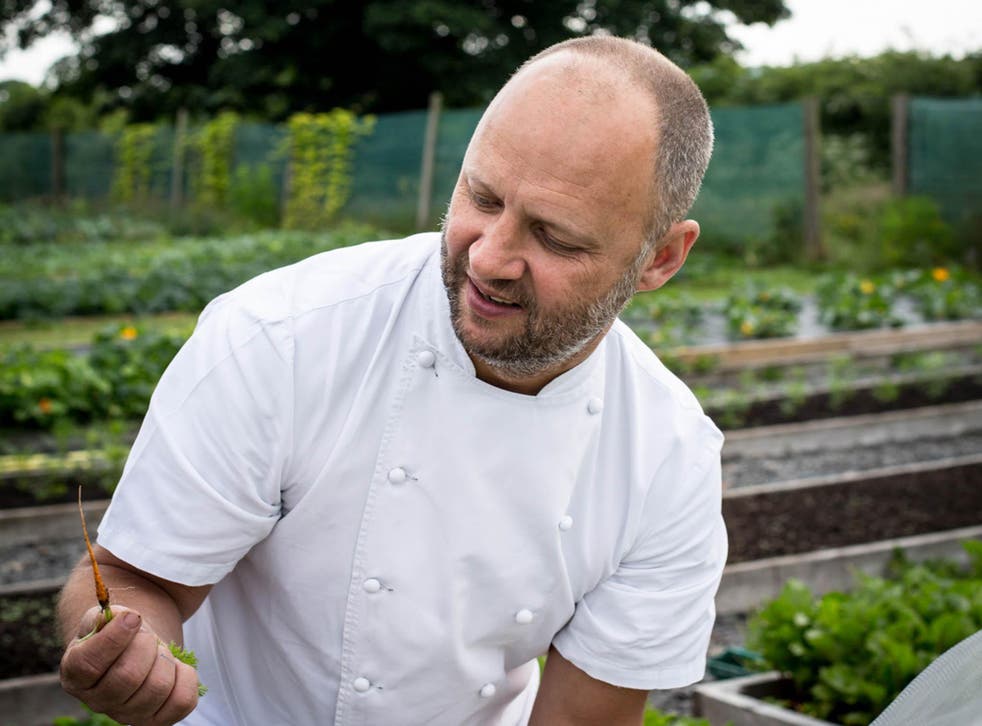 You've just announced your sixth restaurant, Henrock, which will be inside the Linthwaite Hotel in the Lake District - what made you want to work on this rather than another stand-alone restaurant?
I love the Lakes, so when I the idea of Henrock came up there, I jumped at it. I wanted to try something a little different to our usual style and thought that this would be the perfect place to focus on different ideas, techniques and ingredients.
Who taught you to cook and did you think you'd have such a successful career in food?
My Dad was a fruit and veg salesman in the markets in Southampton and he used to bring a lot of stuff home to cook with and as my parents were very much working parents, I would often cook family meals for when they got in and I really liked doing it.
At 14 I got myself a job in a Greek restaurant in Southampton at weekends and as I loved earning money so much, and realised the football career I had always hoped would take off was not going to happen, this led to a full-time job and day release college.
It was a shock getting to college because I was rubbish compared to all the other cooks and I wasn't happy with that – so I found an apprenticeship somewhere else where I could make myself the best that I could be and I was on my way.
Your two-Michelin starred restaurant, L'Enclume, opened in 2002, do you think Britain – or Cartmel – was ready for it?
The building works had been going on for two years before we opened so I think Cartmel was prepared for it in that respect!
Where does the inspiration come from for your dishes?
I wanted to do something different leading up to the opening of L'Enclume. I had always admired the work of Gagnaire and Bras but the single biggest inspiration leading to where I am today would have to be Marc Veyrat. I had the best meals of my life at his restaurants and I was fascinated by his use of alpine herbs, flowers and roots in his cookery that led me to seek out similar ingredients when I arrived in the Lake District.
The creative journey of a dish now generally begins on Our Farm, or by finding a fantastic ingredient that we have discovered. Ideas for those ingredients are discussed between my senior staff and myself in Aulis where development begins. We head out together to see what we can find, using each other's knowledge of the local plants. After development the dishes appear on the menus of the Aulis tables where we then decide whether or not they will make it on to the menus at Roganic or L'Enclume respectively.
You're known for your modern British food, but aside from that, what's your favourite cuisine?
My go-to cuisine is usually anything Asian – in particular Thai food!
Foraged food plays a big part on your menus, but how did you get into it?
My father worked at a wholesale fruit and vegetable market and used to come home every evening with a box of the day's best, freshest produce. I was quite a fussy eater at the time and grew quite suspicious of the unfamiliar exotics he used to bring back, but this early exposure definitely sparked my interest in ingredients, seasonal produce and foraging.
Who has been your most inspirational mentor in your career so far?
There have been many inspirational mentors in my life, but the person that began it all was Paul Norman, who was my first head chef at Rhinefield House, the country house hotel in the New Forest. He gave me an amazing classical grounding.
You also opened a restaurant in Hong Kong earlier this year - what made you work on something so far away from home?
Hong Kong is such an exciting place to be – it's a modern, buzzing food destination - the ultimate site for this city-centric take on a farm-to-table restaurant concept. I fell in love with the city when I went over there for a collaboration. There is so much going on in the restaurant scene and it seemed like a perfect place to open two new restaurants.
Avocado, coffee and citrus fruits 'threaten global food security'
What's been your biggest culinary disaster?
I wouldn't say I have had many disasters, of course you smash the odd plate once in a while, but once I did burn three hundred sausage rolls when I was doing a temping job right before I opened L'Enclume.
Much of the produce for your restaurants comes from your farm, what inspired you to create this?
We established the farm because we were frustrated by the standard of the fruit and veg available to us in the North West, so we thought we would do it ourselves.
Apart from reducing your food miles by using your own locally grown produce, how else do you reduce food waste? If we know that we have a surplus of one ingredient from our suppliers or that we've grown ourselves, we will try to incorporate that excess into the menu or use fermentation and pickling techniques to ensure nothing gets wasted.
What are your go-to ingredients?
I have a great love of humble ingredients such as brassiccas, a type of cabbage which is full of flavour and really easy to grow.
There is something really fulfilling in taking these ingredients and treating them with the utmost respect and creativity, as you would the most luxurious and expensive items and creating something really special that is on a par if not better than them.
None more so than the very humble cabbage!
Do you have any food bugbears?
Overdressed, fussy and muddled food.
What do you think is the secret to creating an amazing dish?
Of course, the taste is the main thing. There is a formula that I use, other than being tasty there are three things that I look for in a dish but they're top secret!
Do you find your customers are eating less meat than when you opened your first restaurant?
Customers definitely eat less meat at our restaurants because our menu is not meat-centric. Vegetables are the star of the show and the meat is the supporting act.
What's your guilty food pleasure?
Bovril on toast!
You've already published one cookbook, Rogan, last year, do you think you'll do another?
Probably, we have so many different areas of the business that we could explore.
What's next for you in 2019?
As we've just opened Henrock to Linthwaite House on Lake Windemere in the Lakes, I'm mostly working on that. Since opening L'Enclume in 2002, it's been a hugely exciting and humbling journey to have five restaurants holding four Michelin Stars and it's great to be going back to where it all began.
Register for free to continue reading
Registration is a free and easy way to support our truly independent journalism
By registering, you will also enjoy limited access to Premium articles, exclusive newsletters, commenting, and virtual events with our leading journalists
Already have an account? sign in
Register for free to continue reading
Registration is a free and easy way to support our truly independent journalism
By registering, you will also enjoy limited access to Premium articles, exclusive newsletters, commenting, and virtual events with our leading journalists
Already have an account? sign in
Join our new commenting forum
Join thought-provoking conversations, follow other Independent readers and see their replies