The Independent's journalism is supported by our readers. When you purchase through links on our site, we may earn commission.
Wines of the week
9 Spanish wines to drink now to support the country
Support one of the nations hit worst by coronavirus by buying your favourite rioja or sherry, or trying something new like bobal, says Terry Kirby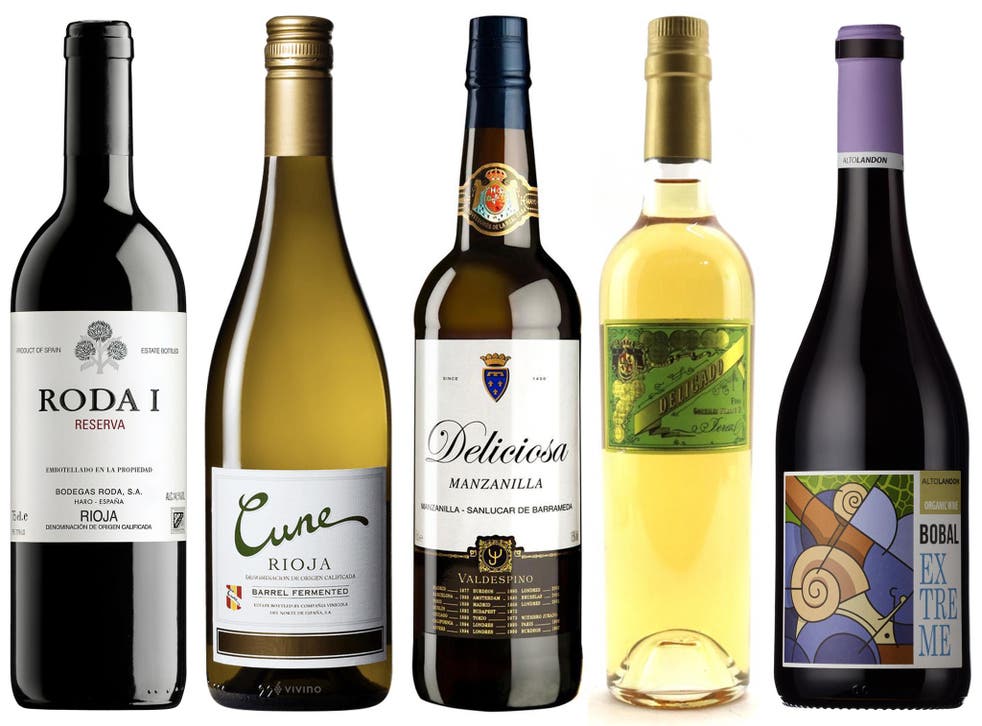 Spain has become the worst European country to be hit by the coronavirus after Italy. And the wine industry everywhere, not just in those countries, will be suffering consequences, whether in terms of being able to work in the vineyards or selling wines to restaurants.
To single out one country might seem perverse, but Spanish wines, and in particularly rioja and sherry, are some of the most well-loved and easily available in this country and I will return to other hard-hit countries, including our domestic wine industry, in coming weeks.
And, as I said last week in my Italian wine column, the most simple and effective thing that wine lovers can do to support the industry at home and abroad is to continue to seek out our favourite wines during our supermarket trips – and yes, contrary to the belief of some, there is no law to stop us buying alcohol – or via online outfits and local wine shops which are ready and eager for our business.
And remember, in moderation, it is good for our souls. Here is a list of online wine shops and vineyards that are still delivering wine, compiled by colleagues at The Independent. But please remember some companies are struggling to keep pace with orders because of staff shortages and social distancing rules.
Now the clocks have gone back, we have lighter evenings, even if not particularly warm ones just yet, which do make me think about a chilled sherry for an aperitif with some nuts or tapas. Crisp, dry sherries are some of the best bargains around. The Gonzalez Byass Delicado Fino (50 cl £14.49 waitrose.com) is a limited production fino taken from casks with a substantial layer of "flor", the yeast which forms on the top of the wine, delivering a real depth of flavour. Manzanilla is basically a fino which has a distinctive salty tang because it is made near the sea at Sanlucar de Barrameda. For a good example of the style, try the wonderfully clean and refreshing Valdespino Manzanilla Deliciosa (£13.95 thewhiskyexchange.com). Both are gorgeous, life-enhancing wines, so pass the anchovies or tomato bread…
Judging by the snow flurries this week, we are not quite in the spring whites zone yet, so the albarinos of northwest Spain can wait for the spring whites column later this month. Instead, we're off to Rioja for more substantial fare such as the Bodegas Navajas Blanco Crianza 2015 (£9.95 vinvm.co.uk; £11.14 winebuyers.com) made from the viura grape in the heart of Rioja. There is some youthful freshness, but a broader, creamier depth to the wine from some oak ageing – think lemony, vegetal notes and a lovely match for some simple grilled white fish. One of the big names in red rioja is the winery CVNE, but it also does excellent whites, such as the CVNE Blanco Barrel Fermented Rioja 2018 (£11.20 tanners-wines.co.uk). This is mostly viura with some macebeo, and is barrel-fermented to add complexity: the mouthfeel is full, ripe and rounded. Serve this with substantial fish or vegetable dishes.
Staying with CVNE, the CVNE Rioja Gran Reserva 2013 (£18.95 winedirect.co.uk) is an excellent example of benchmark red rioja, made from mostly tempranillo, with some graciano and mazuelo. Rich and complex, with blackberry and blackcurrant flavours, some tarry, oaky, smoky notes and a characteristic hint of vanilla: one for a nice warming casserole or pie on these chill April evenings.
And if you are planning a home celebration of some kind – a birthday or anniversary – as a treat to lighten the current mood, then a great special occasion bottle would be the Roda 1 Reserva 2013 (£47.60 thedrinkshop.com). It's powerful but not too weighty, elegant with silky black fruits and has sweetly smoky vanilla notes and a long, long finish. This is absolute top quality rioja.
But there are great red wines produced in many other parts of Spain, such as Ribera Del Duero. The organic Dominio Basconcillos 2016 (£17.50 vintageroots.co.uk) is a big, rich, ripe, heavyweight ribera, made from tempranillo and with a seam of fresh acidity that leavens the mix. A simple steak would be ideal.
And there are other Spanish grapes, such as bobal, which has emerged from obscurity in recent years in good value wines such as the organic Extreme Bobal 2018 (£10 Co-op stores only). This is an excellent addition to the Co-op's "green wines" offering, made in the Valencia region from grapes grown at high altitude. It is juicy, medium-bodied, with succulent, crunchy dark cherry fruits and an ideal match for chicken and vegetable dishes, goat's cheese and charcuterie; if you like the weightier Beaujolais Villages wines, you will like this.
At the other end of the scale, bobal blended with monastrell grapes creates something much more full-bodied in the 1721 Baron Amarillo 80 Year Old Vine 2016 (£6.99 aldi.co.uk; in stores this month) which is dark chocolate and cherry flavoured and fantastic to accompany casseroles or grilled meats. And at a price that should cheer us all up in difficult times.
Register for free to continue reading
Registration is a free and easy way to support our truly independent journalism
By registering, you will also enjoy limited access to Premium articles, exclusive newsletters, commenting, and virtual events with our leading journalists
Already have an account? sign in
Register for free to continue reading
Registration is a free and easy way to support our truly independent journalism
By registering, you will also enjoy limited access to Premium articles, exclusive newsletters, commenting, and virtual events with our leading journalists
Already have an account? sign in
Join our new commenting forum
Join thought-provoking conversations, follow other Independent readers and see their replies