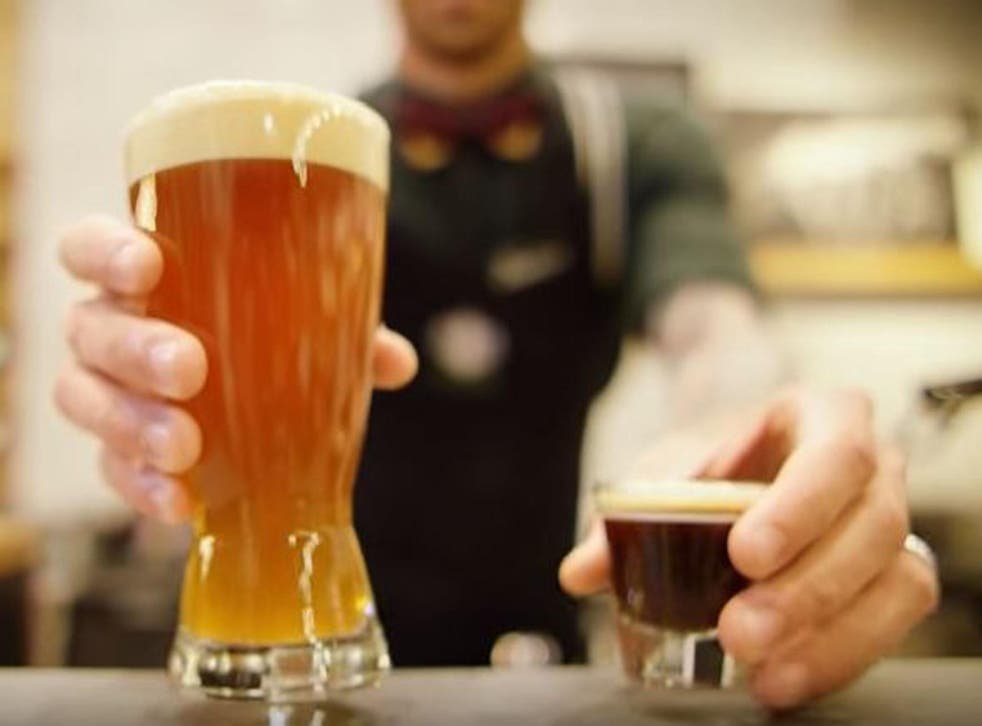 Starbucks launches Espresso Cloud IPA, a coffee-beer hybrid with a cloud of micro-foam
It's a drink that combines two of our favourite things
Sarah Young
Thursday 13 October 2016 12:26 Comments
Starbucks is serving up its most experimental drink yet - a glass of IPA beer topped up with a shot of espresso.
The beverage took a year for the Starbucks team to master and brings together two of the best drinks ever for really unusual creation.
Dreamt up by coffee master Justin Burns-Beach, the Espresso Cloud IPA was inspired by the mixing process behind Starbucks' Shakerato – where a combo of espresso and syrup is shaken until it becomes frothy.
In this case, the espresso is shaken over ice with orange pieces and a touch of sweet vanilla to create a cloud of micro-foam which is layered on top of a freshly poured IPA; the beer is served with the cold-shaken espresso shot on the side but Justin recommends pouring it in.
"Mainly what I wanted was the foam to put on top to get that head on the beer but I didn't want to waste the espresso so that's when I decided to just pour it into the shot glass and have them both side by side," he said.
"Then it was like, what happens if you just pour in a little bit? Seeing the effect of that was just mind-blowing. The visual of it, watching another cloud develop was really exciting."
The result? A refreshing punch of vanilla orange-infused espresso and citrusy IPA.
Some Starbucks branches in the US and UK have experimented with serving up alcoholic beverages. Would this new concoction tempt you?
Register for free to continue reading
Registration is a free and easy way to support our truly independent journalism
By registering, you will also enjoy limited access to Premium articles, exclusive newsletters, commenting, and virtual events with our leading journalists
Already have an account? sign in
Join our new commenting forum
Join thought-provoking conversations, follow other Independent readers and see their replies