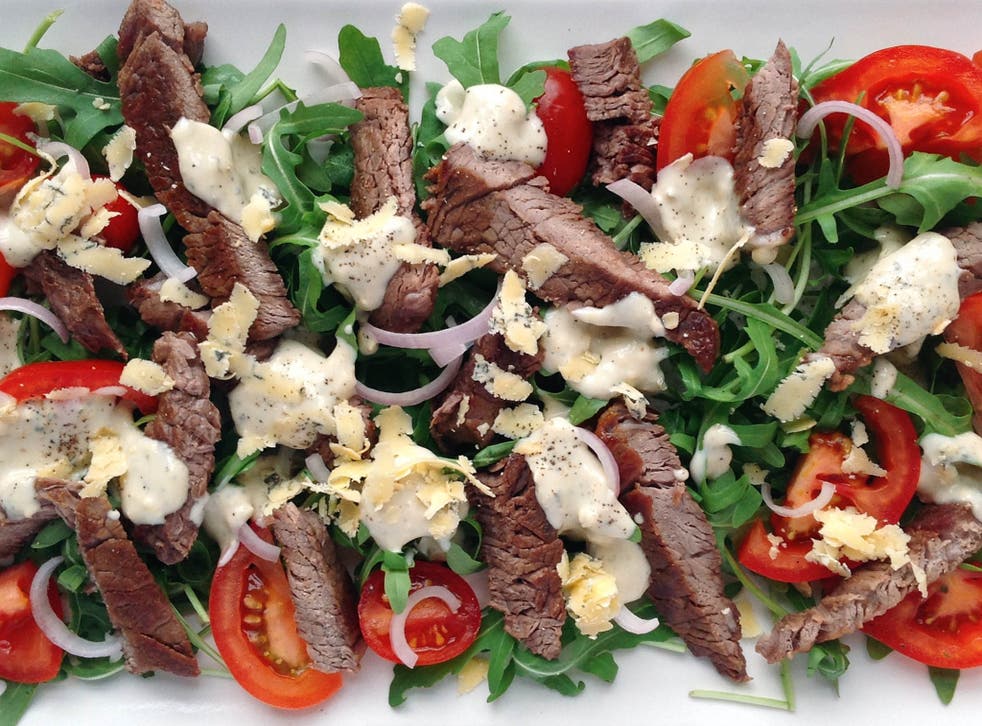 How to make warm steak and tomato salad with creamy blue cheese dressing
Perfect for a hot summer's day, this dish is both fresh and filling
Thin slices of steak and fresh juicy tomatoes drizzled with a creamy blue cheese dressing which melts into the warm salad.
Serves 2 as a main course
2 large steaks (your favourite cut)
100g rocket
250g mixed tomatoes
1 large banana shallot, thinly sliced
For the blue cheese dressing
100g Shropshire Blue cheese
2 tbsp buttermilk
3 tbsp creme fraiche​
2 tbsp mayonnaise
2 tsp apple cider vinegar
½ tsp garlic powder
½ tsp freshly ground black pepper
½ tsp English mustard powder
Salt to taste
Put the cheese in the freezer for a couple of hours, this will make it easier to grate.
Grate the cheese then mix with the rest of the dressing ingredients. Cover and chill in the fridge for at least an hour.
Cook the steaks to your liking then cover with tin foil and leave to rest for 10 minutes.
Meanwhile, divide the rocket between two serving plates. Chop and slice the tomatoes and divide between the plates and scatter the shallots over the salads.
Slice the steak, against the grain, into long thin slices and arrange these over the top of the salads. Generously drizzle the blue cheese dressing over the steaks and finish with some more grated blue cheese and plenty of freshly ground black pepper.
Follow Beverley Hicks @thelittlechelseakitchen
Join our new commenting forum
Join thought-provoking conversations, follow other Independent readers and see their replies