Why 2018 will be the year street food gets a lot more sophisticated
From jackfruit chicken for vegans to pork that pulls no punches, street-food markets continue to cater for more demanding palates. But, Lizzie Rivera asks, is it all hunky-dory?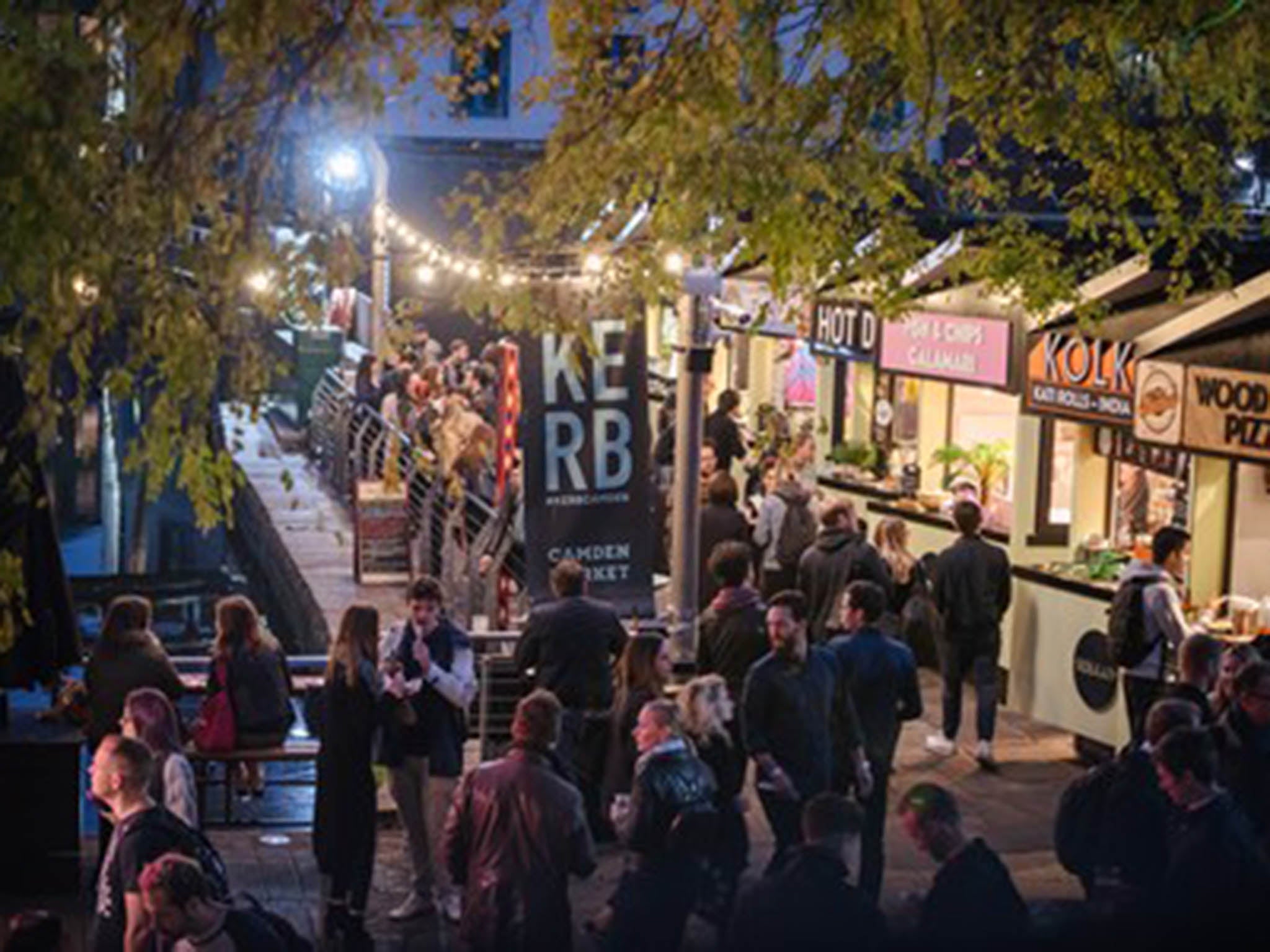 When a street-food vendor is awarded the highly coveted Michelin star, you know it's time book a flight to Thailand and wait in line for four hours to try that crab omelette cooked by the eccentric 72-year-old sporting ski goggles to protect her eyes.
Or, at least, to start paying closer attention to what's happening on the street-food scene closer to home.
And there's a lot going on.
Street food is renowned for being at the forefront of food innovation and its popularity has exploded in recent years. Its transient nature means it can keep up with ever-changing consumer demand for new flavours, textures and winning combinations – some great, such the rise of tacos and all things Mexican, others more questionable, like the "unicorn" food trend.
This year, street food is set to get a lot more sophisticated. Regional cuisine is what the people are demanding now. "Indian" doesn't quite cut it anymore – people want to know that their seafood dish is inspired by the ports of Kerala or that their vegetarian curry is from the streets of Gujarat. The same goes for South East Asian flavours, albeit at a slower pace, with Taiwanese expected to become more popular this year.
"People's thirst for knowledge is huge – they want to know the history of the dish, what's in it and how you make it," says Jonathan Downey, chief executive of London Union, which runs the popular Street Feast markets across the capital and is backed by the likes of Jamie Oliver, Yotam Ottolenghi and Thomasina Miers.
There's also going to be a renaissance of Nineties American classics like pop tarts, s'mores, soft-serve ice cream and slushies according to Kerb, a company which curates street food market hubs across London.
"Vegan dishes are getting an unhealthy makeover," says Kerb's Alison O'Reilly. "There are only so many buddha bowls one person can eat, so it's time for some jackfruit chicken wings from Biff's Jack Shack, a tofu fish burrito from Club Mexicana and melting chocolate brownie mud pie from Young Vegans."
A sixth of Camden Market's 72 stalls now cater almost exclusively to vegans, with seitan burgers and coconut pancakes providing tasty alternatives to the vegan falafel staple.
"When we first started trading four years ago there was very little variety in street food available and certainly hardly anything for vegetarians," says Jenny Thompson co-founder of Market Operations, which is behind street food markets Altrincham Market just outside Manchester and Mackie Mayor in the city centre.
"It is a fundamentally different market now. Many of our traders and customers are vegetarian and vegan."
The changing faces of street food
This is not the only way the street food scene has evolved hugely over the past few years.
Gone are the days of street food markets popping up rave-like, in derelict spaces, only lasting only a few weeks, nervously overlooked by city officials.
Now, it's a more promising career choice. Councils and developers have cottoned on to it being a (cheap) way to revive an area – and demand for street food market organisations is high. This means independent traders are supported by bigger more well-oiled machines offering long-term pitches and a steadier stream of customers.
Food and drink news
Show all 35
Set-up costs for traders typically start from £2,000 and don't rise much beyond £5,000. Within the first year, turnover can be anything from £40,000 to £250,000 and traders who go onto have multiple sites can earn up to £1.5m revenue. The tightest of ships can hope for a 20 per cent profit margin, but the business can be as erratic as the weather – and largely reliant on the rain staying away – so this is yet to become the norm.
Unsurprisingly, market organisers now receive hundreds of applications each month.
"More traditionally it was people from other countries who wanted to bring their dishes to London streets. Now a lot of people are leaving nine-to-five jobs in finance, tech and marketing … they see it as a low-risk way of setting up a restaurant without having to invest hundreds of thousands of pounds," says Kerb's O'Reilly.
Some very successful restaurants have been born from humble street food stands, including Pizza Pilgrims which now has eight sites across London and Oxford and steamed-bun aficionados Bao, which now has three sites.
Throwaway culture
Sustainable food is expected to be another huge food trend this year, but this is one area where street food surprisingly isn't always ahead of the curve.
You can't escape the single-use plastics headlines at the moment. The very nature of street food means single-use plates, cups and cutlery are rampant in markets and because of the complications with food contamination and recycling a lot of this goes straight in the bin. With more than a million people visiting each market every year that's a staggering amount of waste.
All markets say they are looking into more sustainable alternatives to plastic or plastic-lined cups and plates, but it's yet to become the priority. One barrier is that street food vendors are technically self-employed and the larger organisations are reluctant to impose restrictions on them to buy better, because it will ultimately cost young startups more money.
Nevertheless, consumer demand for better practice is already starting to make its mark and there's an already noticeable reduction in plastic straws.
Some markets have gone even further and are doing great work in this area, including the award-winning Altrincham Market and Mackie Mayor.
Market Operations's Thompson, known as "the boss", insists sustainability is "completely fundamental" to its business models.
Traders are encouraged to use washable crockery and there are inbuilt catering sinks plus a central washing up area. The only disposable items are paper cups for takeaway drinks and wood cutlery.
"We have cut it down to the bare minimum," she says.
All waste from the street food vendors at POP Brixton in south London – a buzzing site of offices, food and live music venues constructed from recycled shipping containers in south London – is collected by Quantum Waste. The waste contractor has a zero-to-landfill policy so they hand-sort the waste, compost the food, recycle what they can and incinerate the rest, cutting the site's waste by an impressive 80 per cent.
POP Brixton also hosts the "People's Fridge" – an initiative where local food businesses donate unused food to a large fridge for anyone to take free of charge. One year on and "we're really pleased to see how it's being used by a diverse range of people. There's no stigma attached," says Charlie Gent from POP Brixton.
From farm to stall
The sustainability issue also extends to the quality of the food purchased, before the tempting delights of a pork-filled steamed bun, steak roll, or seafood taco take shape.
A common assumption is that street food is fundamentally better quality because of the nature of the business.
"They entice you in by taste and it looks good – so you're not suspicious. I have quite a lot of faith they will be free-range at least," says Patrick Hemmington, 18, a young Camden Market regular.
But have you ever actually asked a street food trader where their ingredients are sourced? Even in this food-lovers haven it feels like an awkward question and I'm genuinely shocked to discover how little the majority sellers can tell me about the provenance of their food.
On a recent visit to two markets, only one trader could tell me the name of the farm the meat they were selling was from.
"I should know that, but I don't," said one.
"It's technically free range," said another, not exactly filling me with confidence.
Profit margins are clearly imperative to the success of any small business – but street food traders earn respect for the quality of the handcrafted food they undoubtedly pour blood, sweat and tears into. For me, that starts with top-quality ingredients sourced from farmers who humanely rear their animals with similar passion, rather than dressing up cheap meat.
Again, Altrincham and Mackie Mayor are standout markets – meat and vegetables are sourced from small farms; fish is predominantly line-caught; and local eggs are from healthy free-range chickens.
Thompson says: "We are collectively driven to produce and offer the best food and drink we can. Our traders personally know all their suppliers, visit the farms and buy as much as they can locally.
"In the North-west there are so many truly heroic food producers, they just happen to be geographically distant – we pull them together under one roof."
One trader told me I was the first person to question where their meat was from in a year and a half. In an industry that's so reactive to consumer demand, it's important that we ask these questions.
"I've asked our traders to be a lot more overt about their sourcing practices this year – without being righteous," says Downey. "If something's halal, organic or battery you've got to tell people."
Indeed, there are some street food traders creating exceptional food, with ethics at their core.
Street Feast's Up in My Grill is passionate about where it gets its rare-breed meat from; Yum Buns no longer serves prawns because it can't both source them ethically and make it work commercially.
The Growlers at Kerb uses meat from Scotland where the cows are free-ranging during the summer months and kept in open barns and fed homemade silage during winter. It uses compostable napkins and boxes, and are aiming to be zero-waste. All of this information is available on its website.
Pop Brixton's 28 Well Hung's whole focus is British meat from heritage breeds "properly free-range and pasture fed and where the abattoir employs the strictest practices in humane handling so the animals aren't stressed."
Now that's beef I can get on board with.
The growth and innovation of street food is a feat to be celebrated, as are the market organisers who are championing the little guys.
But I can't be the only one who thinks "technically free range" isn't good enough from the people who build their brands around a passion for good, honest grub. More permanent street food markets may have lost that rave feel, but this doesn't mean they should lose the edge and challenge our perceptions of what tasty, quality, affordable food really can be.
If anything, they have the power to do this more than ever. Hopefully sustainability will be the 2018 trend that lasts, and provenance will take us well beyond 2019...
Lizzie Rivera is the founder of ethical lifestyle site bicbim.co.uk
Join our commenting forum
Join thought-provoking conversations, follow other Independent readers and see their replies