The Independent's journalism is supported by our readers. When you purchase through links on our site, we may earn commission.
Wines of the week
The best summer aperitifs to drink now
Just because the summer is likely to be gloomy, it doesn't mean our tipples have to be, writes Terry Kirby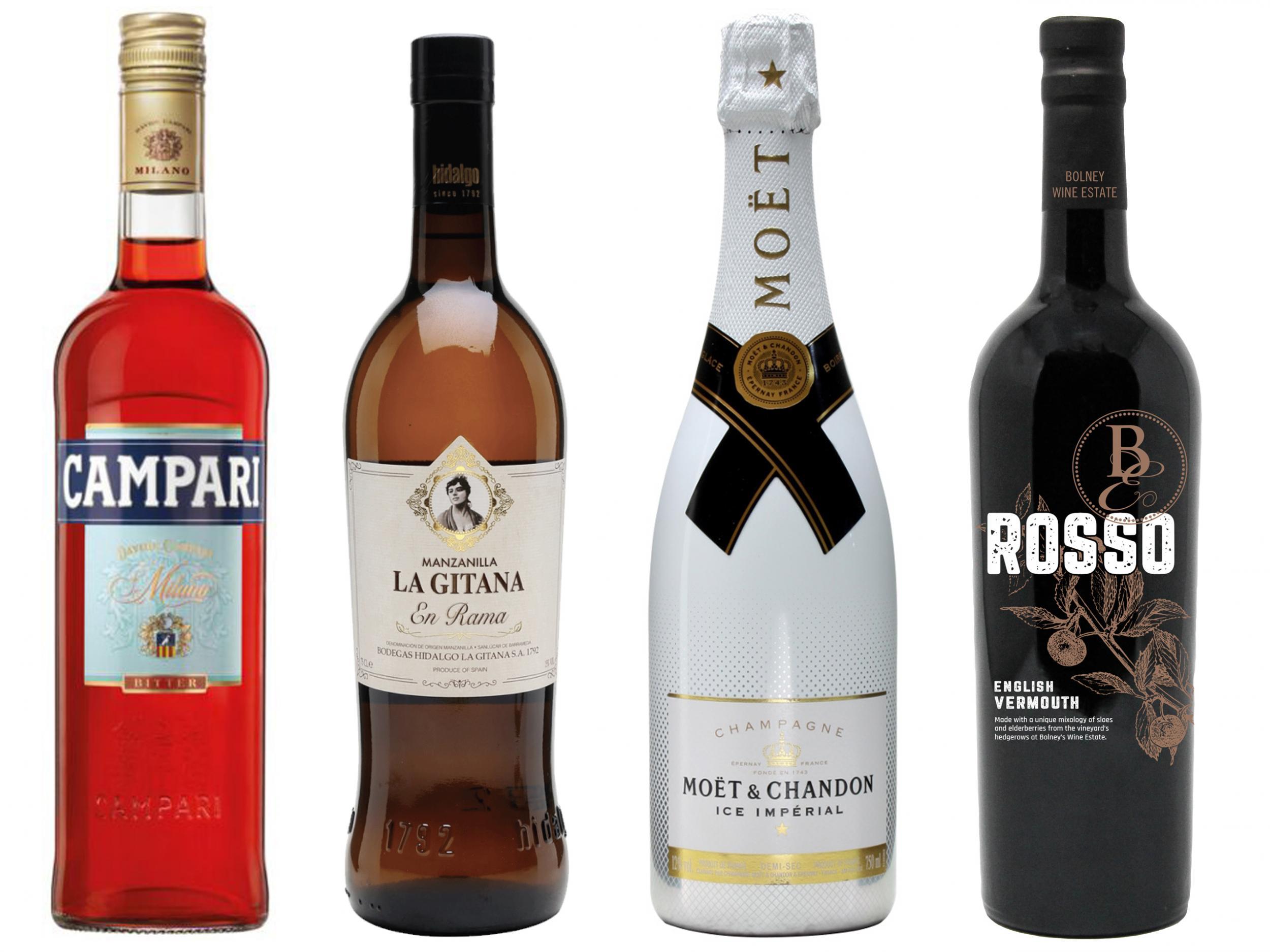 I remember once reacting with horror many years ago when a waiter in a Corsican restaurant simply dumped some ice into our pichet of rose after we had complained it was not cold enough on a hot day.
We settled on a chilled white instead, although the waiter remained grumpy. But some sommeliers in Michelin starred restaurants will shudder when they tell stories of the super rich punters who like their £100-a-bottle claret with a little tonic or ice and a slice. Now I love a nice gin and tonic or a Bloody Mary, but when it comes to wine, like most of us, I prefer it unadulterated, certainly undiluted and served at just the right temperature.
But this is perhaps just a bit too restrictive and it's not always the case: there are many examples of breaking such conventions to good effect – in Croatia recently, waiters in smart bars wisely suggest a little ice or water to dilute the strong local white, which can be 15abv. While in earlier times, the Romans and Elizabethans used to routinely add honey and spices to strong and rough red wine, a tradition that continues with mulled wine, made with the addition of spices, fruits, sugar and heat, as well as Sangria: cheap red wine with fruit, brandy, ice and, again, sugar.
Of course sugar – called dosage – is added to most sparkling wines, while distilled alcohol has been added to red and white wines to create port, sherry, some sweet wines and vermouths since it was discovered that adding brandy stopped – or fortified – the wine from deteriorating on sea voyages.
So with that in mind, here are some of my favourite wine based summer aperitifs that, with ice or not, will cool you down and refresh the palate. While some will add ice to sherry, that's where I draw the line – it is already a white wine made mostly from the palomino grape, aged under a skin of yeast – known as flor – and fortified by distilled alcohol; so that's enough intervention perhaps.
Dry manzanilla, made only in the coastal town of Sanlucar de Barrameda near Cadiz, served ice cold, but not with ice, is possibly my favourite summer aperitif, sipped alongside salted almonds, olives and perhaps an anchovy or three for the perfect drink pre-dinner and is even fine throughout a meal. Try the delicate, lightly tangy and nutty Barbadillo Solear (£10.99 waitrose.com; 37.5cl £5.95 slurp.co.uk) or early release, Bodegas Hidalgo La Gitana En Rama Manzanilla 2020 (£15.85 tanners-wines.co.uk; £16.99 virginwines.co.uk) where the flavours are incredibly fresh and intense, with a long finish; released only in April, it must be drunk as soon as possible. It is also incredibly good value. Staying with fortified wines, while "port and lemonade" was a favourite British adulteration of cheap ruby port many years ago, the grown-up contemporary version is white port and tonic, which makes a great alternative to gin and is the go-to sundowner in the Douro. Avoid aged, off dry or sweetish white ports and try Taylor's Chip Dry White Port (£11.99; normally £13.99 until July 28, waitrose.com; £14.99 virginwines.co.uk) and drink with tonic, ice and a sprig of mint.
If I don't want to open a bottle of sherry or port – both of which need to be drunk within a few days – a spritzer, which is made by adding sparkling or soda water to a cheapish chilled white or rose (but nothing else) is often my easy choice of thirst quenching drink on a hot day but adding elderflower cordial with perhaps some ice, cucumber and mint to white wine, not rose, can make a lovely and refreshing long drink.
If you are lucky enough to have your own elderflower tree, you can make your own, or choose a good brand like Belvoir Organic Elderflower Cordial (£2.50 waitrose.com; tesco,com; widely available elsewhere). A shot of some elderflower cordial can also enliven a cheapish bottle of prosecco, but I prefer to mix such prosecco with a slug or two of Campari Bitters (£12.50, normally £15.50 tesco.com until July 20; widely available elsewhere) and lots of ice, with a slice of orange or lemon for a long and refreshing spritzer... One of the definitive Italian aperitivos, Campari is, of course, similar to the fashionable Aperol, which you can use in the same way, but higher in alcohol and more bitter.
Campari is also one of the three ingredients of another traditional and fairly simple cocktail which is enjoying a revival, a Negroni, made with three equal parts of Campari, gin and vermouth. Now, normally you would use traditional Italian Martini Rosso Vermouth for this, but not having access to the fourth ingredient – a sun dabbled Italian terrace or piazza – to hand, my homemade Negronis have been mixed using the brilliant Bolney English Rosso Vermouth (£19.00 bolneywineestate.com) made with English red wine and various botanicals by one of England's long-established winemakers. Who needs to travel anyway. And you can use it in other cocktails and long drinks.
Of course, the ultimate aperitif wine is a fine sparkling wine, whether its vintage champagne or elegant English sparkling. There is something about those chilled bubbles on a sunny day, before a nice lunch or dinner in the garden, accompanied by perhaps a few canapes, that is just so perfect, so traditional and timeless, why would you ever tinker with it? Well, someone called Moet, who kinda know their champagne, did and a few years ago launched Moet et Chandon Ice Imperial (£41.75 thechampagnecompany.com; widely available elsewhere) which is specifically blended to be poured over ice into a large still wine glass and garnished with orange, lemon, strawberries, mint, cucumber etc. And while some scoffed, it is rather nice and works very well as a crowd pleasing and refreshing alternative. So, I'm actually now a convert to some carefully regulated rule breaking ways of drinking wine this summer. But I'm still fuming about that pichet in Corsica…
Join our commenting forum
Join thought-provoking conversations, follow other Independent readers and see their replies