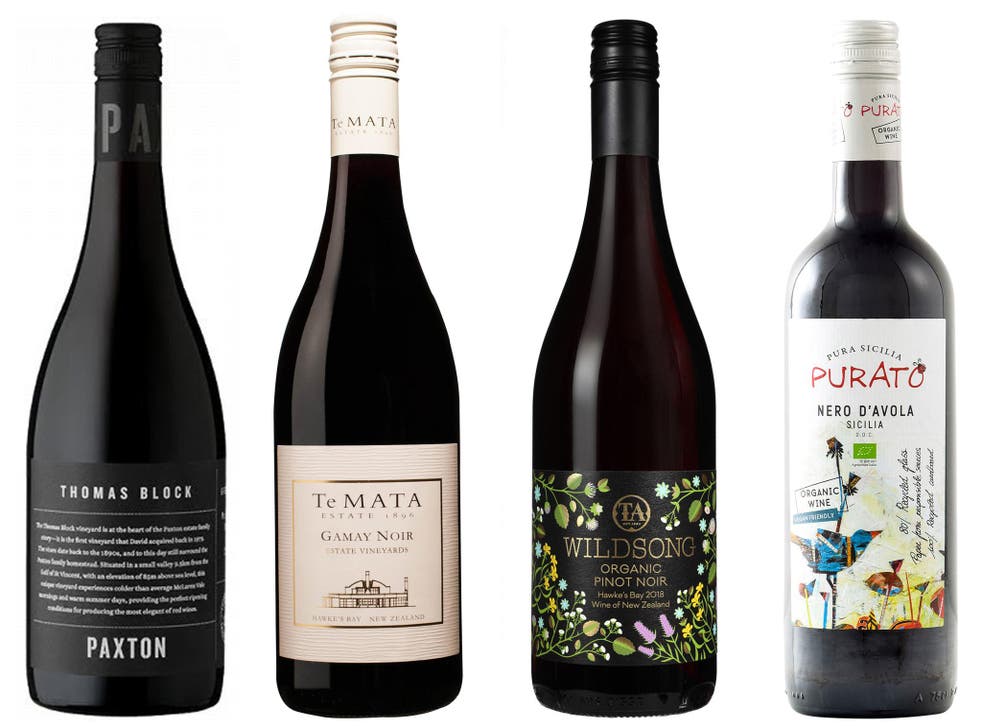 Wines of the week: 8 summer reds for chilling
Many rouge wines don't match the lighter food of summer, but Terry Kirby says, chilling reds in warm weather helps to sharpen flavours and preserve structure of the wine. So take his advice on which ones actually can go in the fridge
Terry Kirby
Friday 02 August 2019 15:31 Comments
Red wines in summer can present a bit of a problem… really warm temperatures can make all reds seem flabby and soupy, with their flavours muted and muddy and the tannins abrasive and somehow more alcoholic.
Yet it can seem odd to start chilling heavier reds, particularly if you are about to consume them with red meat, when we spend most of the year ensuring they are up to room temperature. And many reds do not always match the lighter foods of summer, such as salads or fish dishes. However, there is no doubt in my mind that chilling reds in warm weather helps to sharpen flavours and preserve structure of the wine, giving a fresher and more appealing mouthfeel. But if we are going to chill a red, what kind of reds should we chill – and for how long?
There is no one size fits all solution, I'm afraid, because different grapes and wine styles take to different levels of chilling and food pairings. And it's also about personal preferences: some red wine drinkers abhor the idea of chilling reds; until of course they try it and become instant converts.
Although generally it's not recommended to chill grapes or wines at the heavier end of the spectrum, such as syrah, merlot, cabernet sauvignon, or oaky, aged Riojas, even half an hour in the fridge door can liven some wines up.
In Chateauneuf Du Pape a few weeks ago in temperatures of 35C plus, the full-bodied reds I was tasting had a cellar chill on them, which made them perfect to drink. Once they sat in warm air on the table they were less clean and clear on the palate. Their chillability was almost certainly due to the dominance of Grenache in the blend, a remarkably adaptable grape which can take a decent chill when young – although I didn't give more than about 40 minutes to the exceptionally good Paxton Thomas Block Grenache Mclaren Vale 2017 (£21.45 cellardoorwines.co.uk), a biodynamic Aussie blockbuster: big, juicy and a vibrant, but youthful mouthful. If you are going to serve a cooled red at a special meal, this might be one, but keep the temperature at around 14-16C. (A wine thermometer is a good investment, by the way). A chicken paella would be ideal here.
The general rule then is youthful, less complex, unoaked wines, from grapes such as gamay – the grape of Beaujolais – pinot noir and, particularly, lighter Italian grapes, like nerello mascalese and corvina. And keep it to an hour in an ordinary fridge door, or about 12-14C.
Elsewhere in the southern hemisphere, the organic, elegant Wildsong Organic Pinot Noir 2018 (£15.73 aitkenwines.com; £16.95 cellardoorwines.co.uk) from the Hawke's Bay region of New Zealand is medium bodied, supple, juicy, with black cherry and some earthy and herbal hints, all of which are accentuated with a little chilling, making it a perfect complement to a seared tuna steak, with a crushed black pepper coating and pink inside. And a lovely label too.
Avocado, coffee and citrus fruits 'threaten global food security'
For our third New World take on European staple grapes and staying in Hawkes Bay, the Te Mata Estate Gamay Noir 2018 (£13.50 thewinesociety.com; £19.20 thenewzealandcellar.co.uk) comes from an excellent vintage on a top-ranked estate and is almost the perfect summer red: again it's light, with juicy but concentrated red fruit and black pepper flavours; like the pinot, it is probably always best drunk cooler, even when the weather is not blazing hot and suited for lighter dishes, such as pasta with simple tomato sauces.
Back in Europe, in the original home of gamay, the Chateau Des Jacques Moulin A Vent 2016 (£14.00 sainsburys.co.uk; £19.49 ocado.com) comes from a village cru which is towards the more weighty end of Beaujolais wines, but still takes a chill very nicely – in fact I accidentally gave this bottle a couple of hours and I really think it added substantially to the black cherry flavours, giving it a nice chewy quality. A terrific wine for lighter chicken and vegetable dishes, charcuterie and semi-hard cheeses.
Alsace in northeast France is also a great source of lighter pinot noir and the name Hugel is synonymous with Alsatian wines. The Famille Hugel Classic Pinot Noir 2015 (£17.99 various independents) derives from vines on clay limestone soils in the company's home base of Riquewihr. It is another excellent vintage which imparts a real pure freshness and acidity to the bright and light red fruit and cherry flavours; lighter salads and grilled oily fish dishes, like salmon or tuna again.
Now for those Italian wines – or more specifically, Sicilian. The cheerfully bottled and delightfully cheap Purato Nero D'Avola 2018 (£6.99; normally £9.99 until August 13, ocado.com) is the kind of screw topped, fruity crowd pleaser you can plonk into the garden ice bucket alongside the rose and the beers and glug happily out of tumblers with the barbecued chicken legs and sausages. And it's organic as well. Moving up a notch, Cortese Nostru Nerello Mascalese Terre Siciliane (£11.50 jeroboams.co.uk; £11.95 slurp.co.uk)from an organic estate in southern Sicily is in a similarly approachable vein, with dark berry fruits, lots of vim and vigour and a bit of spicy, tarry complexity from light oak ageing; also one for the barbecue – perhaps when it's a spatchcocked chicken or leg of lamb on the spit – but perfectly acceptable for the dinner table as well.
Finally, much further north in Italy in the Veneto, the corvina grape is a main component of Bardolino and Valpolicella wines, but in the Cantina di Negrar, Corvina 2016 (£9.50 herculeswines.co.uk) takes centre stage with very light, vibrant mineral, raspberry and cherry flavours, with just an underlying hint of spice; give it an hour in the fridge and bring on the pizza or pasta. And just remember to be thankful for the kind of weather that needs a chilled red…
Register for free to continue reading
Registration is a free and easy way to support our truly independent journalism
By registering, you will also enjoy limited access to Premium articles, exclusive newsletters, commenting, and virtual events with our leading journalists
Already have an account? sign in
Join our new commenting forum
Join thought-provoking conversations, follow other Independent readers and see their replies