Superfoods Superfast: How to make energising recipes quickly
Eating superfoods doesn't have to consist of slaving for hours in the kitchen. It can be quick and allow you to get the 'super' back into your diet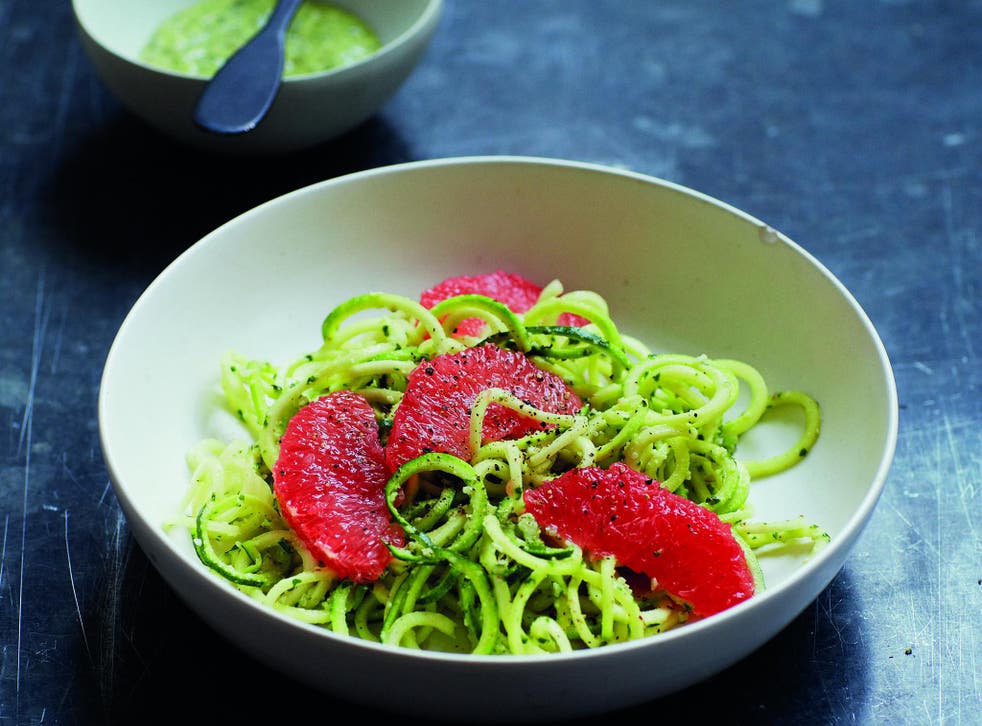 Making it even easier to nourish our bodies in less than 20 minutes, is Julie Montagu, who introduced us to supefoods last year with the book of the same name. As a nutrition expert, yoga guru and TV presenter Julie's recipes are designed to energise your mind and body with simple, pared down recipes.
With 100 plant-based recipes, and each includes ingredients from cumin, berries, honey, beetroot, sunflower seeds, almonds and oats. The book is separated into meal time sections, with offerings such as chocolate and coconut sunrise to kale mac 'n' cheese, every recipe will keep you going with boundless energy. The book is published on Thursday and here are some of our favourite summer dinner time recipes.
Green Risotto
Serves 4
Those that know me know that I love greens. I seriously try to get at least one green veg into my diet every single day, no matter what. Greens are great for the liver, which is wonderful, but I love them because they are also incredibly energising. And I need and want as much energy as I can get. So here's a quick and easy risotto that's a bit different from typical recipes because it's all about the greens.
350g asparagus spears 
80g petits pois (French peas)
4 tbsp coconut oil 
375g uncooked buckwheat
1 small onion, roughly diced
1l vegetable stock 
50ml apple cider vinegar
Large handful of basil
Sea salt and freshly ground black pepper
Fill a medium saucepan with water and bring to the boil. Cut the ends off the asparagus and discard, then slice into 3cm chunks. Place in the boiling water with the petits pois for 3 minutes. Drain and rinse.
Food and drink news

Show all 35
Meanwhile, add the coconut oil, buckwheat, onion, veg stock and apple cider vinegar to a large frying pan over a medium-high heat. Stir until the coconut oil has melted and then cook at a slight boil for 15 minutes.
While the buckwheat is cooking, add half the petits pois and asparagus along with the basil and 100ml water to a food processor or blender and blend until smooth. Mix the purée into the buckwheat risotto, season with salt and pepper, garnish with the remaining petits pois and asparagus pieces and serve.
Courgetti spaghetti with grapefruit and Brazil nut pesto
Serves 2
In the mood for a light summer salad? Well, lighter than pasta, courgette noodles check that box. Seasoned with a gorgeous – not your run-of-the-mill – pesto and topped with grapefruit, this salad might just be the envy of your co-workers.
40g brazil nuts
1⁄4 teaspoon sea salt
Handful of basil
Handful of coriander
2 tbsp olive oil
1 garlic clove
Juice of 1⁄2 lemon
2 medium courgettes, spiralized
1 grapefruit, peeled and segmented
Place the brazil nuts, salt, basil, coriander, olive oil and garlic in a food processor or blender with the lemon juice and 3 tablespoons water. Blend to make your pesto.
In a bowl, coat the courgette spaghetti with the pesto, then divide between bowls and top with the lovely grapefruit pieces.
Fennel and Pear Salad with Spicy Almonds and Avocado
Serves 2
This recipe was created out of love for the lonely fennel bulb that was staring at me from the fridge, saying, "Eat me, I'm good for you!" I've learned, though, that fennel is something you either love or hate. It has an aniseed flavour that's quite bold. However, by mixing it with something sweet, like pear, and something a bit spicy, like the chilli flakes, the strong taste of the fennel is muted and complemented.
Large handful of blanched almonds
2 tsp coconut oil, melted
1 tsp cayenne pepper
1 fennel bulb
1 avocado, peeled, stoned and cut into chunks
1 pear  
Juice of 1 lime
1 tsp fennel seeds 
1 tsp cumin seeds 
Handful of mint leaves, finely chopped
Preheat the oven to 180°C and line a baking sheet with parchment paper. Coat the almonds in 1 teaspoon of the coconut oil, sprinkle with the cayenne pepper and spread out on the baking sheet. Toast for 10 minutes or until lightly browned.
Use a mandolin (or sharp knife) to slice the fennel thinly. Place in a medium bowl or on a large plate with the avocado. Peel the pear and grate it over the fennel and avocado, then squeeze over the lime juice to keep the pear from browning. Add the remaining coconut oil to a pan over a medium heat and toast the fennel and cumin seeds for 3 minutes. Toss the toasted seeds, almonds and mint over the salad and enjoy!
Register for free to continue reading
Registration is a free and easy way to support our truly independent journalism
By registering, you will also enjoy limited access to Premium articles, exclusive newsletters, commenting, and virtual events with our leading journalists
Already have an account? sign in
Register for free to continue reading
Registration is a free and easy way to support our truly independent journalism
By registering, you will also enjoy limited access to Premium articles, exclusive newsletters, commenting, and virtual events with our leading journalists
Already have an account? sign in
Join our new commenting forum
Join thought-provoking conversations, follow other Independent readers and see their replies