The Independent's journalism is supported by our readers. When you purchase through links on our site, we may earn commission.
Taste Escape: Where to eat and drink in Santorini, Greece
Christina Zacharia takes us on a tour of her beloved Santorini, uncovering a thriving food scene and stunning history along the way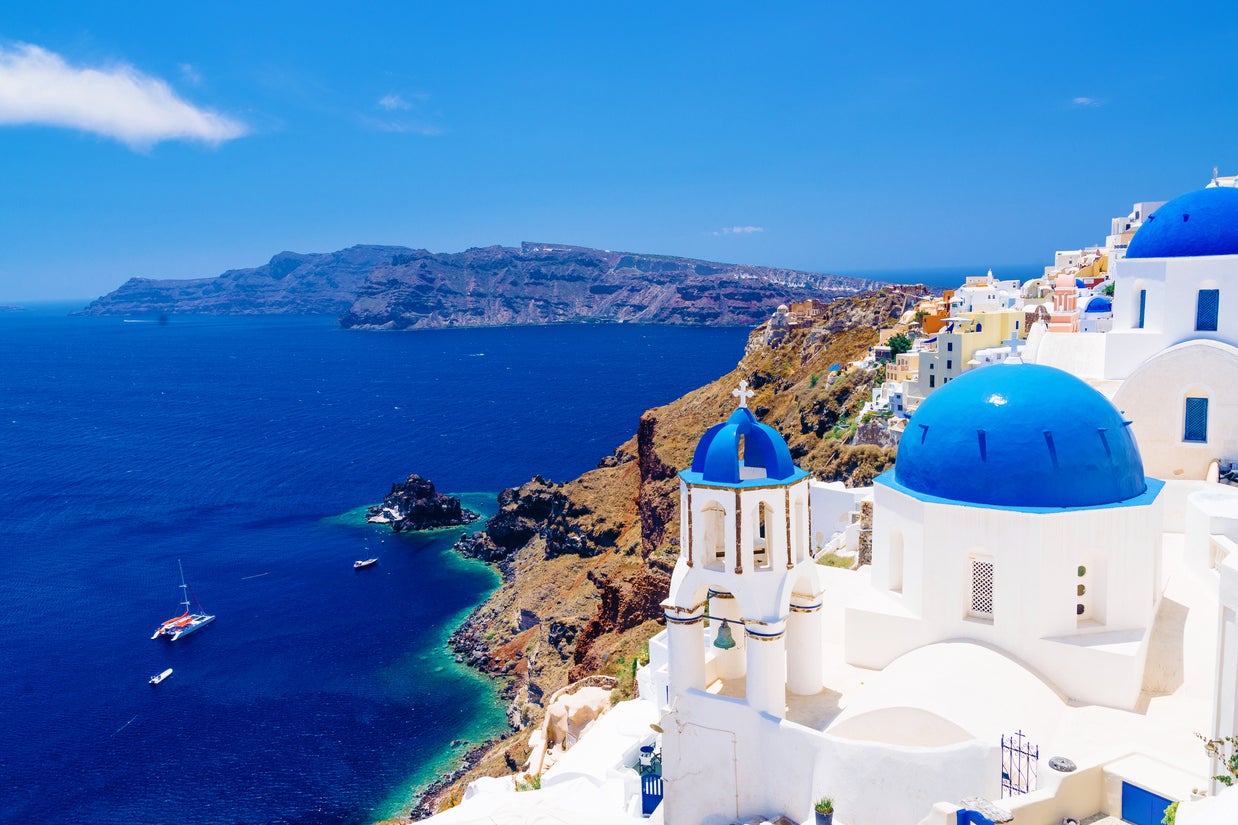 Talk to anyone who has visited Santorini and they will tell you what a magical place it is. The Mediterranean island is famous for its whitewashed buildings, blue-domed churches and incredible beaches, which is why millions arrive at its sun-drenched shores every year. But there is much more to Santorini than gorgeous sunsets and volcanic vistas; there are a variety of cultural activities and a thriving food scene on the island that draw visitors back year after year.
If you're already familiar with the island and want to see the real Santorini, read on and discover its tucked-away villages and all the delicious local spots along the way.
Where to go sightseeing
Everywhere you go in Santorini there are jaw-dropping views, historic buildings or incredible photo opportunities. See the island through the lens of the past and gain a newfound respect for its rich heritage.
Listen to traditional Santorini music
At La Ponta you can take a journey into the island's timeless musical tradition. As witness the bagpipe performances which combine history, mythology and tradition through songs and melodies. As an added bonus, you can enjoy amazing views and a tour of the 13-century Venetian castle.
Go horse riding in Akrotiri
If you are looking for a fun way to spend a few hours on the island, take a horse with Santo Horse Riding. Riders of all skill levels are welcome. Trotting around a farm or taking a tour of the nearby villages and beaches is memory-making in Kodachrome. With plenty of opportunities for photos, it's a brilliantly analogue experience.
Check out the Tomato Industrial Museum
Cherry tomatoes have been growing on Santorini since the 19th century and are known for being deliciously small, thick-skinned and sweet – if you are yet to try one, you must! The volcanic soil gives them a very unique flavour and also allows them to grow without any irrigation. Instead, the tomatoes get everything they need form the soil's natural humidity. This museum – located in Vlychada – will offer you a taste of the cultivation, processing and production of the island's famous triple-concentrated tomato paste (often named as the best in the world), blended with the local history and culture of the island.
Local flavours
Santorini is an island obsessed with tomatoes, but there are lots of other ingredients found on the island to excite the food lover. From olive oil to dishes unique to the island, you'll never go hungry in Santorini.
Enjoy a home-cooked Santorinian dinner at The Good Heart.
After you visit La Ponta, you can enjoy a nice traditional lunch away from the more crowded restaurants. The Good Heart is a local, family-owned Greek restaurant where everything on the menu is organic and grown on the island. Make sure to taste the Tomatokeftedes (tomato balls made with feta and red onion). They are a specialty of the island and the best ones are served at The Good Heart.
Dining there feels more like being a guest in someone's house, rather than a customer at a restaurant. Don't forget to meet Anna and Michalis, the owners.
Trek to the monastery at the highest point of the island
Elevated 567 metres above sea level, this ridge offers a panoramic view of the island. Sitting on it is the Monastery of Prophet Elias and a small shop with items produced by the local monks, such as sun-dried tomatoes, caper leaves, samphire, honey, olive oil, different types of wine, liqueur, oregano and homemade pasta. It's such ingredients that make up the foundations of Santorini's traditional dishes, but if you're only going to try a few, the olive oil and sun-dried tomatoes are the highlights.
Tuck into perfectly matched food and wine at Venetsanos Winery
Santorini is famous for the Assrytico and Vinsanto wine varieties, so you cannot leave without tasting them. But instead of the traditional wine-tasting, why not enjoy pairing local wines with traditional Greek food. At Venetsanos you will taste four wines (white, rose, red and dessert wine) paired with local delicacies and other specialties from around Greece such as fresh oregano, barley rusks, soft cheese and Greek prosciutto. You can also pair the wine with seafood if you like; we are on an island after all. The winery overlooks the caldera of the nearby volcano, so you can enjoy the view while tasting the local grapes.
Santorini's specialities
Street food, coffee, buttery pastries – the residents of Santorini certainly know how to eat and drink well. Don't leave the island until you've tasted every one of these.
Eat a gyros as you walk Santorini's streets
Gyros – pitta bread filled with chicken or pork along with lettuce, tomato, onions and chips – is a national treasure of Santorini. Pork usually goes with tzatziki and chicken goes with another type of sauce based on mayonnaise instead of yoghurt (no, this sauce does not have a name, we just call it "sauce"). Lamb gyros is not that popular in Greece, contrary to what most people think. After extensive research (conducted by myself of course) Yogi's Gyros and Peinas Minas serve the best gyros on the island. When you get hungry, stopping by for a gyros (or two) will put a smile on your face.
Start the day right with a traditional Greek coffee in Emporio
Emporio is one of the more interesting villages on the island. The village itself is an example of medieval architecture with narrow labyrinthine streets leading to a castle at the top of a hill. On the way up, stop at To Kafenedaki tou Emboriou and get yourself a cup of Greek coffee or, if you are looking for something more refreshing, you can also try a frappé with homemade ice cream. Vasilis will take your order with what he calls a "tablet", which is really a blackboard with a piece of chalk. It does not get more traditional than that.
Food and drink news
Show all 35
Try the 'spanakopita' at Erotokritos Bakery
Erotokritos is by far the best bakery in Santorini with delicious options for anything from a light snack to a rich dessert. Everything inside is fresh-baked daily, and you will find sweet and savoury pastries including traditional options like spanakopita (a spinach and feta pie) or tyropita (a cheese and egg pastry) and a variety of sweets. If you have a sweet tooth, try the chocolate cake or the syrup-soaked baklava.
Still have time to spare?
ArtSpace combines the Greek traditions of wine, history and art in one location which includes a winery, museum and art gallery. The gallery is located in the chambers of a winery which dates back to 1861, while exploring the museum offers a close-up view of contemporary Greek art and a historic distillery. Once you've seen Santorini with your eyes, you can taste the incredible wines still made on-site amongst the atmospheric caves and aged barrels they're made in.
Close to La Ponta and The Good Heart, you can easily take a short trip to the lighthouse. It is situated at the very southern tip of the island, so you can enjoy incredible views of Santorini (comparable to Oia, a small town famous for its views). This is a great spot to watch the sunset.
On the way to the cable car in Fira, you can stop in at the Melissotopose Bee Place. Here you will find different types of honey from around Greece, including honey made from thyme, fir, pines, eucalyptus, heather and cotton plants. Selected traditional products are sold here as well, including traditional spoon sweets and jams, herbs and tea. If you're looking for a gift for someone back home, then the natural cosmetics like soaps with olive oil and beeswax ointments both look and smell incredible, many of which can't be found anywhere else but Santorini. This is Greek produce at its very best.
Join our commenting forum
Join thought-provoking conversations, follow other Independent readers and see their replies