The Independent's journalism is supported by our readers. When you purchase through links on our site, we may earn commission.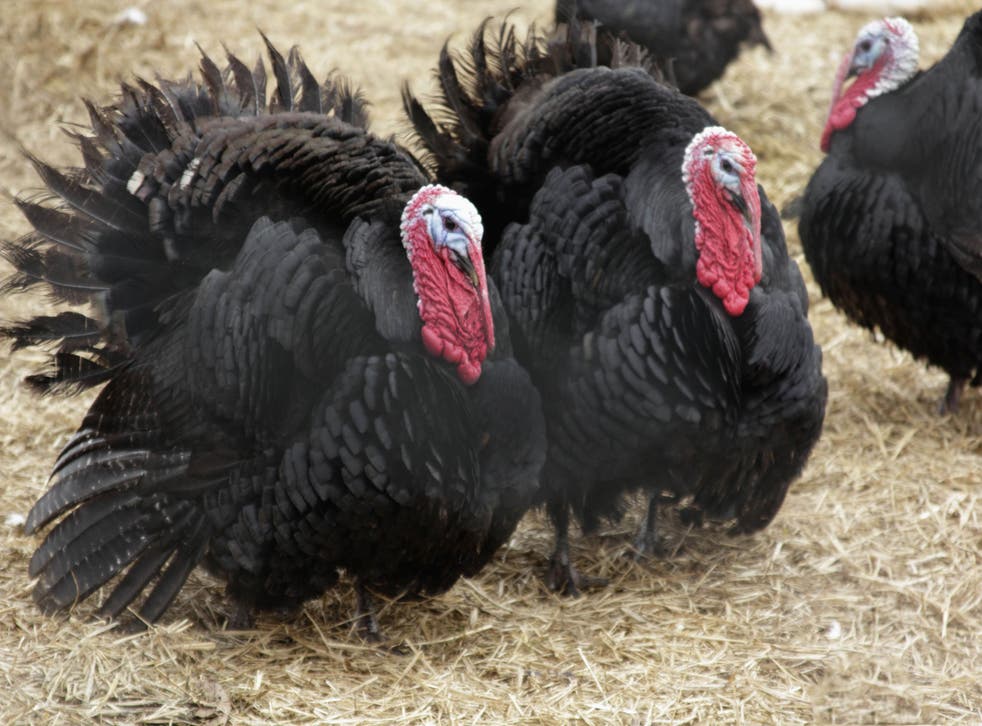 The 12 food trends of Christmas: From mince-pie cocktails to deep-fried crackling
Flavourless white turkey and mushy sprouts with a cava chaser? No more! Make this year's celebrations the foodiest ever...
The course
The new Christmas Dinner Party classes being run by Le Manoir aux Quat'Saisons' Raymond Blanc Cookery School (9am-4pm, 8-9, 13-14, 20-21 December, £365, email manoir.mqs@belmond.com) will raise your roasted Rhug turkey and Bûche de Noel to two-starred status. In Nottinghamshire, meanwhile, bread legend Emmanuel Hadjiandreou is teaching the stollen and posh mince pie knowledge used in bakeries. The lesson takes place at the Cookery School of the Year-winning School of Artisan Food in Worksop (£165, 10am-5pm, 15 December, schoolofartisanfood.org).
The crackling
One bite of good pork crackling and the appeal is obvious. And devotees are awaiting with relish Mr Trotter's English Mustard Pork Crackling next week (£1.89, Selfridges). Co-founder Rupert Ponsonby explains why they're pioneering. "The pork is British, not Danish; making British crackling was an untried project. And the pigs are outdoors-reared." For porcine terroir bragging rights, the crackling is deep-fried three times.
Another coveted gem is the moreish pork crackling with chilli plum jam on the Nibbles menu at Newman Street Tavern in Fitzrovia; while the latest menu at Bistrot Bruno Loubet in Clerkenwell features pork crackling with apple sauce; and a Michelin-starred addition is crackling-coated smoked eel by Anton Piotrowski at The Treby Arms in Plympton, Devon.
The festival
At the Christmas Food Festival at Arley Hall in Cheshire (13-14 December), events will include a "Cake Off"; a foragers' walk by Adele Nozedar, aka The Hedgerow Guru, to seek out wild winter ingredients; a "Men v Food" competition in which entrants will race to down sprouts, gravy, mash and Christmas pudding; and local chefs on hand for advice.
The cocktail
World Class UK Bartender of the Year James Fowler will be breaking out his Zacanta cocktail – Christmas mincemeat, spiced pineapple, Ron Zacapa 23 rum and a swirling hot date foam – at The Larderhouse in Bournemouth next week.
Myles Donneky at Aqua Shard (on level 31 of London's Shard) has created a drink called Old St Nick featuring Bulleit Whiskey, Johnnie Walker Black, clementine, and mince-pie syrup. Its popularity has taken even Donneky by surprise. "It's going down a storm; we serve it in a Christmas stocking."
To put your own spin on the theme at home, add a lashing of pressed apple juice, syrup and rum to Tipplesworth's mince-pie syrup (£9.95, Harvey Nichols) for a delicious mince-pie "Martini".
The 12 food trends of Christmas

Show all 12
The turkey
While beef and capon became the nation's festive show-stoppers for several years, 82 per cent of us will apparently be opting for turkey this year. Though not just any turkey: it's Norfolk Black and Bronze birds that are in demand – with an Asian twist.
Leading the way is Dishoom in King's Cross, which is serving turkey raan, slow-cooked, molten and shredded. "We marinate the meat overnight in Kashmiri chilli and a ginger and garlic paste with salt and malt vinegar," explains head chef Naved Nasir. "Next, we braise it for two-and-a-half to three hours on low heat. We add more spices and grill and shred it, adding lime and some meat stock for depth of flavour."
At the pioneering Modern Pantry, meanwhile, fusion queen Anna Hansen is putting on slow-roast rolled turkey filled with umeshu (Japanese liqueur)-soaked prunes, shallots and (bitter herb) ajowan.
And Judy Joo – the New York chef expected to dominate next year's Korean food movement here with the launch of her Soho restaurant Jinjuu in January – reckons that kimchi is the perfect condiment for stuffing. "Chop fresh kimchi into dice- sized pieces and mix in gently with the cooked pork stuffing," she advises.
The crispy skin
Think it's still all about the goose fat? Not so. Popular in America and now in Britain is coconut oil. Bloggers-cum-health gurus the Hemsley sisters, whose cookbook The Art of Eating Well is selling well, have launched a pot of extra-virgin cold-pressed raw coconut oil for rubbing on roasts with Vita Coco (£5.99, Tesco). Jax Coco, run by Jane Gottschalk, meanwhile, has released Virgin Centrifuged Coconut Oil, made from organic oil (£10, jaxcoco.com). It's used by top chefs such as Tom Aikens and championed by nutritionists including Gabriela Peacock.
The glassware
Bored with Riedel? Designer Clive Darby of Rake Style has constructed a Copper Kettle with Ketel One Vodka for Yule. First to use it is Gordon Ramsay's London House for its Winds of Change cocktail of pastis, apple, vodka and heather honey.
The Artesian, World's Best Bar for two years in a row is serving a December potation in a device where you not only sip but inhale your drink, increasing the sensory experience. And Jason Atherton is serving up his Insider Trading drink in a silver briefcase marked "Confidential" at City Social in London.
The sweet
French macarons have had their day as the pretty gift for the sweet-toothed. Shropshire company Merangz, known for its flamboyant Giant Swiss Merangz, is selling dark chocolate and Sicilian orange, brandy-soaked fruit Christmas pudding, vanilla sherry trifle, chocolate and cherry, Irish whiskey, and peppermint dark chocolate versions, until 15 January (£5.95 a box). The inventors, Brian and Leanne Crowther, say their meringues are slow-baked for a crisp shell and cloud-light mallowy centre. Available in Manchester and Birmingham Selfridges, Shropshire's Ludlow Food Centre and more (merangz.co.uk).
The wine gadget
Arguably the most chichi pressie for DIY wine-tasters is the Coravin Wine Access System, (£269, harrods.com), which allows the wine to flow out through a needle while leaving the cork in place (preventing oxidisation), meaning you can taste how the same bottle evolves over weeks, months or even longer.
"It is to wine what downloading is to music," explains Charlotte Sager-Wilde of Mission, a wine bar-cum-restaurant in Bethnal Green, which sells rare vinos by the glass. "It's great if you feel like a glass of white followed by a red and it's just you at home," she adds. So no excuses for plonk this Noël.
The snifter
Last month, Jim Murray's Whisky Bible named Japan's Yamazaki Single Malt Sherry Cask 2013 the best whisky in the world; no Scottish drink made it to the top five. Fighting back for pressie season, a cracking single malt, previously not readily available. Hailing from an under-exposed distillery in Scotland's Dufftown is Mortlach, a tipple loved by those in the know. Expect complex, spicy, sherried character. (Rare Old, £56.95; 18-Year Old, £174; 25-Year Old, £585, thewhiskyexchange.com.)
The three-bird roast
It's enough to make Henry VIII green with envy. The latest additions from the butcher The Ginger Pig are turkey rolled with duck and pheasant with a pork-and-chestnut stuffing (serves 16, £150) and a goose with chicken, pigeon and porky prune stuffing (£170, thegingerpig.co.uk). The birds are dry-plucked – 99 percent of chickens aren't – and hung for 7 to 14 days, imparting greater flavour and succulence, says the butcher's Arabella Wentworth Waites. She adds: "The Bronze turkeys and geese have a lauded life. Their diet is grass and herbage from fields and meadow around Belvoir Castle in Leicestershire."
The compulsion for a three-bird roast has hit the high-street, too. Waitrose has a three-bird roast wrap, while Sainsbury's has unveiled a frozen edition.
The New Year's diet
Since winning MasterChef and opening a restaurant, Shelina Permalloo, known for her sunny Mauritian flavours, realised she'd not had time to keep herself svelte, so wrote recipes to shed 20 kilos. As a chef, the meals weren't traditional "diet" grub and didn't compromise on flavour – and she has now compiled them in a book, The Sunshine Diet (£14.99, Ebury, from 8 January). For those who prefer a Continental approach, Valérie Orsoni's Le Boot Camp diet – huge in France – is winging its way across La Manche; Quadrille publishes an English version of La Méthode Orsoni on 1 January.
Register for free to continue reading
Registration is a free and easy way to support our truly independent journalism
By registering, you will also enjoy limited access to Premium articles, exclusive newsletters, commenting, and virtual events with our leading journalists
Already have an account? sign in
Register for free to continue reading
Registration is a free and easy way to support our truly independent journalism
By registering, you will also enjoy limited access to Premium articles, exclusive newsletters, commenting, and virtual events with our leading journalists
Already have an account? sign in
Join our new commenting forum
Join thought-provoking conversations, follow other Independent readers and see their replies