From craft beer to vegan rave: spring food and drink events
From the tranquillity of rural countryside to the buzz of big cities, food-fest season is kicking off and cooking up a storm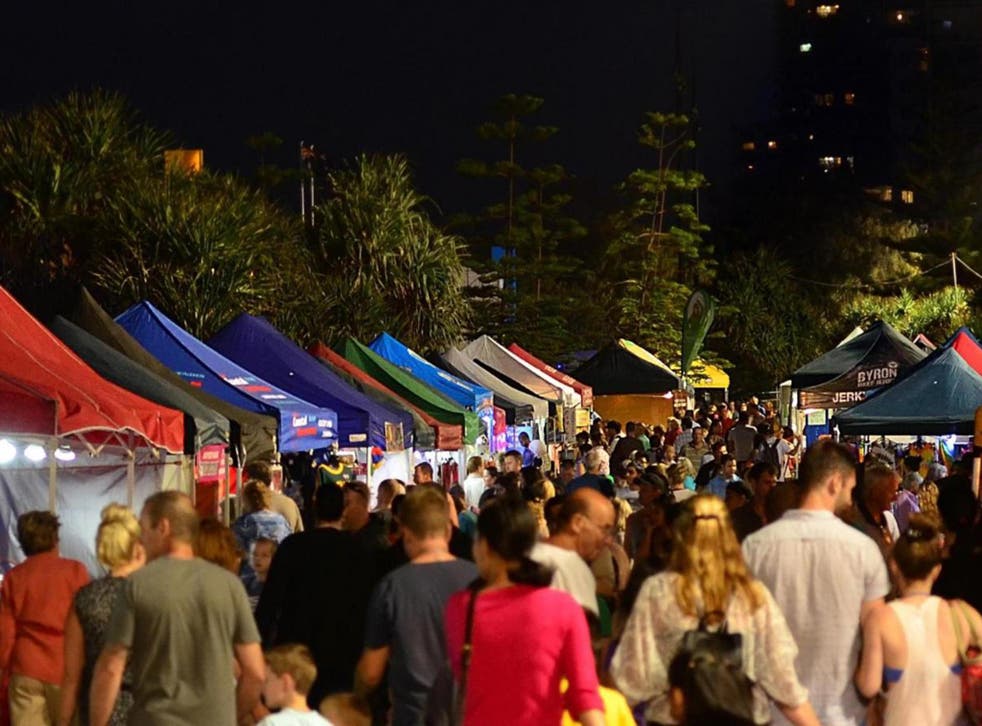 LONDON: Evening Standard Food Month, 1-30 June
A month-long culinary celebration comes to the capital next month with more than 400 food and drink events. From the Night Market in Kensington, where live music, an open-air cinema and art installations complement the variety of food stalls, to the worthy charity initiative Cook For Syria, London's start to the summer will be overflowing with fine nosh. Find out more at londonfoodmonth.co.uk
BRIGHTON: Cocktail Week, 18-28 May
A £10 wristband will allow you to embark on a boozy journey through 30 bars and restaurants as part of Brighton's biggest cocktail celebration. For just £5 a pop you can sample the best concoctions from all over the city, as well as one-off tastings and masterclasses for those who want to take their mixing game to the next level. brightoncocktailweek.com
MAYFAIR: Taste of Barbados, until 7 May
For one weekend only Barbados is coming to London for this Bajan cultural extravaganza on South Molton Street in Mayfair. The explosion of colour, sounds and smells will host food, drink, music and art from the Caribbean island, and rum of course. With cook-offs, rum masterclasses and music ranging from calypso to jazz and reggae, who needs to splash out on a holiday when the Caribbean can come to you?
FITZROVIA: New home for Saucy Chip
Festival favourite Saucy Chip has found a permanent home at Jerusalem Bar and Kitchen in Fitzrovia. This is the perfect place for those who love their food covered in sauce. With every main course you get a portion of triple-cooked, hand-cut chips and two free sauces from the Sauce Bar where there are almost 20 saucy delights to choose from. Big, bold flavours and innovative combinations make a trip to Saucy Chip a field day for your taste buds. Check out the menu at saucychip.com
GREENWICH: National Vegetarian Week dinner, 18 May
As part of Craft London's monthly themed dinners, they are celebrating National Vegetarian Week with a seven-course vegetarian menu of reimaginations of the nation's favourite veg. For £45 per person you can sample a veritable smorgasboard of classic and unusual dishes while enjoying the scenic views of the Thames from Greenwich peninsula. Visit craft-london.co.uk/events
SWANSEA: Welsh Cheese and Cider Festival, Gower Heritage Centre, until 7 May
The annual meeting of Wales's cheese-lovers and cider enthusiasts offers a wide selection of locally produced, award-winning cheeses, ciders and perries. Alongside the cheese selection is a a traditional 1890s travelling cider press which is used to make Gower's own Mill House cider. If you go overboard on cheese or cider then why not mix it up at the the Mill Tearooms. Try Welsh cream tea or head to the barbecue. Live music, kids activities and pottery workshops will accompany the gluttony.
Find out more: gowerheritagecentre.co.uk
LEEDS: Indie Food Fest, 11-28 May
Nearly 100 events dotted around the city make Leeds a go-to place this month. Along with the eating and drinking of weird and wonderful produce are brewery tours, talks, quizzes and film nights. If you're into food with a DIY ethos then buy a "passport" for discounts during the three weeks of foodie events. Find out more at leedsindiefood.co.uk
MANCHESTER: Cocktails in the City, 12 May
The celebration of British cocktail culture comes to Manchester for a boozy night of food, live music and, of course, cocktails. The event brings together the city's finest cocktails bars, mixologists and experts. Mix your very own concoction, knock back drinks blind in a pop-up dark room, or just sample the wide array of fruity flavours on offer. Go to cocktailsinthecity.com/events/manchester
EDINBURGH: Beer Festival, Stewart Brewing, 13 May
Welcoming an array of local and European breweries, Stewart Brewing hosts its Edinburgh Beer Festival. More than 40 craft beers will be on offer, from classic styles to the more inventive pink grapefruit IPA. Wash down your funky brews with locally sourced street food provided by Big Blu Pizza and Fresh Revolution. For the non-beer enthusiasts there will be live music, own-brewed cider and a selection of wines, gins and soft drinks. Tickets include a souvenir glass and can of beer on entry. stewartbrewing.co.uk
ST IVES: Porthminster Beach Food and Drink Festival, 13-14 May
Its idyllic location makes this the perfect way to indulge in the sunshine. Now in its seventh year, the two-day festival boasts a long line-up of Cornish chefs, numerous farmers' markets and a full programme of live music. Alongside all the local food on display, chefs will also be demonstrating their craft live to the audience. Also on offer are activities for children, so this is a perfect family day out on the sands. At £5 for a weekend ticket, this is surely a steal for anyone in the South West. Book tickets at stivesfoodanddrinkfestival.co.uk
ESSEX: Fine Food Show, Chelmsford Racecourse, 13-14 May
More than 100 artisan food and drink vendors will flock to the iconic Chelmsford Racecourse for this celebration of fine wining and dining. Celebrity chefs will also be showing off at the chef's stage, which will feature Great British Bake Off series three winner John Whaite. Those unimpressed with the famous faces can get away from it all and visit the vintage pop-up tearoom offering sandwiches, pastries, homemade cakes and cream teas. Book at 2017essexfinefoodshow.apteventspro.co.uk.
BRISTOL: Vegfest, Amphitheatre And Waterfront Square, 20-21 May
The latest instalment of Vegfest comes home to Bristol for its 15th year. What started in the city in 2003 has spread to Brighton and London to become the UK's biggest vegan festival. On Saturday expect a live set from Robin S, along with DJ Danny Rampling, and Rozalla. Organisers describe it as "what you might call a house party with an extra sprinkling of quattro formaggio with grated mozzarella and some melted 'Sheese' – all vegan of course." Perfect for all the vegan ravers out there. Find out more at bristol.vegfest.co.uk
OLYMPIA: Caffe Culture Show, 23-24 May
Olympia, one of London's major exhibition spaces, welcomes the biggest event in the coffee industry calendar. Baristas, cafe owners, and brewers congregate for all things coffee. More than 200 exhibitions and 30 masterclasses will be heaven for any coffee obsessives out there. caffecultureshow.com
OXFORDSHIRE: Blenheim Palace Food Festival, 27-29 May
Located in the gorgeous grounds of the iconic Blenheim Palace, this festival attracts more than 20,000 food-lovers every year. Around 140 stalls full of locally sourced produce are complemented by kids activities and the tranquility of the beautiful gardens. Visitors to the palace get free access to all the culinary delights on offer, follow a walk around the historical country house with a well-earned feast. Find out more at fantasticbritishfoodfestivals.com/blenheim
LONDON BRIDGE: Pizza Festival, Borough Market, 28 May
Borough Market in London Bridge is a street food hotspot all year round, but the third annual Pizza Festival takes over at the end of May. Festival organiser Young & Foodish was founded by pizza guru Daniel Young, who has written multiple books on the subject and set up pop-up food events all over the capital. Six of London's best pizzerias will each bake their finest pizza and festival-goers will vote and crown the champion. Find out more at youngandfoodish.com
SPITALFIELDS: Free From Festival, East London, 29 May
The historic Spitalfields market in trendiest east London plays host to the UK's first gluten, dairy and refined sugar-free food festival. Indulge guilt free in organic wine, gluten-free beer and sugar-free beverages. Try a sugar-free chocolate tasting. Live demonstrations from professional chefs will also unveil innovative ways to improve your free-from diet. After three years in London, a copycat event has even started in even-trendier-Berlin, as free-from diets rise in popularity. freefromfestival.co.uk
GLOUCESTERSHIRE: Cooper's Hill Cheese Rolling, 29 May
The residents of Brockworth in Gloucestershire have the annual tradition of rolling huge wheels of cheese down a hall, and crowning the first to catch the escaping double gloucester. The event, has become famous around the world, and people now flock to the village from all over the world. The levels of controversy relating to injuries is easily outweighed by the community spirit behind the unusual ritual. cheese-rolling.co.uk
Register for free to continue reading
Registration is a free and easy way to support our truly independent journalism
By registering, you will also enjoy limited access to Premium articles, exclusive newsletters, commenting, and virtual events with our leading journalists
Already have an account? sign in
Register for free to continue reading
Registration is a free and easy way to support our truly independent journalism
By registering, you will also enjoy limited access to Premium articles, exclusive newsletters, commenting, and virtual events with our leading journalists
Already have an account? sign in
Join our new commenting forum
Join thought-provoking conversations, follow other Independent readers and see their replies