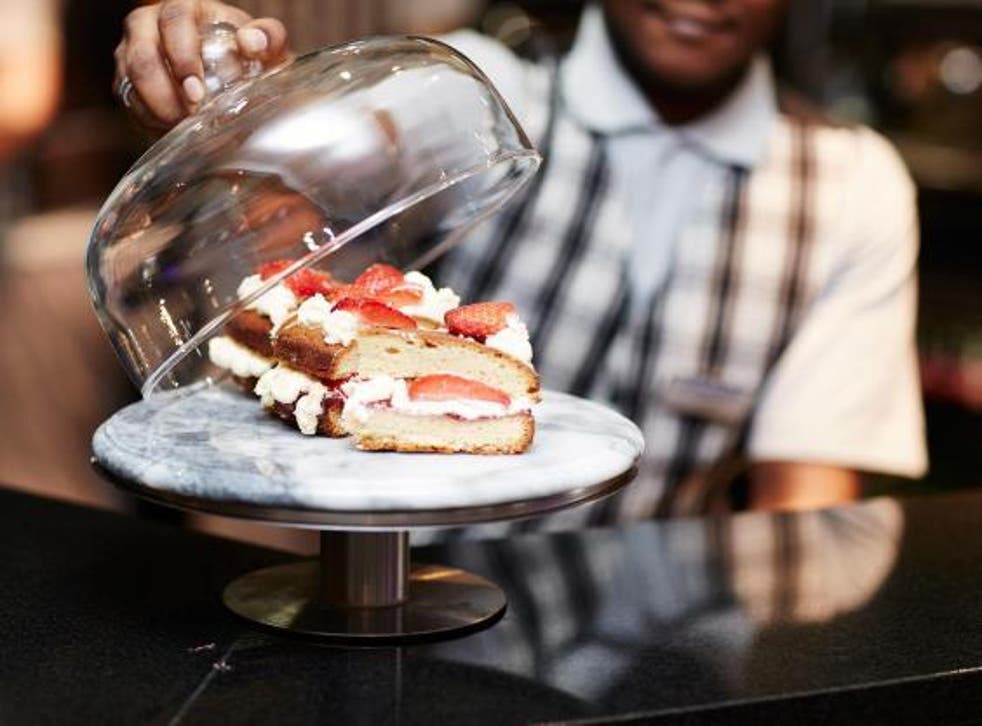 Brunch in the Clink: The time I had breakfast in a prison restaurant staffed with inmates
These men are serving time - and dinner
Kashmira Gander
Friday 13 January 2017 11:13 Comments
"Have you ever been to prison before?" a member of staff at London's HMP Brixton asks me as the enormous brown door to the facility rolls open. "No, this is my first time inside," I reply as I step into the grounds and drink in my surroundings.
The austere, towering Georgian barbed wire-topped walls of the category C prison are hardly welcoming on the average day, but look particularly bleak on a drizzly morning in January, when the sky is a monotonous grey. Luckily for me, I can leave as soon as I want. I'm not being incarcerated, but am here for breakfast at The Clink: a restaurant staffed almost entirely by inmates as part of a prison rehabilitation programme. (And no, porridge isn't on the menu).
Security is tighter than tight. Before I enter the confines of the prison, my ID is checked in a small, prefab security box filled with lockers where I store my belongings. From memory, a staff member recites an incredibly long list of prohibited items – from lip balm to keys and phones.
The Clink restaurant - In pictures

Show all 15
Inside, The Clink could be anywhere in the country. An inmate welcomes me, takes my coat, and I'm ushered to my chic, tall-backed faux leather seat at a glass table neatly arranged with glasses and plastic cutlery. Smooth jazz plays on the radio. Aside from the fact that we are in one of the most secure buildings in the country and the staff are serving time, it's a bizarrely unremarkable place. Poetry and art by the inmates, including pencil drawings of Nelson Mandela and Tupac, give the dining hall a sense of character. But it is the work that goes on behind the scenes is that is really interesting.
The Clink is the brain child of chef Alberto Crisci. As the manager of a prison kitchen, Crisci saw how incarceration is a revolving door for many inmates. Despite their skills in the kitchen, the men he worked with struggled to find employment with criminal records. So he decided to do something about it. In 2009, he established the first Clink restaurant in HMP High Down in Surrey. Since then, sites have popped up in Cardiff, Styal, and Brixton which marks its third year in February. Over 800 people have graduated form the project so far. The charity hopes to expand to 20 facilities and 1,000 inmates a year by 2020.
Inmates from across the country apply to work for 40 hours a week towards an NVQ qualification in hospitality. If successful, they are moved to join up to 30 others on a programme. Prisoners hone their soft skills as bar and waiting staff, before being taken into the kitchen for a comprehensive cooking course, covering everything from butchery to baking. No previous experience in hospitality is needed. The only prerequisite is an eagerness to change.
Projects like The Clink are a chink of light for prisoners in a creaking system, evidenced by the riots at the end of 2016. As funds are stretched, if prisoners cannot get onto government-funded training programmes, they can be stuck in prison cells for 23 hours a day – hardly conducive to rehabilitation. And as most prison jobs last for a maximum of 30 hours a week, being able to earn an extra 10 hours of wages is a privilege. This is a welcome boost to the measly £46 statutory discharge grant former inmates are given upon release which is sometimes not even enough to get someone home. Among inmates who have worked at The Clink re-offending rates are reduced by 41 per cent, as the five-step programme run by the charity ensures that the men and women receiving career mentoring for up to a year after they are released.
In the bustling industrial kitchen, men in chefs' uniforms are chopping vegetables and filleting chickens for the 100-cover lunch this afternoon. The seasonal menu is an impressively varied offering of modern European dishes enough to satisfy the hungriest foodie. The winter menu features poached and roasted chicken, puy lentils, salsify, glazed carrots, thyme jus; duo of venison, seared loin and cottage pie, cavolo nero, light pan juice; and Braised ox cheek, leek and potato gratin, seasonal vegetables.
Nothing goes to waste. Behind one chef plating up my breakfast is a huge pot of discarded chicken bones being made into stock. Every aspect of the restaurant is seized upon as an opportunity to learn, and the system is collaborative across prison programmes. The chic chairs and tables were built by inmates at HMP Durham, while the pamphlets informing diners about the scheme were printed in prison, too. Much of the produce, meanwhile, is grown by women at The Clink's horticultural programme in HMP Styal.
Of course, such projects are not only about compassion, but about hard economic facts. In the wake of Brexit and the prospect of a skills shortage if free movement is stopped, rehabilitating the 85,000 people behind bars in England and Wales could help to plug the UK's skills gap. Not to mention the 20,000 catering staff the hospitality industry predicts it will need by 2020. And inmates have gone on to jobs at top restaurants (which can't be named to protect their identities). One prisoner who left on 16 December has already secured a job.
After I finish up my perfectly cooked fry up, complete with handmade hashbrowns, I chat to 30-year-old Aaron* who has been working front of house for two months. He will be released in December this year.
"When I get out of prison I want to open up my own juice bar," he tells me.
Speaking passionately about how he wants to change food culture, he says "being healthy isn't cool. People just want to drink coke or Ribena. I want to make people aware of their environment and what's going on in the world, especially with the increase in diabetes.
"I have always had this idea at the back of my mind, but I was making money in other ways. I may have made some wrong turns in my life, but I want to give back to the community when I'm out," he says.
Asked what he wants readers – who might be cynical about such projects - to know, he says "in a nutshell this is about rehabilitation. This restaurant gives us the chance to see the world differently, but also for the public to see who we really are."
Name changed for legal reasons
Register for free to continue reading
Registration is a free and easy way to support our truly independent journalism
By registering, you will also enjoy limited access to Premium articles, exclusive newsletters, commenting, and virtual events with our leading journalists
Already have an account? sign in
Register for free to continue reading
Registration is a free and easy way to support our truly independent journalism
By registering, you will also enjoy limited access to Premium articles, exclusive newsletters, commenting, and virtual events with our leading journalists
Already have an account? sign in
Join our new commenting forum
Join thought-provoking conversations, follow other Independent readers and see their replies