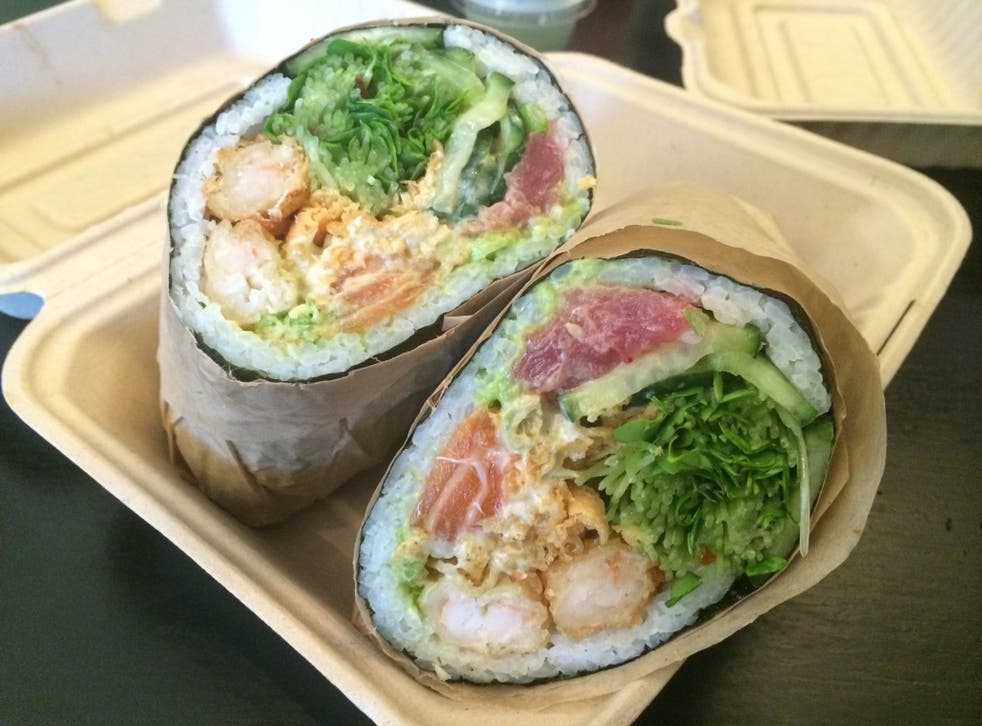 The remarkable rise of the sushi burrito
Has your sushi been a bit different lately? Maybe longer, pudgier and rolled up with rice, protein and vegetables? You know, kind of like a burrito?
Actually, let's call a spade a spade. Your sushi isn't just like a burrito. At an increasing number of eateries, it is, in fact, a burrito. The sushi burrito has officially joined the ranks of such culinary chimeras as the Cronut and the ramen burger, seducing both eager customers and the restaurateurs who want to feed them.
Even as diners eat fewer Chipotle burritos, sushi burritos are gaining traction around the country and in the Washington area. The latest purveyor joined the D.C. scene last week: Seoulspice in NoMa, which sells what it calls the Korrito, a Korean-style burrito wrapped in seaweed and filled with sushi-grade rice, plus a variety of meats, vegetables and sauces.
Eric Shin, a percussionist for the National Symphony Orchestra, said he hit upon the burrito concept almost by accident about two years ago. He'd originally planned to offer kimbap, Korean rolls sliced into bite-sized pieces. Unfortunately -- or perhaps fortunately -- the machine he bought to cut them destroyed the food. "It was a huge mess," he said. Amid the disappointment, Shin's wife was so hungry she just picked up an uncut roll and started eating it like a burrito.
"It just sort of stuck," Shin said.
Darren Tristano would tell you that the popularity of the sushi burrito is no accident. The president of Technomic, a Chicago-based firm that specializes in food industry analysis, said a number of factors are at play. Primary among them is the form itself. Four years ago, a Technomic concept study predicted "burrito-inspired" would be a common industry trend. Good call.
Sushi burritos have also been propelled by the growth in fast-casual dining and its build-your-own mentality, Tristano said. And with sushi available at almost every grocery store these days, it's become an accessible and familiar food.
Like so many food innovations, sushi burritos gained traction on the West Coast and are continuing their march across the country. Sushirrito, a five-location California chain that bills itself as "the original sushi burrito concept" debuted in San Francisco in 2011, the same year the Jogasaki food truck hit the streets of Los Angeles; the Kome truck peddles sushi burritos in San Francisco.
"The concept for Sushirrito came to be since we love sushi and wanted it to be more accessible and portable. Burrito-sizing sushi makes a lot of sense given the handheld aspect of it," said Sushirrito founder Peter Yen. "We weren't trying to start a trend. We simply wanted to create a new type of food that we like to eat. Hybrid foods only make sense when the foods belong together -- just because you can do a mash-up, doesn't mean you should."
Even given the wave of sushi burritos in California, lifelong friends and first-time restaurateurs Mike Haddad and Travis Elton weren't quite sure what to expect when they debuted Buredo in downtown D.C. last summer.
"We didn't know how it would be perceived," Haddad said. When the doors opened and curious diners snaked down the block, "I said, 'I think we have something here.'" Something big enough that the duo is close to opening a second location, near Dupont Circle.
Haddad and Elton think they've hit on customers' interest in food that is fresh and healthful.
Food trends in 2016

Show all 11
Darren Norris knows he's tapped into that market at his almost year-old Maki Shop on 14th Street NW, where evenings will see diners trickling in from CrossFit and other nearby gyms. The owner of the late Kushi in Mount Vernon Triangle -- whose six-ounce maki fall somewhere between the size of smaller sushi and sushi burritos -- said his "sushi hand rolls" are "a lifestlye product" for on-the-go diners. "I want to be that thing that you could eat three days a week and not feel guilty about it," Norris said.
Kaz Okochi, the proprietor of Kaz Sushi Bistro near Foggy Bottom, said he thinks size is what attracts people to sushi burritos -- "too much rice," he opined -- and worries that diners who eat them will come to his restaurant and wonder why his food isn't bigger. "They might get disappointed," the Japanese native said. (Okochi's own fast-casual, design-your-own sushi endeavor, Oh Fish!, lasted about two years downtown.)
Their size and torpedo shape notwithstanding, sushi burritos have forced us to reconsider what we think of as sushi, especially when it comes to fillings. At Buredo, nori is wrapped around everything from yellowfin tuna or salmon sashimi to tofu and pulled pork shoulder. Seoulspice's Korean-accented items include bulgogi beef, pickled radish and, of course, kimchi. At Burrito San in Miami, you can have your sushi burrito by way of the Philippines (braised pork, banana ketchup) or India (spiced chicken, potatoes, curry). Denver's Komotodo not only sells rolls such as the Bee's Knees (fried chicken, asparagus, bacon, Monterey Jack cheese) and Fish n' Chips (white fish, slaw, potato chips), but also gives you the $2 option to have your burrito deep-fried. Really, the question these days is not what can you put in a sushi burrito, but what can't you?
Okochi, though, doesn't take umbrage with the burrito entrepreneurs' use of the word "sushi."
"I'm not saying burrito sushi isn't true sushi. Sushi is vinegared rice," he said. Sticklers could even contest whether Okochi's food is "true" sushi, since the chef said he's developed his own style at his restaurant.
Kaz Okochi, owner and chef at Kaz Sushi Bistro, said more traditional restaurants like his can co-exist with sushi burrito spots. (Bill O'Leary/The Washington Post)
As long as sushi burritos don't take over the entire sushi market, he's fine living side-by-side with them, he said.
In fact, self-professed sushi lovers Haddad and Elton view themselves as "introducing sushi to a new audience," Elton said.
"It is definitely opening up people's minds," Haddad said.
Seoulspice's Shin said he'd like his Korritos to similarly encourage diners to seek out the kind of traditional Korean food he grew up eating.
Even with more people like Haddad, Elton and Shin getting in on the sushi burrito game, Technomic's Tristano said there's still room to grow in the genre. He said reasons why sushi burrito establishments are still less common than their popularity might indicate include food safety issues with sourcing and serving raw fish (although many burritos rely on cooked, fried or even vegetarian fillings) and the fact that the concept is hard to replicate.
"A good sushi burrito can be tricky and sometimes challenging to get the flavors to blend together well in a larger roll," said Mauricio Fraga-Rosenfeld of Rolls by U in Arlington, which opened in the fall with sushi "ritos" such as the Frida (with roast beef and kimchi) and the Van Gogh (a more traditional pairing of tuna and avocado). "Also, price point may play a part in why others don't want to risk it. It's cheaper to do tacos or Mexican burritos. It takes creativity and great quality in product and recipe to get it right, as well as extremely fresh ingredients."
"I think it's really difficult to pull off," Shin said. "Most of the restaurants that open up are afraid to do something different." Shin said he had to battle through questions and skepticism from his own family (his parents ran a Korean restaurant in Atlanta), some of whose recipes he's using at Seoulspice. "I caught a lot of s--- from my grandma," he laughed.
When other sushi burrito spots do inevitably open, Shin won't be too worried. "The more, the merrier," he said. "I'm so proud of D.C. for embracing ethnic foods and creative ethnic foods in general."
The Buredo duo was slightly more measured.
"Time," Haddad said, "will tell on who will last."
Copyright Washington Post
Register for free to continue reading
Registration is a free and easy way to support our truly independent journalism
By registering, you will also enjoy limited access to Premium articles, exclusive newsletters, commenting, and virtual events with our leading journalists
Already have an account? sign in
Register for free to continue reading
Registration is a free and easy way to support our truly independent journalism
By registering, you will also enjoy limited access to Premium articles, exclusive newsletters, commenting, and virtual events with our leading journalists
Already have an account? sign in
Join our new commenting forum
Join thought-provoking conversations, follow other Independent readers and see their replies