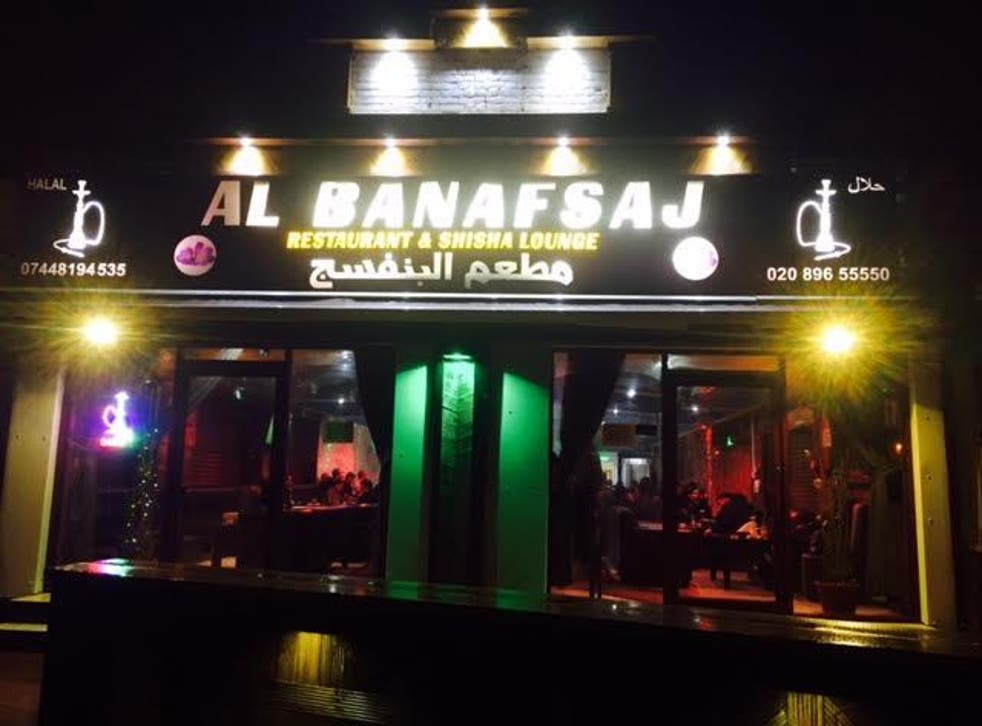 The west London industrial estate that became home to an array of Middle Eastern restaurants
A mini-Beirut and Baghdad has erupted in the unlikeliest of places – a sprawl of warehouses in a little explored corner of the capital oozing with amazing food
Peyvand Khorsandi
Sunday 05 March 2017 13:56 Comments
"I hope it will snow more so we can take some pictures," says Ayman Assi as he looks out towards the Grand Union Canal from his restaurant in west London.
It's a cold Saturday morning in February. An articulated lorry is parked outside where grey, steel and concrete dominate as you'd expect on a drab industrial estate.
Inside is another world: a spotless Mediterranean Mövenpick, freshly made pastries filled with minced lamb, pizza-style discs topped with cheese and thyme, menus where the pound sign comes after the price, chefs drawing rows of bread out of the wall oven, the chicken and lamb shawarmas rotating against a gentle heat that will have them dripping by lunchtime.
Attached to the restaurant is the hookah, or shisha, lounge which sits on the canal side – well-to-do women chill out with a smoke; young men shoot the breeze as hardworking waiters scuttle to and fro with tea, sweets and red hot coals.
It's a head-turner for cyclists on the canal, the aroma of apple tobacco blowing away the cosy scent of freshly baked biscuits from the nearby McVitie's factory.
Beit el Zaytoun (or House of Olives) is the newest among a crop of Lebanese and Iraqi restaurants and shisha joints that have popped up in the middle of nowhere – at least in retail terms – over the past few years.
There is a rivalry but it's amicable – this particular place is probably the most ambitious of them all. Everything is branded; the wooden serving boards and serviettes all carry the logo.
And the voice of the iconic Lebanese singer Fairuz is omnipresent.
Beit opened three months ago and is teeming with trade. "People come from all over the place, Manchester, Birmingham," says Assi. "We don't take bookings except Thursday night there is live music."
Around the corner in deepest warehouse land is a dimly lit place called Al Banafsaj. High-end cars are parked along the road it sits on at night. Dice roll inside on to boards, couples lounge on sofas, dine at tables, smoke hookahs. It's a Middle Eastern knees-down. But no photos here, says the manager. "I'd have to ask everyone's permission."
I'm surprised as the place is so vast, no one would notice but then this is the Middle East.
"They think you could be MI6, MI5," says Radwan Issa, a veteran of the neighbourhood, only half-joking.
He runs the Al-Jabal bakery which opened in the mid-1990s and recalls a time when his was the only Middle East catering operation in the neighbourhood: such bakeries spawned today's phenomenon of outposts of Lebanon's food empire on an industrial estate.
"People who come here want to get away from it all," says Issa – it's a home from home.
First it was him then one "small Iraqi place opened, one Palestinian, one Lebanese" and in time the area was transformed into an unlikely hub of restaurants and hubble-bubbles.
Food and drink news

Show all 35
Yet it all largely remains under the radar of most of us: word of mouth has worked its magic largely in Arabic.
Three women chatting in English, two in chic headscarves, step out of a car on a grey afternoon. What are they doing here?
"Buying baklava from Patchi," says one – the huge sweets maker up the road. And where have the travelled from? "Croydon."
If you're not from London that's basically Bombay.
Around the corner is Abu-Afif, which also specialises in pastries and has a kebab unit too. One customer, Ziad, loves its bread, "perfected over centuries in Mesapotamia – they decided this shape is the best for a kebab".
Indeed, this ellipse with pointy ends does seem the perfect smiley host for a stuffing of lean lamb shawarma or chicken – it's a filling sandwich for a mere £4.
Next door is Al Enam, an Iraqi-owned place that is always jam-packed. Inside meaty skewers are flipped on a charcoal grill and bow-tied waiters are rushed off their feet supplying dishes such as "ghouzhi" – roast lambs neck or leg with rice – and fruit drinks to the teetotal punters.
Barbar around the corner is one of the older places – step into this warehouse and it's proper A Thousand and One Nights oriental charm – but not for much longer. The HS2 project is going to rip the neighbourhood apart, uprooting a number of businesses. "No one knows what they will do," says Mr Issa from Al-Jabal bakery.
For this is the only place where HS2 and Crossrail meet and the Greater London Authority's Old Oak and Park Royal Development Corporation has plans.
Beit al Zaytoun's Assi will be unaffected – in fact the council's given him use of the adjacent car park. He even welcomes the arrival of fresh competition. Maroush, the chain of around 20 Lebanese outlets around London, is opening nearby. "The more the better," he says.
He's invited me for an interview over breakfast but he is less interested in talking than laying on a feast – and I'm not complaining. Dish after dish arrives. It is insane. I want everyone to leave and for a couple of hours to slowly eat everything and lick the plates.
Chunky halloumi dripping in olive oil, beautiful creamy humous ("we boil our own chickpeas – not like in Turkish places where you go and they buy from outside"), crispy Lebanese pizzas with thyme and cheese, and a dish of scrambled egg and finely chopped grilled lamb.
The prices here are possibly one of the attractions – starters are available from as low as £1.95. And then there is the parking. Bustling Edgware Road is a viper pit of fines. Assi is keen for his house of olives to be freestanding, Mediterranean style.
"Where else would we get this space," he says. "I want this to be like a house, not like a shop next-door, someone living upstairs."
Assi adds: "I can't wait for summer". Then the operation will extend to the roof and a moored canal boat he has sets his sights on.
The 39-year-old, who lives in the rather posh neighbourhood of Barnes in west London, has a regal air about him – this business started off as a distraction from the "VIP-concierge" service that he runs, supplying high-end vehicles (he's a 'super-car' aficionado) to the mega-wealthy. Even his hookah lounge here has a VIP section, separated by its very own red-rope stand.
You wouldn't guess it because Assi is far from flash – I have to peer through his cuff to make out his Rolex. He has an earthy, George Clooney charm about him. Hasan, one of his two main chefs, arrives.
"When Mr Ayman first came to this neighbourhood, it was like a horror movie," he says.
"Everyone though I was crazy opening here," adds Assi.
I'm lost in a trance with all this amazing fresh and exotic food from Beirut. Coming up for breath, I look out and notice it's snowing in Arabia.
Register for free to continue reading
Registration is a free and easy way to support our truly independent journalism
By registering, you will also enjoy limited access to Premium articles, exclusive newsletters, commenting, and virtual events with our leading journalists
Already have an account? sign in
Join our new commenting forum
Join thought-provoking conversations, follow other Independent readers and see their replies