The women proving male and female chefs are equal
The numbers of female chefs are continuing to reduce. But why is this, asks Emma Henderson, when it's women who have traditionally assumed the role of cooking?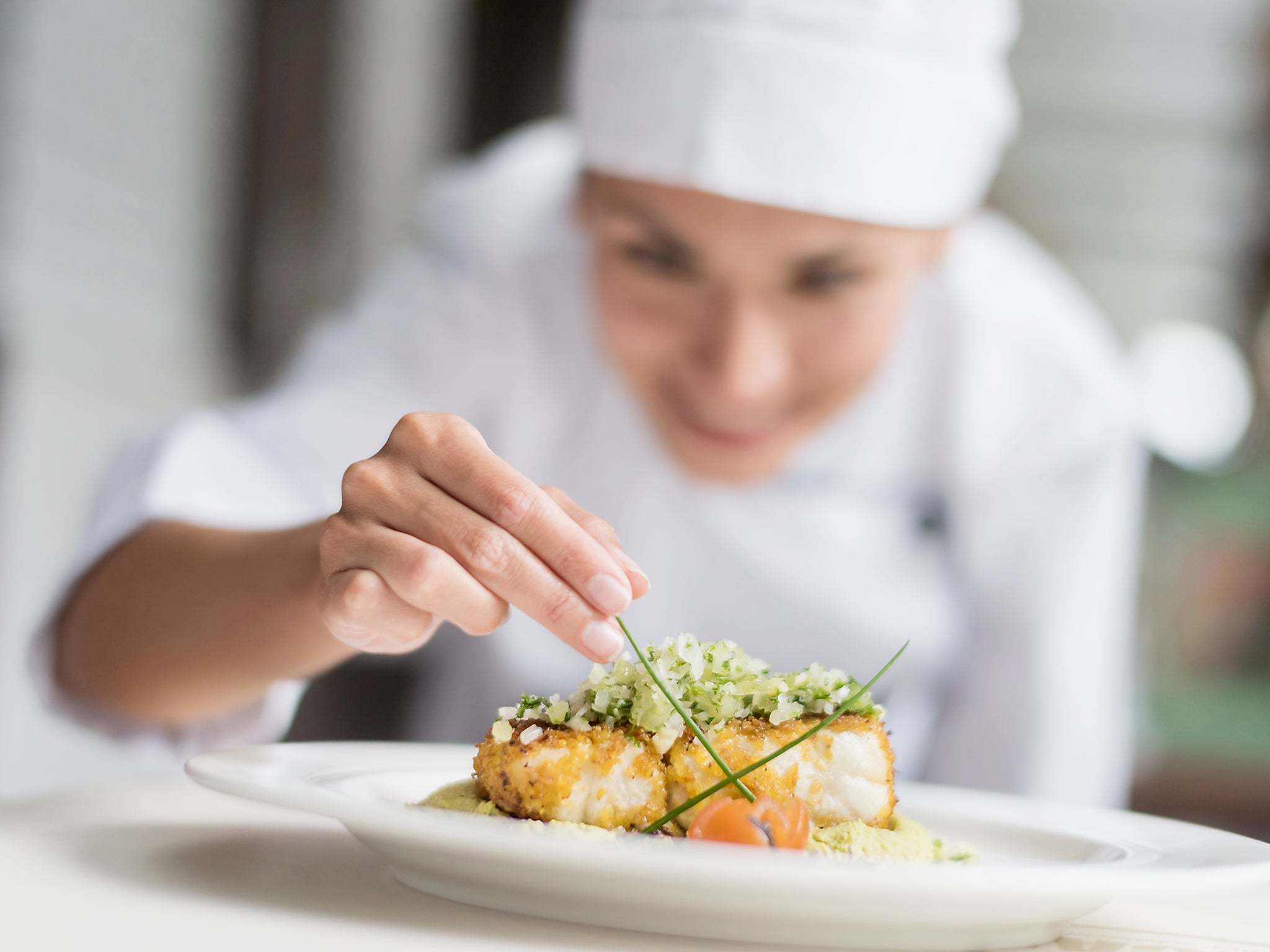 How many female chefs do you know? I know one. But she recently gave it up after hating the unsociable hours, never having a weekend and working with a constantly changing team that were just not up to the mark. And it's no surprise. We all know kitchen staff work 70-plus hours a week, split shifts, super-early mornings and hideously late nights (hours which are not solely confined to chefs). But it's not just normal working hours that are lacking in professional cooking: women are too.
Master chef Fernand Point, who is thought to be the father of French cuisine, once said: "Only men have the technique, discipline and passion that makes cooking consistently an art." That was in 1950, the heyday of the housewife. But we can't brush it off as archaic. Albeit in 2005, Gordon Ramsey said: "There are a huge number of women who know how to mix cocktails, but can't cook to save their lives." Why is that, when traditionally around the world – and throughout history – women are home cooks, providing the essential lifeline that is daily meals. Men are seen as the professionals and women are cast in their shadow as mere amateurs who only robotically serve meals to family and friends.
There are more than 250,000 professional chefs in the UK, but only 18.5 per cent of them (around 46,000) of these are women, according to the latest ONS figures. And what's worse is that this is a decline from the previous year, where in 2015, 20.5 per cent of the total number were female. Going back to 2001 there were 126,000 women (48 per cent) who made up the chef workforce, which fell to 107,000 nine years later.
But it's not like the food industry is failing. It's bigger than ever. More people go out for food than before and spend more than £4,000 a year on doing so. Outside of the kitchen, we are surrounded by inspiring chefs and cooks who encourage aspiring chefs with handfuls of new cookbooks that are published each month – too much to keep up with. And our TV channels are full of programmes from The Great British Bake Off – which dominated TV rating in 2016 with just shy of 14 million viewers – to Saturday Kitchen which lost a million viewers (almost half of their 2.4 million) following host James Martin's departure last summer.
Aside from Martin, there's a huge swathe of other men who have their own TV programmes, cook books and are regulars on other food-based TV shows – and it's hard to look past the fact the majority of them are white males: Rick Stein, Jamie Oliver, Gordon Ramsey and Marco Pierre White. Yes we all love Delia Smith and Mary Berry, but despite the latter being trained at The Cordon Bleu in Paris, she still has the "home-cook" stigma firmly attached and is our go-to for the perfect Victoria sponge, while Smith is "known as a teacher of basic cookery skills" according to her rather insulting Wikipedia page.
When it comes to the balance of Michelin stars, it's even worse. The UK has 172 restaurants with at least one Michelin star – and yet only ten have female head chefs.
The first woman to be awarded a Michelin star in the UK in 1998, Tessa Bramley, is also known for her desserts. She's the executive chef of the Old Vicarage restaurant in Sheffield and has been there for 30 years.
Outside of the UK there are even less, which makes it even more notable that Flanders-born Flemish-speaking Karen Keygnaert, the only female chef to be awarded one of the stars who also has an entirely female staff in her restaurant A'Qi – rejected it after saying what it represents is outdated. But she's not the only chef to refuse it, as Jason Blanckaert and Vincent Florizoone didn't want one either.
Back in the UK, Clare Smyth is the first woman in the UK to be awarded three Michelin stars and a perfect 10 in the coveted Good Food Guide and ironically trained under Ramsey, while Hélène Darroz's restaurant at the Connaught Hotel in London has managed to bag two Michelin stars, and in 2015 former Masterchef contestant Kim Woodward became the first women to be head chef at London's Savoy grill.
Food and drink news
Show all 35
"It's a tricky subject", says Rebecca Burr, editor of the Michelin guides. She admits the numbers of Michelin-starred chefs are particularly low in the UK – especially when compared to Italy and the Benelux countries. But the numbers have been similar since 2014 when she became the guide's editor, which leaves little hope for the gap to dramatically close, or even out any time soon.
"Historically conditions have been gruelling in hot boxes of kitchens in small spaces, without windows or air-con and it's a lifestyle choice to become a chef. But it's the same for men and women and there is now a move for businesses to improve working conditions, whether that's condensed working hours, reducing bookings, increased pay or closing on certain days," she says.
"Split shifts are becoming a thing of yesteryear and instead working in restaurants is becoming more appealing where staff can be more flexible and may start earlier, but finish at a more reasonable time and can have three consecutive days off and are able to have a more balanced life."
But she does note that when you take the starred restaurants out of their guides, there is a significant number of high-profile female chefs. "I think there are a lot more daring females now, who will open their own businesses."
One restaurant that especially tries to even out the percentage of male and female chefs in the kitchen is the River Café in Fulham, southwest London, which currently has 12 male and female chefs led by head chef Sian Wyn Owen.
"We know that restaurants work better if there are men and women chefs – we need a balance," says owner Ruth Rogers. Although she is confident that a balance is the best, they don't consciously aim to have equals numbers of both in the kitchen.
"I wouldn't say women bring something different to the kitchen, or cook in a different way. But it is the same in every profession from journalism to law."
Ruth thinks that now in 2017 things are much better than even 10 or so years ago. "When it was a male-dominated industry, there was a sense that women just couldn't do the hours."
But there are plenty of women now leading the way, who are the head chefs of restaurants or opening their own restaurants. Here are some to look out for:
1. Monica Galetti, head chef, Mere
Pronounced "Mary" – both after her mother and the French word for mother, Monica's restaurant has been two years in the making. She now runs it as the senior sous chef, alongside her sommelier husband David. Mere opened last month and offers cuisine with touches of New Zealand flavour, inspired by Monica's Samoan upbringing. The restaurant's artwork and décor also reflects the sous chef's Kiwi roots.
2. Anne-Sophie Pic, chef patron, La Dame De Pic
The hotly anticipating La Dame de Pic in the Four Seasons opened in February; the first UK-based restaurant of Ann-Sophie Pic's, who is the only French female chef to have three Michelin stars. She's part of three consecutive generations who have earned three stars, which is made more amazing by the fact she's had no formal training. It's classically French and high end, with mains starting at £32.
3. Helena Puolakka, executive chef, Aster
Downstairs at Aster you'll find a café and deli while upstairs is the restaurant, headed by Finn Helena Poulakka. Her menus are inspired by a fusion of her Nordic background, which has shaped her simplistic cooking style, and her French training. A recent addition to London's Victoria, expect smorgasbord set menus, Nordic afternoon teas and mains from ox cheek to salmon rillettes.
4. Elizabeth Allen, head chef, Shibui
After gaining a Michelin star at the tiny Pidgin restaurant, in east London Hackney, within just a year of opening, Elizabeth Allen – who is only 28 – is on to her next venture, Shibui. Having given a preview of her menu at a residency at Marylebone's Carousel restaurant, she used bold combinations such as buttermilk chicken and caviar as well as mixing European and Asian influences. The name is taken from a Japanese word, which broadly translates to many things including beauty and simplicity and it's due to open in September of this year.
Join our commenting forum
Join thought-provoking conversations, follow other Independent readers and see their replies