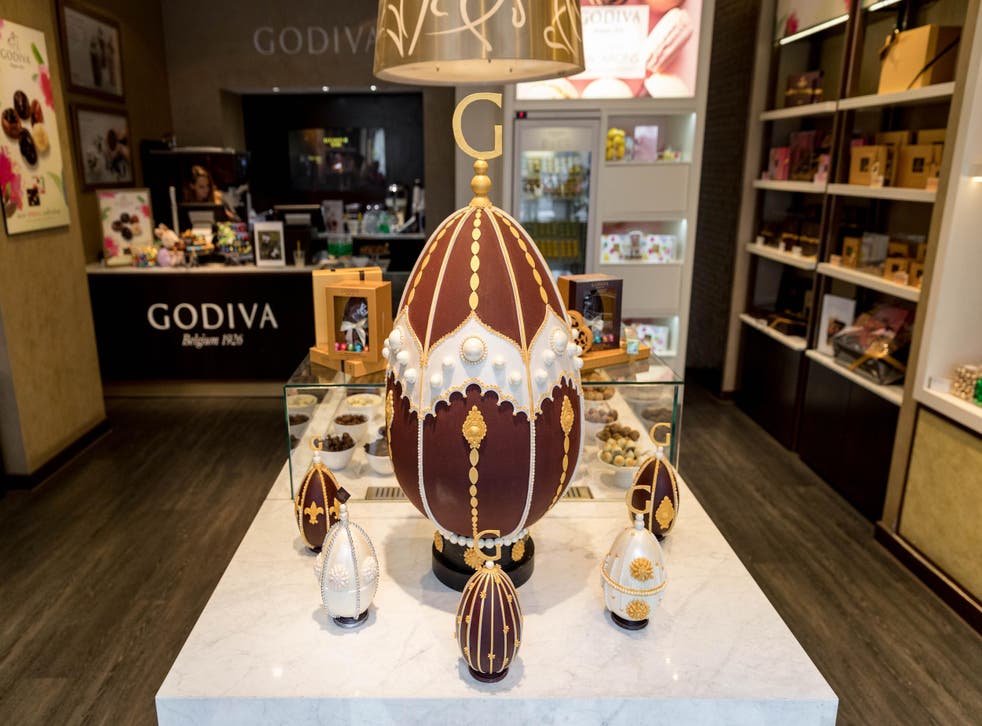 This is what a £5,000 Easter egg looks like
Godiva chef Cherish Finden unveils giant Atelier Easter egg
Luxury chocolatier Godiva's new Creative Development Chef Cherish Finden has created Godiva's biggest and most expensive Easter egg to date.
The gold dust and white chocolate adorned Belgian dark chocolate egg was crafted entirely by hand and weighs a whopping 25kg. It is is accompanied by five 420g smaller Artesian handcrafted eggs and is currently on display at Godiva's central London boutique located at Regent Street.
The £5,000 gold leaf-adorned masterpiece marks Cherish's first Easter with the globally renowned chocolatier.
The one-of-a-kind plush egg took Cherish and her team more than 192 hours to complete.
The show-stopping Atelier egg was handcrafted with edible gold dust and white chocolate pearls, specially made by Chef Finden.
Cherish said, "This is my first Easter at Godiva, and as our Atelier eggs have become something of a tradition, I wanted my first official creation as Creative Development Chef to be something spectacular, and really capture the artistic and premium craftsmanship of the brand.
Godiva chocolatier reveals two tips to taste chocolate better for National Chocolate Week
"For the design, I took inspiration from Godiva's links with Belgian royalty. It's also a big year for the British royal family, so I felt a regal theme was an apt choice."
"Godiva is famed for its intricate artistry, and I think that comes across from the level of detail included in the design, not just in the giant egg but also in the accompanying five artesian eggs – every detail of each has been handcrafted.
"We've been working through the night over the weekend and have even had tools sent over from the Godiva head office in Belgium, to ensure that it was nothing less than a masterpiece," the top pastry chef and TV personality added.
Earlier this month, Godiva announced Cherish's appointment to oversee and lead menu development for its cafés, which will be launched globally throughout this year and 2019.
The star of BBC TV show "Bake Off Creme de la Crème" hails from Singapore. She honed her skills in the best hotels in her home city, including the famous six-star Raffles Hotel and The Sheraton.
She has since won over 25 medals from international culinary events and competitions around the world – and her previous role at the Langham London Hotel saw her take home the prestigious Tea Guild award for "Top London Afternoon Tea" 2010.
Godiva, 141 Regent St, Mayfair, London, W1B 4JA