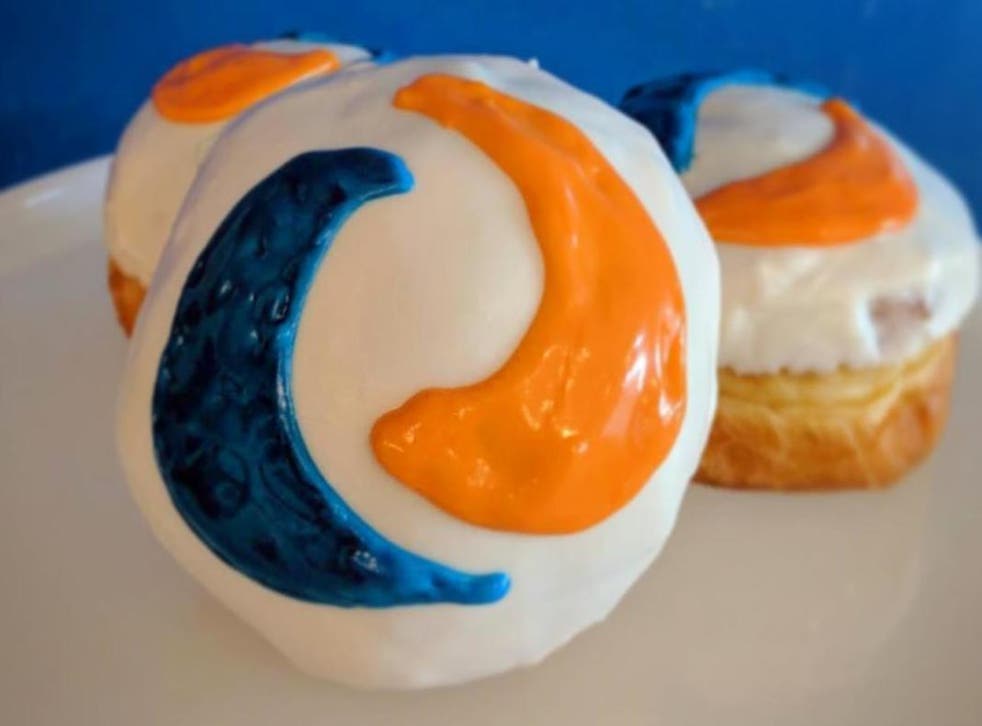 Bakery creates 'Tide Pod' doughnuts as safe alternative to dangerous detergent eating craze
If it wasn't obvious before that eating laundry pods is stupid, it'd better be now
A bakery has released laundry detergent "Tide Pod" doughnuts to teach teenagers the basic principles about what is edible and what is evidently not.
At the beginning of the year, the "Tide Pod Challenge" was sweeping the internet.
It saw teenagers upload videos of themselves attempting to eat Tide laundry detergent pods.
Despite health warnings issued by Tide and the American Association of Poison Control Centres that doing so could result in death, the videos went viral online with many people catching onto the trend.
A bakery in North Carolina has now taken it upon themselves to teach adolescents a vital lesson in how to distinguish between eating real food and consuming substances that can potentially kill you.
Their new "Tide Pod" doughnut is the brainchild of one of their employees, a young woman called Caitlin.
The sweet delicacy is just a regular doughnut that's been decorated with icing to resemble an actual laundry detergent Tide Pod.
Wake N Bake Donuts shared a photo of the new doughnut on Instagram, writing: "One of our Millennial employees (Caitlin) decided to take a moment to teach the youth the difference between what to eat and what not to eat.
"This is a Donut… you can eat this! Tide is for laundry silly."
Since the doughnut's launch yesterday, people have already shared snaps of the "Tide Pod" doughnuts to express their approval in this much safer trend.
Alex Guarino, a news reporter from North Carolina, posted a selection of photos on Instagram, writing: "Don't eat tide pods" and including the hashtag #tidepoddonutsareoktho.
The AAPCC has recently reported that poison control centres have seen a dramatic increase in the number of teenagers ingesting the poisonous substances found in laundry detergent pods.
"According to AAPCC data, in 2016 and 2017, poison control centres handled 39 and 53 cases of intentional exposures, respectively, among 13 to 19 year olds," they revealed in a press release.
"In the first 15 days of 2018 alone, centres have already handled 39 such intentional cases among the same age demographic."
A number of trends have come and gone that, while slightly silly in some people's eyes, were still fun in their own way - the Gangnam Style dance, mass Harlem Shake flash mobs and the flip cup challenge to name a few.
However, when it comes to Tide Pods, stick to the doughnuts. Seriously.
Join our new commenting forum
Join thought-provoking conversations, follow other Independent readers and see their replies