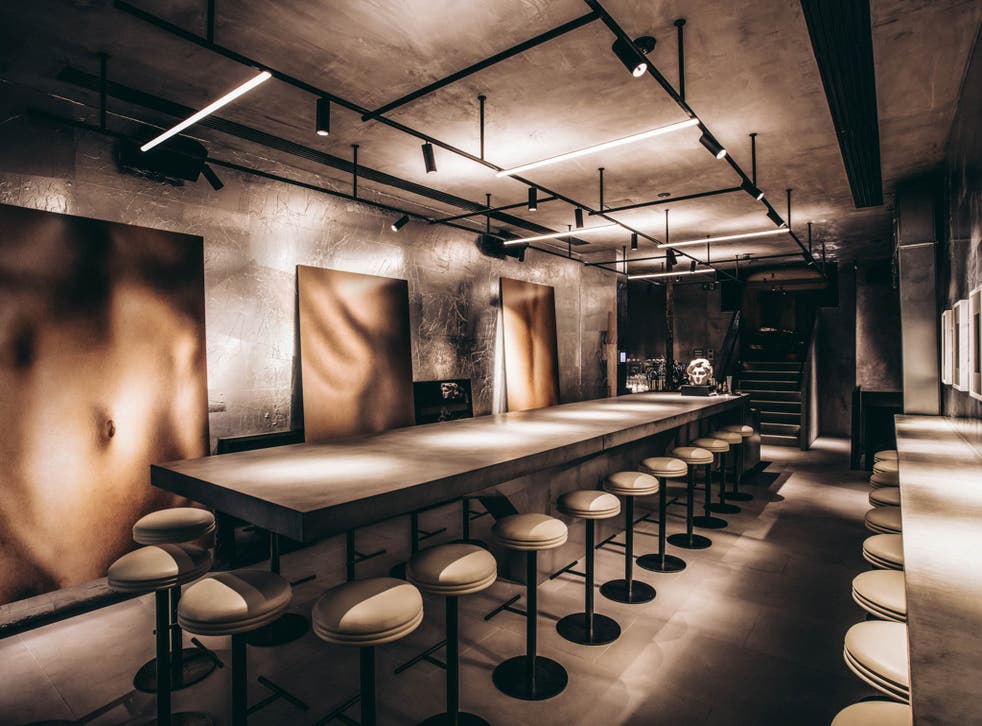 Brunch on Saturday: Untitled Bar brunch review and pig's cheek benedict recipe
This week in Brunch on Saturday, Rachel Hosie visits a bar that nails a boozy offering and give one of our favourite benedict recipes a twist by using pig cheeks
Brunching out...
Untitled is not your traditional brunch spot in that it's first and foremost a bar. This became clear from the off in the shocking revelation that there was no English breakfast tea. No English breakfast tea?! How could we possibly continue? Fortunately there was a loose-leaf black tea which was a fine substitute.
When I visited, it was a sunny morning so we sat outside on the patio on school-style wooden tables and benches. The patio is decorated with a string of chunky bulb lights running round the side must look great at night.
You can of course still have a booze-free brunch at Untitled, but given the cocktails have been created by Tony Conigliaro – owner of the famed Bar Termini and 69 Colebrooke Row – we thought we couldn't possibly not try one – or three – each.
And all priced at £8.90, the cocktails are reasonable (for London) and really inventive, featuring unusual ingredients like white clay, chalk, sour plum infusion vodka verjus, benzoin, pine and black pepper vodka infusions and are beautifully presented. But the Fluffy (gin, watermelon and sake) was our favourite.
Food-wise, the menu is made up of Japanese small plates – think green tea muffins and lots of noodles – and is divided into sweet and savoury.
My friend Ellie and I both started with the Greek yoghurt (£3.50), which was pleasingly thick and a good-sized portion. It was topped with an unusual granola (including puffed rice) which wasn't too sweet, and a sprinkling of dried yuba (tofu skin). I'm not sure it added much but it looked dramatic.
Next up Ellie had the warm buckwheat noodles (£7.50) which were salty but delicious, featuring crispy chicken skin, cured egg yolk and horseradish.
I had the grilled tamari soy avocado (£4.50) which was actually insanely good, hitting all the right umami spots. It was served with a thick slice of soft white toast, with plenty of miso butter so lightly whipped it could've been buttercream. It was certainly an unusual take on smashed avo on toast, and I loved it.
Untitled offers something different to usual brunch spots. The food is delicious and feels quite healthy and light, and won't leave you feeling uncomfortably full afterwards.
And the cocktails? They were really special. So if you can't make it for brunch, make sure you find time to go for a drink – or three.
Untitled Bar; 538 Kingsland Rd, London E8 4AH; 07841 022924; open Tues-Sun; untitled-bar.com
Brunching in...
Smoked pig's cheek benedict
100ml white wine vinegar
8 fresh eggs, at room temperature
8 slices of smoked pig cheeks (or Bath Chaps) –ask your butcher
4 English muffins, halved
Sea salt and freshly ground black pepper
For the Hollandaise
100ml white wine vinegar
2 small shallots, chopped
a few sprigs of tarragon
8 black peppercorns
500g unsalted butter
5 egg yolks
50ml warm water
For the Hollandaise, place the vinegar, shallots, tarragon and peppercorns in a saucepan over a medium heat and bubble until reduced to about 2 tablespoons. Strain and set aside.
Melt the butter in the saucepan and simmer it on a low heat for about 5-10 minutes until it separates. Remove from the heat and allow to coolfor a few minutes. The whey will settle on the bottom leaving the clarified butter on top. Pour off the warm clarified butter and discard the whey.
Put the egg yolks into a rounded bowl with half the vinegar reduction. Place over a pan of barely simmering water, making sure the base of the bowl does not touch the water, and whisk until the mixture becomes light and fluffy. Be careful not to heat the mixture too much at this stage as this will cause the eggs to scramble –remove the pan from the heat if necessary.
Slowly drizzle the warm clarified butter into the eggs, whisking continuously over the heat to form an emulsion. As the sauce thickens you may need to add a little of the warm water if it becomes too thick, before continuing with the butter. Season with salt and pepper and taste to see if more vinegar reduction is needed for your liking. Keep warm until required.
Poaching your eggs
The eggs must be very fresh. If the eggs are older the white won't hold together to encase the yolk. For a tear-shaped egg you need a deep pan of boiling water with about 100ml of white wine vinegar. The vinegar acts to set the white around the yolk. A good tip is to crack your eggs into cups and tip them gently, one by one, into the water. As they drop to the bottom of the pan the white will set on the outside creating the desired tear shape.
To serve
To serve, add the vinegar to a deep pan of boiling water, and poach the eggs as described above –they should take about 2-3 minutes. While the eggs are poaching, fry the sliced smoked pig cheeks over a medium heat until golden and crispy, and toast the muffins on both sides. Place two muffin halves on each plate, followed by the pig cheeks and the poached eggs. Finish with a generous spoonful of Hollandaise sauce over each egg.
Recipe by Stuart Cauldwell at Roast Restaurant
Join our new commenting forum
Join thought-provoking conversations, follow other Independent readers and see their replies