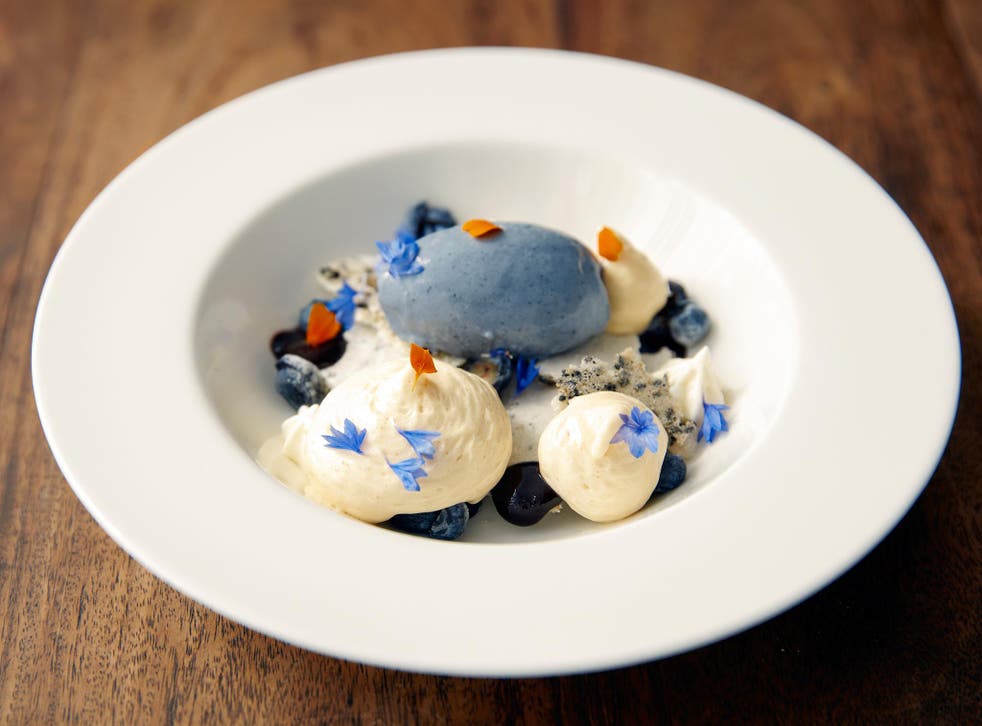 Vanilla Black: The top vegetarian chef who has banned quiche and pasta bake from his restaurant
Vegetarian chef Andrew Dargue talks to The Independent about his restaurant Vanilla Black and its experimental menu 
Chef Andrew Dargue doesn't have the conventional "turning vegetarian story" involving an epiphany about baby lambs and the environment. And his cooking doesn't fit with stereotypes, either.
"I didn't go vegetarian to save the planet. It had nothing to do with animals," he tells The Independent, adding that he does of course care about those things. But he became a vegetarian for more pragmatic reasons. He was working as a chef and lecturing at a catering school when he set up a business producing vegetarian meals for hotels and gastropubs. His wife Donna Conroy had already gone veggie, so he decided to quit fish and meat for a month to see food from a different angle. And he just never started again. That was over a decade ago.
Dague and Conroy then united their unusual, gourmet-food-focused approach to dining to found the restaurant Vanilla Black in York in 2004 and relocated to London four years later.
"Eating meat became alien to me," says Dague. "I used to smoke and when I stopped, the idea of smoking seemed quite strange. Why would I take tobacco leaves and burn them and inhale fumes? The thought of eating the blood of another animal became alien to me and I never went back."
People who ditch meat for good often claim that they feel healthier, stronger, lighter. Not Dague. "Did I feel different? Honestly no," he laughs. "I know that obviously the whole process is doing some good somewhere. I don't feel better or worse but I don't feel weaker, either."
At the restaurant, Dargue shuns stereotypes by creating dishes that are deconstructed, blipped with bright colours and formed into strange shapes. The kitchen is equipped with the foam makers and dehydration machines that you'd expect from a high-end restaurant.
The dishes at Vanilla Black can take weeks and months to develop and perfect. But items on the menu only have short runs, and are never resurrected in their entirety again.
"They feel old very quickly. It's like when you look at a photo of yourself from ten years ago and you think 'did I wear that?!' At the time it was amazing but we move on constantly."
Gourmet vegetarian restaurant Vanilla Black - In pictures

Show all 23
But it took people a while to get used to Dargue's take on cooking. It opened long before veganism and vegetarianism witnessed a 360 per cent spike in popularity in the UK, and people warned Dague and Conroy against opening a meat-free restaurant.
"We found that when we spoke to someone about vegetarian food they didn't want to know. One of my old employers told me the idea was risky. He said we should put some meat dishes on the menu as well. I thought, then it would just be a meat restaurant with a few veg options. What would be the point?!"
So they avoid labelling themselves as a vegetarian and vegan restaurant because of the stereotypes this type of comfort food that draws up. Their website states with tongue-in-cheek defiance: "apologies in advance, no pasta bake or vegetable curry".
If a diner wanted to eat a curry, they'd be best off going to an Indian restaurant, reasoned the husband and wife team.
"We always set out to do the opposite to everyone else," he adds.
To learn more, we asked Dague to explain the inspiration behind some Vanilla Black dishes
Goat Cheese and Fennel Pollen
"This one started out as a cauliflower cheese. But it's too easy to do that. When you think about cauliflower cheese you think about it being sloppy, so we firmed it up with a heat resistant gel. That's why it's a solid piece on a plate. And instead of cauliflower we used fennel. We wanted to refine the idea of cauliflower cheese and bring it up to date. And we wanted to accentuate the flavours of the fennel by using its pollen. You can fennel pollen quite easily, but we have a foraging guy who goes out in the wild to find it. We mixed fennel pollen into goats cheese and milk and set it. We formed the goats cheese and coated it with pistachio. Often, cheese goes with fruit so we wanted something fruit hence the apple."
Fried porridge with wild garlic
"Quite often polenta is served set or allowed to cool and cut and fried with vegetables. We wanted to build on that idea. We took corn maize, cooked it and set it. Instead of using the usual aubergines and peppers updated it with caramelised chicory. Now that dish now has been twisted on our current menu as porridge. We cooked the porridge in oat milk to accentuate the oat flavour. When it's cooked then we fry it to order. The greens are crispy cabbage. The white line is black garlic powder with olive oil which we dehydrated, but when you eat it turns back into olive oil in your mouth."
Sweetcorn parfait, miso butterscotch and peanut butter cookie sweet corn dessert
"What we try to do is make you think. In the UK we are afraid of vegetables in desert. And one of the guys was talking a few weeks ago about sweetcorn in desert and decided it would work because it's sweet and this is the result. On the plate we have a square of sweetcorn ice cream with blobs of sweetcorn parfait and sweetcorn custard with charred sweetcorn and roasted peanuts. We thought that sweet corn is quite Americanised, so that's why we added the peanut butter and peanuts. Under the ice cream is a peanut butter cookie. On the left a piece of cake a peanut cookie dehydrated so it's crispy. To balance the sweetness balance we have miso with butterscotch."
Tomato shortbread with broccoli, gem lettuce and egg yolk
"Quiche is the vegetarian stereotype. One of the guys came in and we were talking about a new dish and he said 'what about quiche?' So we decided to do our own version. The red rectangle is broccoli and tomato quiche re-done. The red rectangle is tomato shortbread, which is like the pastry in quiche. Inside is milk that we've set with a heat resistant gel. With that we have broccoli and charred baby gem lettuce instead of the mixed salad you usually get with quiche. For the dressing we've sprinkled lettuce with vinegar powder. The red blobs are tomato puree which balances the sharpness with the richness of broccoli puree. The yellow squiggles are egg yolks cooked in water bath, set and piped onto plate."
Cucumber sticky rice and ginger puree pickled cucumber ketchup and seaweed
"We took the ideas of a sushi, cucumber and rice. The circle of cucumber in the middle is dressed with olive oil. On the side are cucumbers charred, so they are partly cooked and partly raw with a smoky flavour. We took cucumber for the third time and made cucumber ketchup that is pickled. The yellow circle is the ginger puree because you would have ginger in sushi and cress.
The rice looks a bit like a fish finger. What we did was cooked the rice and while it's still warm we folded in seaweed and rice wine vinegar for the elements of sushi. Then we needed crunch in the dish. We took raw rice, soaked it overnight in cold water, then the next day we drained it off and deep fried it so it is brown and crisp. Then we strained it and pounded it into a powder and put cooked rice around it. So you have the toasted rice on the outside and the soft sticky rice inside flavoured with Japanese flavours."
Andrew Dargue is appearing at Taste of London restaurant festival from 14 to 18 June
Register for free to continue reading
Registration is a free and easy way to support our truly independent journalism
By registering, you will also enjoy limited access to Premium articles, exclusive newsletters, commenting, and virtual events with our leading journalists
Already have an account? sign in
Register for free to continue reading
Registration is a free and easy way to support our truly independent journalism
By registering, you will also enjoy limited access to Premium articles, exclusive newsletters, commenting, and virtual events with our leading journalists
Already have an account? sign in
Join our new commenting forum
Join thought-provoking conversations, follow other Independent readers and see their replies