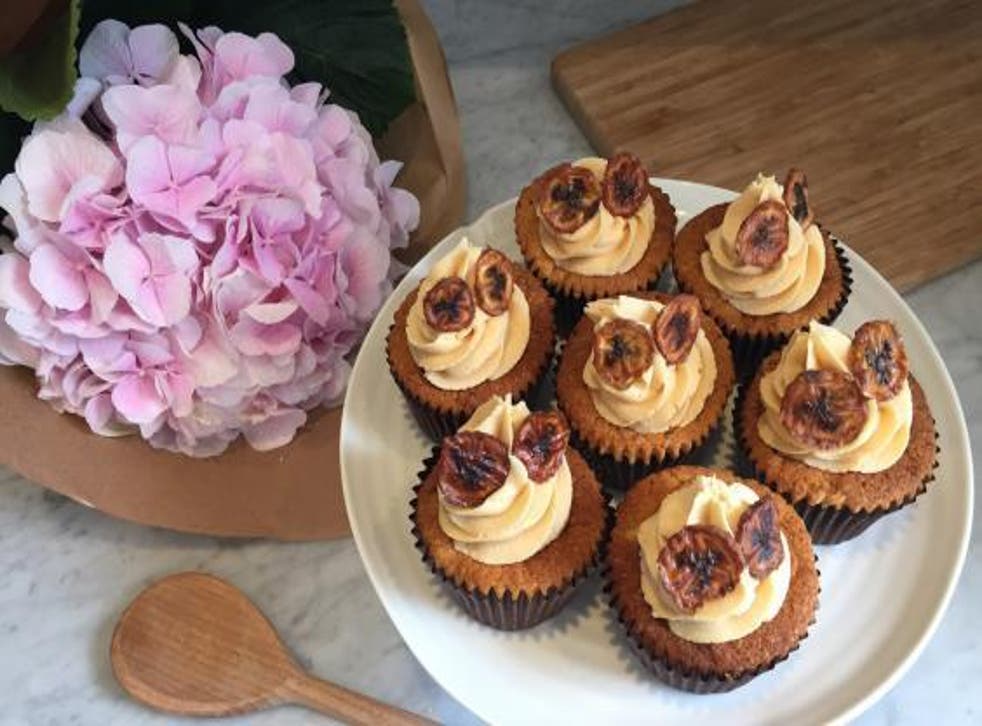 Vegan banana and peanut butter cupcake recipe
This is the perfect treat for vegan cake lovers, says our baking columnist Laura Timson
These dairy-free Banana and Peanut Butter Cupcakes are packed with delicious bananas in a light and fluffy sponge and topped with a delightful peanut butter cream. The perfect treat for vegan cake lovers.
Ingredients (makes 12 cupcakes)
• 240g Organic Self Raising Flour
• 1/2 tsp Baking Powder
• 1/2 tsp bicarbonate of soda
• 140g Organic Golden Caster Sugar
• 240g Dairy Free / Soya Margarine
• 4 ripe bananas mashed
• 1 tsp Vanilla paste
• Peanut butter Buttercream: 200g Dairy Free / Soya Margarine, 750g icing sugar, 100g smooth peanut butter
• Slices of baked banana chips to decorate
Method
Preheat the oven to fan 140C/conventional 160C/ gas 3
Fill a 12 hole cupcake tray with cases.
Beat the Dairy Free / Soya Margarine and golden caster sugar until thoroughly combined. Then add in the mashed banana and vanilla paste and mix through.
Sift the self raising flour, bicarb of soda and baking powder and then add this to the wet mixture above.
Pour the batter into your cupcake cases and bake in the oven at 160c fan for 15 minutes until the sponge is light and springy.
Once cooked take out of the tins and leave to cool on a wire rack.
For the Peanut butter buttercream cream together Dairy Free / Soya Margarine and icing sugar and the peanut butter.
Pipe the buttercream onto the cupcakes and then decorate with the baked banana chips. Delicious!
Laura Timson is the founder of online artisan bakery Laura's London. Follow her on Instagram @lauras_london
Register for free to continue reading
Registration is a free and easy way to support our truly independent journalism
By registering, you will also enjoy limited access to Premium articles, exclusive newsletters, commenting, and virtual events with our leading journalists
Already have an account? sign in