The Independent's journalism is supported by our readers. When you purchase through links on our site, we may earn commission.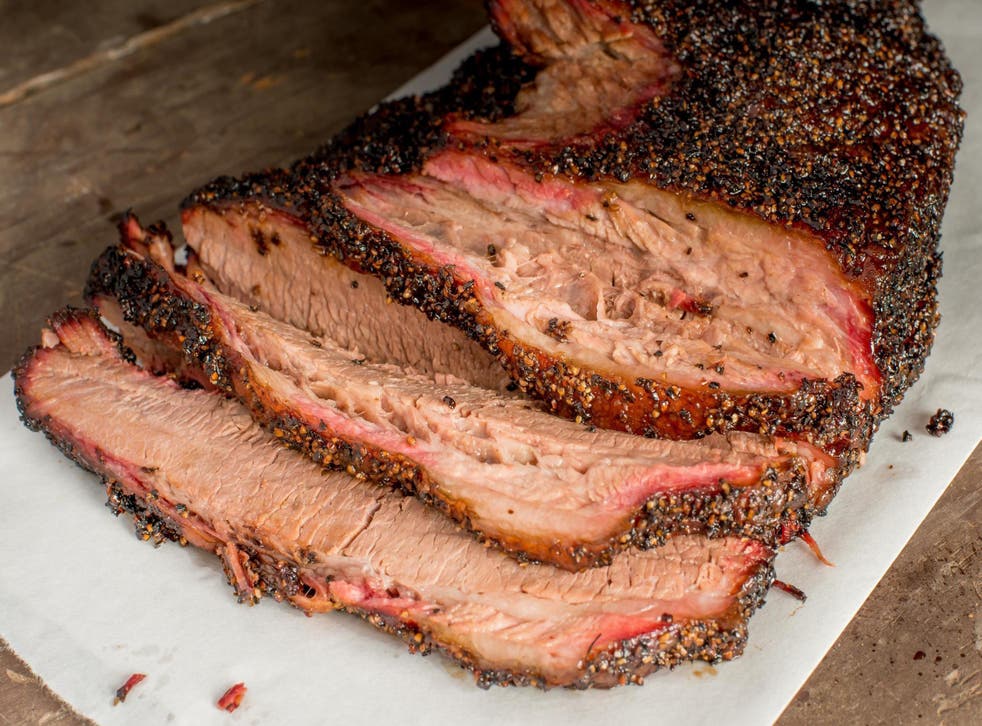 Meat eaters outraged by vegan brisket posted on Twitter
The meat-free BBQ was made from jackfruit and seitan
Chelsea Ritschel
in New York
Monday 17 September 2018 17:34 Comments
Veganism is becoming an increasingly common lifestyle choice - but not everyone is a proponent of meat substitutes, and BBQ purists recently proved themselves to be particularly annoying.
The divide between meat eaters and non-meat eaters was evidenced on Twitter in response to a "vegan brisket" posted by Kevin Biegel that received more than 3,000 likes - with meat eaters responding with disgust and disapproval.
"Vegan brisket experiment was a success!" wrote Biegel on Twitter alongside a picture of his meatless creation. "18-hour smoke over oak. Is it beef? Nope. But the taste/texture are pretty great."
To create the brisket, Biegel combined jackfruit, seitan, miso, beer and BBQ sauce - a combination that resulted in a caramelised crust.
However, despite revealing that he made the vegan alternative BBQ because he'd suffered heart attacks and wanted to eat healthier food "in tune with staying alive," non-vegans were unimpressed and angry.
"Vegans love spending every waking hour trying to make stuff taste like meat," one person responded.
Another said: "I'm sorry but this isn't an alternative form of BBQ," while others called Biegel's creation "disgusting" and "unappetising."
In response to the hundreds of critical responses, many vegans and other vegan-friendly people pointed out the humour and irony in the situation - that vegans are typically the ones considered "obnoxious" about pushing their lifestyle choices and beliefs.
"I encourage anyone who thinks vegans are obnoxious to read the replies to this," one person tweeted.
"Worst part is: he probably likes meat more than most of his haters do, judging by how he tried so hard to recreate the taste even when he's not allowed to eat it anymore," someone else responded.
According to Biegel, who still eats meat occasionally, but knows "it's not the best for me," he still plans on sharing the recipe for the vegan brisket despite the backlash.
We try the UK's first vegan bleeding burger
"I made it! I used a recipe but tweaked it a bunch, I'll post it soon. Great base recipe was from Great Vegan BBQ Without a Grill (though I did use a grill…)" he wrote.
Register for free to continue reading
Registration is a free and easy way to support our truly independent journalism
By registering, you will also enjoy limited access to Premium articles, exclusive newsletters, commenting, and virtual events with our leading journalists
Already have an account? sign in
Join our new commenting forum
Join thought-provoking conversations, follow other Independent readers and see their replies