Vegan burgers outsell normal burgers at Leon as plant-based food surges in popularity
'Vegan and veggie dishes have always been on LEON's menus, but we're now starting to see the market catch up,' says Leon's head of food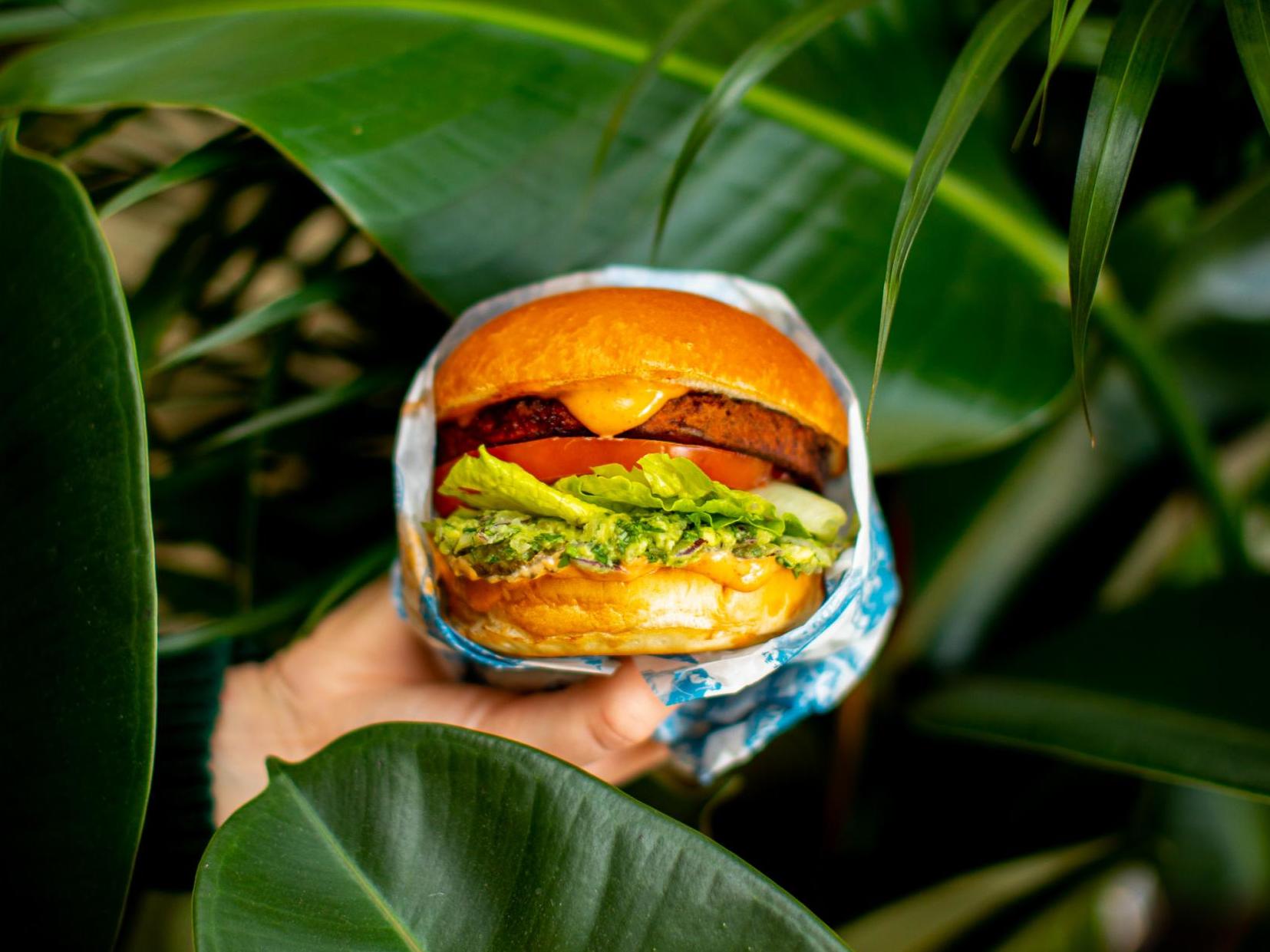 Vegan burgers are now outselling regular burgers at LEON, the healthy fast-food chain has revealed.
Meat alternative products now make up almost 60 per cent of total sales across LEON's 75+ restaurants in the UK, with vegan burger sales surging from 41.3 per cent to 56.8 per cent in 2020.
Figures were high in January 2019, too, when vegan products made up 44 per cent of LEON's total sales, which the chain linked to Veganuary.
Leon's most popular vegan product is its LOVE burger, which is made from a beetroot soya patty that is topped with smoked gouda-style vegan cheese, tomatoes and pickles.
In second place is the chain's new chipotle and avocado burger, which is currently outperforming its predicted sales forecast by 57 per cent.
12 best vegan cookbooks
Show all 13
Meanwhile, a survey conducted by LEON found that consumer habits are swiftly changing when it comes to meat, with 55 per cent of people now eating less meat than they did one year ago.
The survey, which was conducted on 3,000 of LEON's customers, also identified that the main reasons behind reduced meat consumption were health and environmental concerns.
Erica Molyneaux, head of food at LEON, said: "Vegan and veggie dishes have always been on LEON's menus, but we're now starting to see the market catch up.
"Sales of our vegan burgers have really taken off, with more than half of our sales now in vegan and vegetarian dishes.
"It's always been important to offer food that tastes and does people good, and that includes our range of plant-based dishes – bold, full of flavour and that everyone can enjoy."
​News of LEON's success with its vegan products comes after Pret a Manger added 15 new plant-based items to its menu, including a fruity croissant and a smoothie bowl.
Elsewhere in the vegan food sphere, following the wildly successful launch of its vegan sausage roll, Greggs has added a vegan steak bake to its menu.
Meanwhile, new research from Mintel found that almost a quarter of all new food products launched in the UK last year were labelled vegan, while nearly two-thirds of Britons chose to eat meat substitutes.
The market research company also found that sales of meat-free foods grew by 40 per cent to an estimated £816 million in 2019.
But those following a vegan diet still only make up around one per cent of the UK population, the figures show.
Read more about the latest vegan food launches here.
Join our commenting forum
Join thought-provoking conversations, follow other Independent readers and see their replies