Top Tables
Is this the best cheesecake in London?
Kate Ng heads to Vori Greek Kitchen in Holland Park, which claims to serve the best cheesecake in London, to find it out if it really does live up to the hype... and to try some lesser-known Greek dishes along the way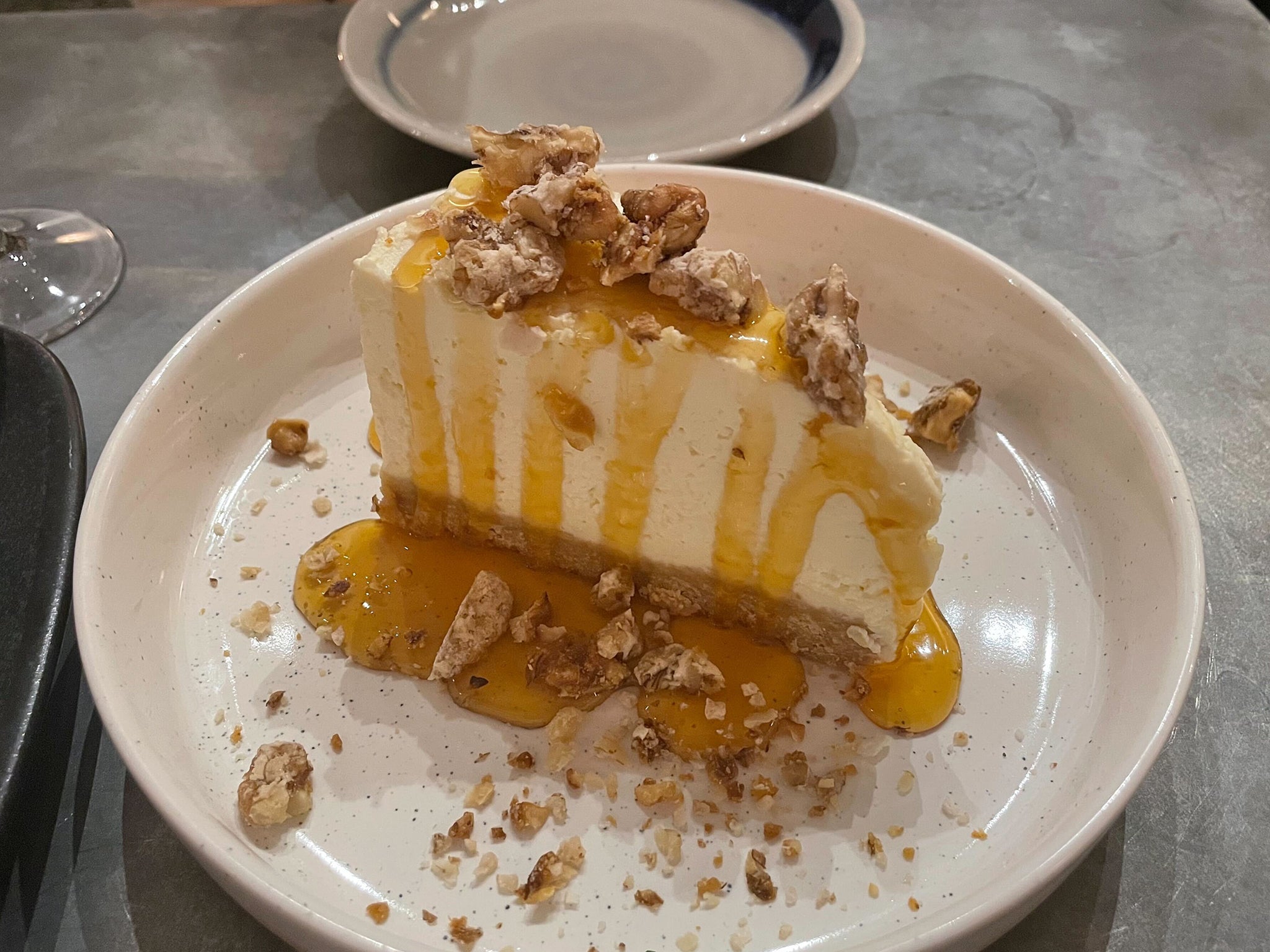 If a restaurant says it serves "the best" anything, I try not to let my expectations get too high. It's a nightmarishly bold claim. Nearly every restaurant in London claims to have the best this or best that, but few meet the bar they set for themselves.
So when the waiter at Vori Greek Kitchen in Holland Park declared they've got "the best cheesecake in London", my guard went up immediately. Not just because of the superlative but also because I adore cheesecake. It's up there on my long list of favourite desserts, second only to sticky toffee pudding. I'm suspicious, to say the least.
Before I deliver my verdict on the cheesecake, I should introduce you to Vori, a Greek restaurant. The cosy venue, with its white walls and blue, red and gold accents, seeks to emulate a quintessentially Greek space. It's a lovely little spot for a good natter, although beware – your neighbouring table can definitely hear what you're saying.
Vori was opened in late 2022 by Markos Tsimikali, who previously ran Hungry Donkey in Spitalfields. After closing the latter last year, he decided to bring a slice of Greece to west London, serving up dishes from a charcoal oven paired with Greek wines and Mediterranean-inspired cocktails.
It's lovely to see some lesser-known Greek plates on the menu aside from the done-to-death dishes Londoners always return to (souvlaki, I'm looking at you). It's clear the restaurant wants to shine a light on different parts of Greece by choosing a variety of dishes from different islands, which I think is a lovely way to learn about where I'd like to visit next.
We start our meal with pan-fried Metsovone cheese, a semi-hard smoked cheese that's crispy and gooey, with a pat of fig jam to balance out the saltiness; gigantes, big luscious butter beans the size of a thumb swimming in tomato and caramelised onions; and melitzana, a grilled aubergine salad from Mount Athos. Each dish is an exercise in balancing savoury and sweet, though all feature that crucial garlicky hit that is essential in Mediterranean dishes.
My dining partner orders the kakavia, described as a traditional Greek fish soup with poached white fish and rock samphire. Hailing from Crete, kakavia is usually served as a stew of various vegetables, fish and herbs, but Vori's is blended into a thick soup with the fish placed on top. The result is somewhat unappealing, and it needed more seasoning – I would have liked for the colourful vegetables to have taken centre-plate instead.
However, I was delighted with my slow-cooked beef shin with a Naxos Graviera aubergine mash. The beef shin was tender and flavoured beautifully with warming spices, melting on the tongue. It's an intensely comforting dish, but the portion is rather bigger than you expect. Sharing is a good shout here, especially if you want to sample the sides of lemon, honey and rosemary roast potatoes and roast vegetables with balsamic honey dressing.
But, to answer the question I'm sure you've been dying to hear, was it really the best cheesecake in London? He also mentioned it was sugar-free. Hmm. We shared a slice of the Cretan cheesecake, which uses Galomizithra cheese, candied walnuts and wild thyme honey. The soft cheese, originally from the island of Crete, is made with sheep's milk and goat's milk. It's creamy and smooth, with that distinct earthy "goatiness" that people either really love or really hate.
This cheesecake is truly delicious. I wouldn't go so far as to say it's the very best in London, but it's certainly up there with the greats. The cake itself has no sugar, which allows the tanginess of the Galomizithra cheese to shine, and is so creamy it coats my tongue and the roof of my mouth. But the gently flavoured thyme honey and crunchy candied walnuts cut through the dense cake. It makes for a perfect pairing.
I may not return to Vori strictly for the savoury dishes, but I would certainly come back for the cheesecake. While I'm there, I may as well try all the other dishes I didn't get to this time around. If my next visit coincides with a beautiful, warm spring or summer's day, I might just be transported to the Greek isles for a couple of hours.
Join our commenting forum
Join thought-provoking conversations, follow other Independent readers and see their replies