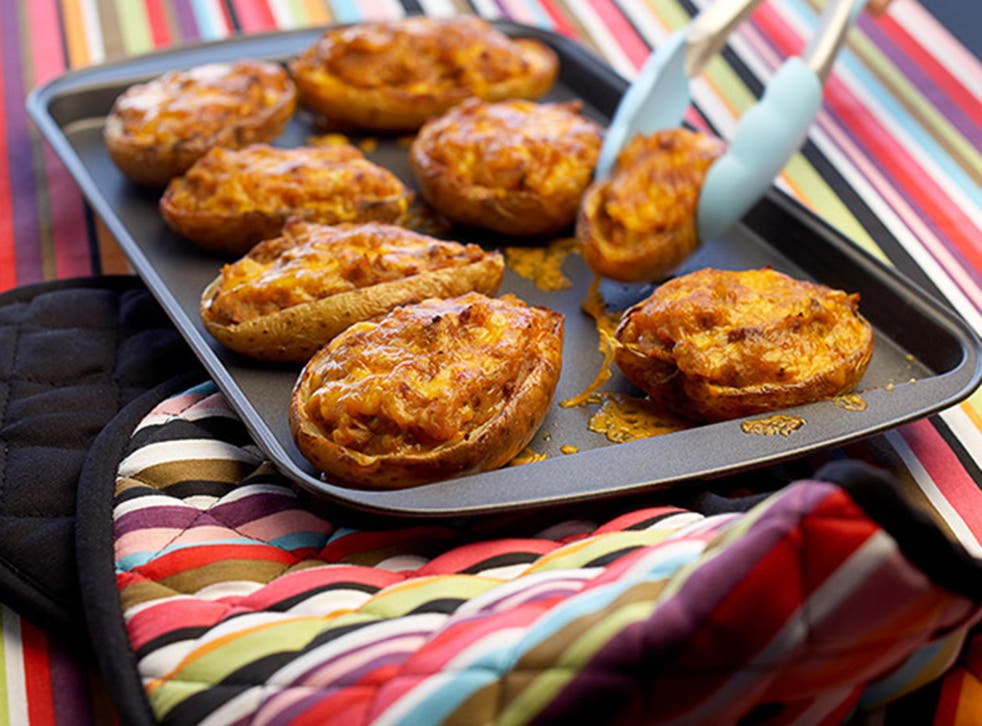 How to make... Welsh beef bolognese in cheesy jackets
If it's a simple, but delicious, recipe you're after, look no further
Wednesday 24 May 2017 13:05 Comments
For a comforting snack or a dish sure to be popular among guests, these cheesy jackets filled with Welsh beef bolognese are the perfect choice.
450g (1lb) lean Welsh beef mince
2 cloves garlic, peeled and crushed
1 onion, peeled, chopped into small pieces
400g can chopped tomatoes
15ml (1 tbsp) tomato puree or 30ml (2 tbsp) tomato ketchup
150ml (1/4pt) beef or vegetable stock
5ml (1 teasp) mixed herbs
Sprinkle of black pepper
4 large potatoes, about 250g each
50g butter
Sprinkle of black pepper
120g grated cheddar cheese
Preheat your oven to Gas Mark 6/200°C. Wash the potatoes and prick with a fork, place on a baking tray and cook in the oven until cooked – they should be soft inside with crispy skins (approx 60-80 minutes).
Place the mince in a non-stick wok or saucepan and dry fry until browned for about 6 minutes. Add the onion and garlic and cook for a few minutes more. Add tomatoes, puree or ketchup, stock, herbs and pepper.
Cook gently over a low heat for 15 minutes. When the potatoes are ready cool slightly, cut in half and using a spoon, scoop out the soft inside into a large bowl. You may need to hold the potato with an oven glove. Mash the potato, add the butter and black pepper. Put a spoonful of the bolognese mixture into each potato skin, mix the rest with the potato mixture and spoon back into the shell. Sprinkle the grated cheese on top of the potatoes.
Pop them back into the oven for 10-15 minutes until they look crispy and golden. You could serve any left over sauce with cooked spaghetti as spaghetti bolognese or cool the mixture slightly to make mini pizzas or bolognese jacket potatoes
For more Welsh meat recipes, go to eatwelshlambandwelshbeef.com
Register for free to continue reading
Registration is a free and easy way to support our truly independent journalism
By registering, you will also enjoy limited access to Premium articles, exclusive newsletters, commenting, and virtual events with our leading journalists
Already have an account? sign in
Join our new commenting forum
Join thought-provoking conversations, follow other Independent readers and see their replies