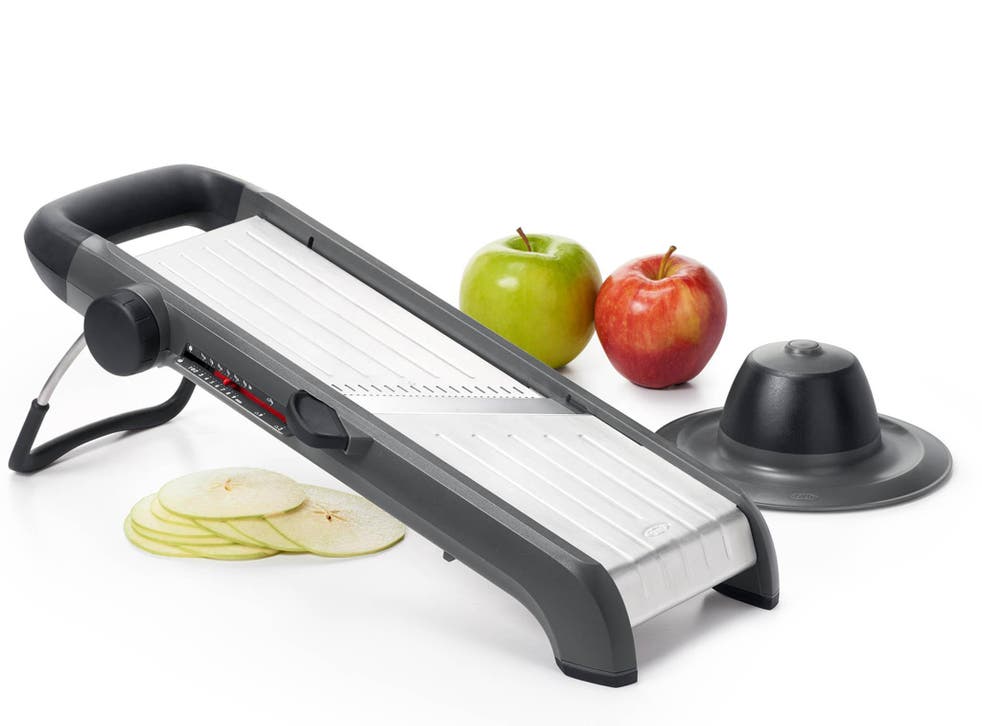 Why we should be swapping knives for mandolines
Why use a mandoline when we have knives? And the answer is... consistency!
For years, I kept a professional steel mandoline safely stored in the deepest, darkest recesses of a cabinet. That's where it remained hidden until I finally gave it away to a cook who is more intrepid than I. Because the truth is that every time I thought about using it I pictured that razor sharp blade and my fingers and I realised how attached I am to my ten digits. Do an internet search "accident with mandoline" and you'll see what I mean.
So was I ready to face the fear and do it anyway? Maybe. Probably.
First things first. Why use a mandoline when we have knives that are perfectly capable of slicing vegetables? The key benefit of a mandoline is that it allows you to create incredibly thin and consistent slices. With a knife, you move the blade through the food but with a mandoline, the process is reversed – you move the food across the blade. Each slice is exactly the same size as the last. You can adjust the blade setting as well so you can control the size of the cut, taking it all the way down to wafer thin slices.
Imagine you're making scalloped potatoes. With a mandoline, you can slice the potatoes as thin as you like and each slice will be the exact same thickness as the last. You'd be hard pressed to get those results with a knife unless you are a real expert. Most mandolines also have different cutters so you can create ripple cuts, ribbons or gaufrettes (gaufrette means "waffle" and that's exactly what the finished cut looks like.)
The traditional mandoline is a French-style piece of kit made of nickel-plated stainless steel with blades of high-carbon steel. You adjust the depth of the cut with levers so you get the exact thickness you want. Typically, it has legs on one end, so it stands up, forming a triangle with the slicing surface at an angle. When you're finished it can be collapsed back down and stored away.
There are also models that look like a cross between a traditional flat grater and an old-fashioned washboard. You hold these with one hand and run the food across the blade with the other. Typically these models features a stainless blade housed in a plastic casing or wood.
This all sounds great, so what's the downside? True, traditional mandolines come with a handguard to reduce the risk of fingers and blade becoming overly friendly. But if you don't use the guard or the food you're slicing doesn't fit the handguard and the food slips, then you're in trouble.
I decided to dip my toes (and hopefully not my fingers) in and opted for a modern plastic and metal version. Oxo Good Grips – the kitchen gadget guys – have a new Chef's Mandoline Slicer 2.0 model which I tried out. The first thing I noticed is that both the handle and the legs have a non-slip grip so you can hold it securely plus the legs won't move on your work surface. The legs also snap into position so there's no danger that they'll collapse back down while you're using it.
The slicing blade is loaded into the machine – one side is smooth for straight cuts while the other side is wavy for crinkle or waffle cuts. On the side of the mandoline is an adjustment knob so you can select the thickness from 1mm to 9mm plus there is an option to indicate if you want to make waffle cuts or julienne (ie French fry) cuts. It also comes with a very clever spring-loaded food holder (it looks a bit like a flying saucer) which covers the food and holds it securely in place so your fingers don't come near the blades.
There is no set-up so within a minute I was making paper-thin slices of cucumber, quickly moved on to crinkle cut potatoes and then gave the waffle cut a go. I thought making gaufrettes would be complicated but you simply choose the "waffle" setting and turn the food holder 90° between slices. The mandoline does the rest. It retails for £70.
I emerged rather chuffed and best yet, with all fingers looking exactly the way they did at the start, which was a major victory in my book. Best yet, it was easy to clean – the body is dishwasher safe on the top drawer while the blade should be hand washed. It's now back in my kitchen cabinet but in the front rather than the back, so there won't be any hesitation next time.
Join our new commenting forum
Join thought-provoking conversations, follow other Independent readers and see their replies