The Independent's journalism is supported by our readers. When you purchase through links on our site, we may earn commission.
Wines of the week
9 bank holiday BBQ wines to pick up on the high street
For the last hurrah of the summer, raise a glass with these affordable bottles from your local shop, says Terry Kirby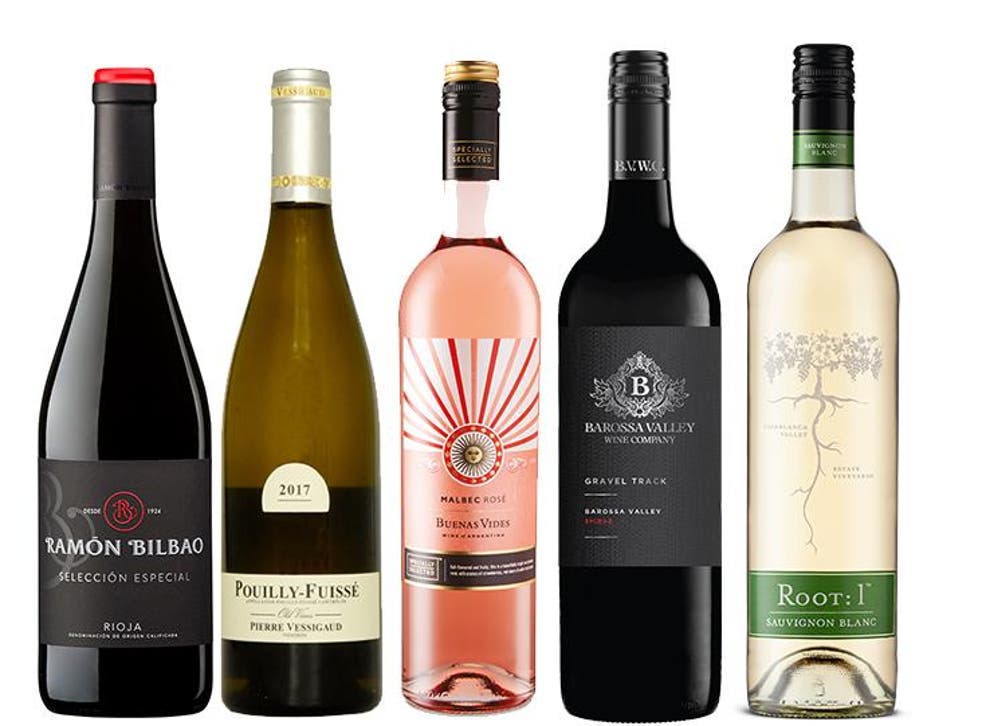 So, the last long bank holiday weekend of an extraordinary summer. Although some of us will continue with the semi-lockdown/working from home lifestyle that has been our world for the past few months, for many, life will definitely begin to return to normal or the new normal, as schools around the UK continue to return, more offices and businesses reopen in various ways and our horizons widen more.
And we can now, just about, visit our local cafes and bars and restaurants. But, it's probably the last chance for a while for a bit of carefully socially distanced garden entertaining, to fire up the barbecue or the pizza oven and hope that the rain of the last couple of weeks holds off.
And since it's Saturday, there's no time to order in from your favourite online supplier, so it is down to grabbing your mask and sanitiser and heading off to the local supermarket to stock up on food and choose some wines, whether its only a few sausages on a disposable barbecue or a more elaborate garden meal, using your massive gas-powered outdoor cooking machine.
A couple of budget sparklers first – and yes, it is always the right time to pop a cork to get proceedings off to a proper start. Aldi has an excellent range of cheap sparklers and proseccos, including the very simply named Organic Prosecco (£7.99 aldi.com) which is, er, organic and light and frothy and very dry and simply does the job it is supposed to: liven and refresh the palate and appetite.
If you are a bit prosecco'd out, try one of the very many excellent Cremants that are now popping up everywhere. The Tesco Finest Cremant De Limoux Rose Sparkling (£12.00 tesco.com) hails from the Limoux area of the Languedoc in southern France which produces great sparklers as well as still chardonnay. The grapes here are chardonnay, chenin blanc and pinot noir and this is made in champagne style, bottle-aged to give depth and has lovely fresh red berry fruit flavours; pink perfection ideal with any kind of fish.
Talking of pinks... if the weekend does turn out to be hot, then some gluggable roses are in order. If you are in Morrisons, pick up a bottle of the lovely Le Provencal Cotes Du Provence Rose 2019 (£8.25 morrisons.com) which is a classic light pink, orange and herb scented, very dry Provencal rose, shapely bottle included; brilliant with any lighter food and grilled fish like prawns, sardines or mackerel, even better if there is a bit of spice like a harissa marinade in the mix. If your tastes run to a much more full bodied rose, while you are picking up that prosecco, try Aldi's Specially Selected Malbec Rose (£6.49 aldi.co.uk) which has a deep pink colour and is suitably full and fruity in style, with intense flavours of strawberries and white peaches.
If you are looking for a white to accompany some baked or grilled fish, the Root:1 Sauvignon Blanc 2019 (£7.75 morrisons.com) is a lovely Chilean take on sauvignon blanc – very typical grassy, citrus, palate tingling flavours, given a bit of added depth and oomph from Casablanca Valley pre-phylloxera vines. If you are looking for something a bit more special for your entertaining, perhaps to go with some chicken, pork or prime white fish, a newcomer at Marks & Spencer is the Pouilly-Fuisse, 2017 (£18.00 Marks & Spencer stores only) which is a classic Burgundian chardonnay from the Maconnais – rich, rounded and mouth-filling, with judicious oak and the limestone soils delivering clean citrus and stone fruit flavours.
Now to some reds, which are really the go-to bottles when your meat is nicely charred and smoking on the grill or the chicken turning on the rotisserie. The Ramon Bilbao Seleccion Especial 2017 (£9.99 or £8.99 if bought as part of mixed six bottle purchase, majestic.co.uk) is simply a great all purpose youngish rioja from a reliable producer, packed full of those red berry, black cherry and tar and tobacco tastes; very easily approachable and drinkable.
If you want something a bit lighter and juicier, but still with enough about it to match those smoky meaty flavours, then the Sorcova Pinot Noir (£7.79 waitrose.com) is well worth checking out. From the productive Romanian winery of Cramele Recas, it's a companion bottle to the pinot grigio I recommended last week and while it's nowhere near a traditional pinot noir, it's a lovely, juicy little wine, that needs a little chilling to bring out the best in the dark fruit flavours; ideal with some grilled lamb.
Finally, the Australians know a thing or two about barbies and a big Barossa shiraz is often their first choice for steaks or perhaps a leg of lamb. There are plenty out there in the supermarket shelves, but a notable newcomer is the Barossa Valley Wine Co Gravel Track Shiraz 2017 (£13.00 Co-op stores) which has enough bottle age to mellow out the often raucous shiraz allow the plummy, blackberry, brambly fruit flavours to come to the fore, with lovely notes of chocolate and lots of black pepper with hints of violets in the background: all the classic shiraz traits. A great wine for a last of summer event and with the kind of flavours that remind us that autumn might just be around the corner...
Join our new commenting forum
Join thought-provoking conversations, follow other Independent readers and see their replies