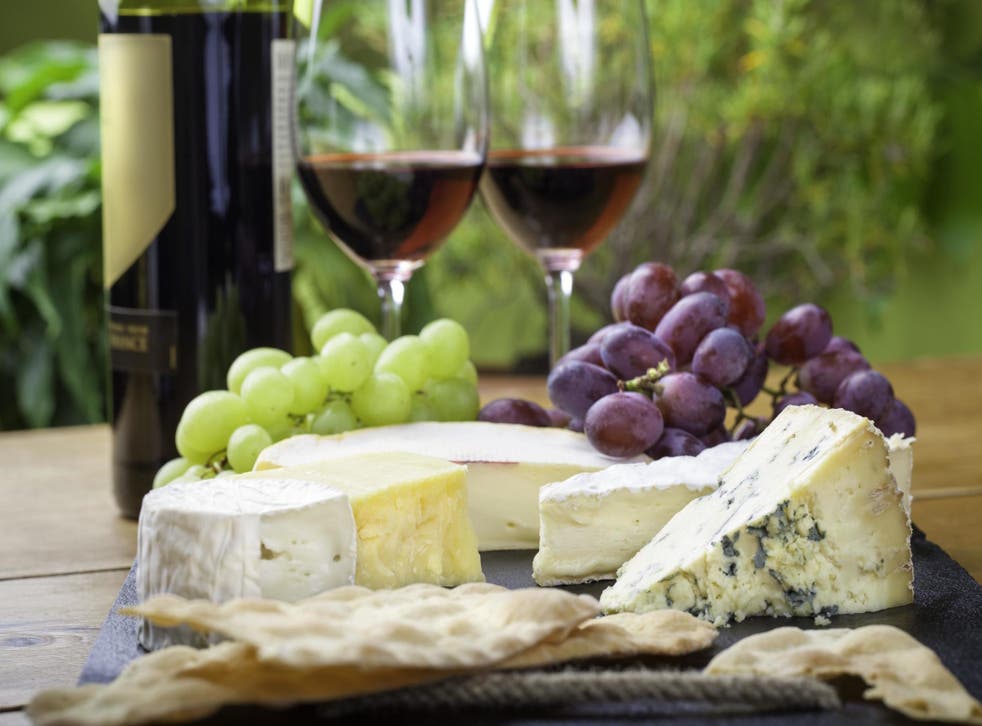 Guide to pairing fine wine with cheese and an introduction to sweet whisky
Your ABC guide to cheese & wine
In this week's column from drinks writer Adrian Smith, we're all about wine. Join us as we explore everything from Sauternes-finished whisky to South African rosé. We continue our vino voyage with your ABC guide to wine and cheese, courtesy of cheese expert Dan Belmont, before finishing up on our favourite wine storage gadget and one of the most beautiful winery mountain retreats in Spain.
Wine in the Spotlight: Babylonstoren Mourvedre Rosé 2018
The summer sun may be dwindling, but that doesn't mean the rosé should stop being poured. Our latest discovery took us to a country where admittedly, we've not explored as much as we should, especially when it comes to the pink stuff.
With rosé, we tend to struggle if there's not enough flavour and 'weight' to the wine, which is probably why this has become one of our favourites. The glass oozes with fresh strawberries and raspberries to the point you can smell it across the table. When you actually take a sip there's a wonderful balance of freshness from the acidity but also a creamy strawberry yoghurt which seems to wrap itself around the mouth and give you that kick of juicy flavour you've been longing for. All-round, the complete opposite of a 'weak' rosé and one we're happy to advocate.
If you're one of those people who likes to pair wine with healthy meals, good news, this goes perfectly with all kinds of fish, especially salmon. Sushi fan? Sorted. Low and behold' it even holds up against salads too. It's a win/win people.
Moral of the story, we're so impressed we just booked a trip to South Africa (and of course to visit the stunning Winery Hotel of Babylonstoren).
Buy now for £18 from Babylonstoren
Spirit in the Spotlight: Glenmorangie Nectar D'Or 12-year-old
As both wine and spirit lovers, it always excites us to find a tipple which entwines both worlds into one. Enter Nectar D'Or, the elegant Glenmorangie whisky that is finished in Sauternes casks to give it a truly unique flavour profile. Glenmo' is no stranger to bespoke cask finishes and this is up there with one of my favourite whiskies on this marble of ours.
This whisky itself has an incredibly dense mouthfeel, almost like syrup – there's so much weight and within that weight, even more flavour. A quick whiff gives you candied orange peel, coconut and raisins with rich spiciness and baked apricots. The sauternes casks used for finishing really have an impact, which sets this gem out from so many other whiskies on the market.
When it comes to the actual taste there's an abundance of spice, cinnamon and crunchy toasted almond flakes with a slight citric kick. All this combines with a dried apricot, vanilla custard and final blast of kinder egg with a touch of spice. It really is an adventure and we couldn't rate this beauty highly enough.
Buy now for £55 from Master of Malt
Your ABC Guide to wine and cheese with Dan Belmont
A good pairing should feel like funny math — we want one plus one to equal three. The elements should combine together, and transform into something greater than the individual components.
With a focus on balance and texture, these five go-to wine & cheese pairings will tantalise the taste buds of even the most discerning foodie.
Fresh Goat Cheeses & German Riesling
This pairing is all about texture. Rich, creamy, palate-coating goat's milk cheeses explode on contact with the lush acid of a Dry German Riesling, and finishes fresh, bright and gearing you up for more. A bit of residual sugar won't hurt here either. Think peaches and cream!
Cheese: Any fresh Chèvre will do, or kick it up a notch with Ash-Rind cheeses from the Loire Valley (Mons Cheesemongers)
Taleggio & Italian Whites
Taleggio is a classic cow's milk cheese from Northern Italy. The cheese is "washed" in brine which makes for some exciting flavours - boiled peanuts, mushroom and even some tropical fruit. Try it with Italian whites like Soave & Gavi di Gavi. The bright acidity will transform flavours for a distinctly Italian pairing. Slice some fresh pears and you're picnic ready.
Cheese: Taleggio DOP (Tesco, Gastronomica)
Farmhouse Cheddar & Argentinian Malbec
When balanced, Malbec has the exciting ability to be fruity and savoury at the same time. A great cheddar can have the same duality balancing earthiness and sweet spices. The dark fruits dance with the notes of browned butter for a velvety experience.
Cheese: Mrs Quickes (Waitrose, Neal's Yard Dairy)
Aged Sheep's Milk Cheeses & Red Rioja
Sheep's milk is richer in fat and protein than that of cow's or goat's - so it's no wonder that cheeses like Manchego are such crowd-pleasers. Take advantage of that richness and pair with bolder wines. An oaked Rioja with soft tannins will do nicely. Now you're in serious pairing territory.
Cheese: Semi-Cured Manchego (Waitrose, Brindisa)
Stilton & White Port
Surely you've had Stilton & port before, but the increased acidity and bright fruits in a White Port will make for a less cloying end to your meal. It's a contrasting pairing, the sweetness in the wine balances the salty and spicy notes in the Stilton - making it exciting for your palate.
Cheese: Colston Bassett Stilton (Neal's Yard Dairy)
Gadget in the Spotlight: SommelierSet by Miele
If you're a self-confessed wine geek, love the finer things in life or simply just want to get your hands on the best device for storing your wine, you'll like this one. A few years ago, we discovered Miele, the home goods company that produces everything from futuristic ovens to robot vacuum cleaners. It wasn't long before we spotted their "SommelierSet Conditioning Unit" and let's just say our lives changed after that moment.
Beautiful is an understatement and it's moments like this we allow our self-confessed wine nerdery to get the better of us. With three temperature-controlled sections, you can store your sparkling, red and white at the ideal temperatures without having to compromise.
You can completely customise the shelving to get larger format bottles in, or pack as many as you possibly can in. Then there's the SommelierSet, a one-of-a-kind presentation unit that slots snugly into the middle section. Within this you can store glasses, decanters or present bottles that are about to be poured. There's truly nothing as glamorous on the market right now.
Call us simple-minded but one of our favourite features is the ability to write on slate boards with chalk to identify which wines are on which shelves. Personally, we enjoy writing "DO NOT TOUCH" on the majority to keep curious hands from popping the corks on our stash.
Support free-thinking journalism and attend Independent events
There's a plethora of other benefits including UV protection, anti-vibration and finger-touch controls.
While it's not the cheapest thing we've featured before, every now and again we like to push the boat and showcase something that albeit on the higher-end, has really impressed us and made a significant difference to our wine world. If it's within your price bracket or perhaps just a little over – honestly, it's worth it.
Thirsty Travels: Castilla Termal Monasterio de Valbuena
In the heart of Ribera del Duero sits a tranquil gem, steeped in rich history and cultural charm. This 12th century monastery, now 5-star hotel is a true emblem of what happens when Spanish countryside and relaxation combine. Surrounded by vineyards on all sides, it doesn't take long to get lost in its 18,000 sq metres of zen.
The property has a strong focus on food and wine, which is why you'll quickly notice a plethora of spice lots and vegetable gardens on the property. If gastronomy is important to you, you're in good hands. Wine also takes a central focus as wine is produced from the surrounding vineyards each year.
The Ten Best Sparkling Wines

Show all 10
The spa is another story altogether, with thermal pools renowned for their healing properties acting as the centre of the experience. 2,000 sq metres sit within the untouched architecture of this 12-century gem as you close your eyes and think about what once took place within the confines of these walls, your chilled glass of white within easy reach throughout.
The best part is the value, with rates starting from around £100 per night, you can indulge in 5-star luxury without the exuberant price tag. This is the perfect escape for people who want some local exploration of the vines while taking advantage of one of the best spa properties in Spain. Local produce, local wine, local charm. There's a reason this hotel is highly-regarded.
Join our new commenting forum
Join thought-provoking conversations, follow other Independent readers and see their replies