The Independent's journalism is supported by our readers. When you purchase through links on our site, we may earn commission.
Wines of the week
The white wines to drink for a sultry August
In true British spirit, one minute it's a heatwave and the next it's storms and gusty winds. So now is the time for easygoing whites, from classic sauvignon blancs to Australian viogniers, says Terry Kirby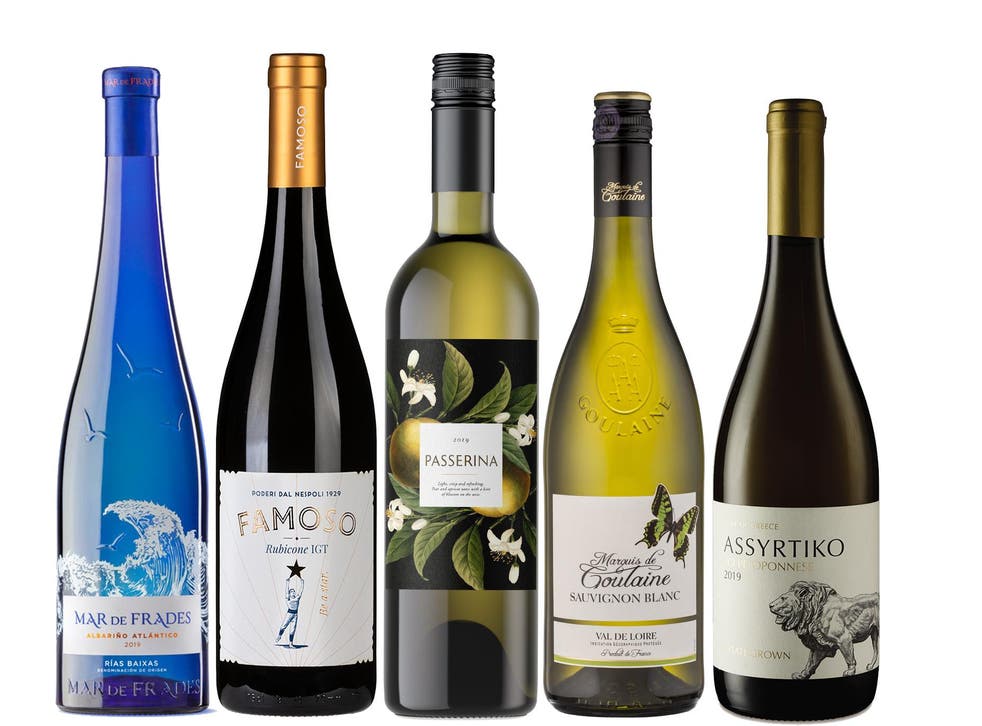 Been a bit hot hasn't it? And a bit wet more recently. Even though the storms over the last week broke the intense heatwave, the humidity has been high in many parts and the air often heavy.
At times, the thunderstorms are tropical in nature. So what to drink in this sultry but changeable weather, hot and wet at the same time, weather than can dampen the appetite and dull the palate? Well, if you have followed my advice over the past few weeks, it should have been lighter reds in the fridge door and pinks at almost freezer temperatures.
So, now for some more aromatic and refreshing whites, ones that don't just quench our thirst, but also have enough about them to rejuvenate those dulled palates and revive our appetites. And these are easygoing wines for lazy, late summer days, ideal for when it stops raining, for gardens and picnics and, with a couple of exceptions, bottles that will give you great pleasure for under £10.
Firstly, a brace of new budget wines from Marks & Spencer which derive from less well-known Italian grapes, both of which are real finds. The Famosa Rubicone IGT 2019 (£8 M&S stores only) is grape from Italy's Emilia Romagna region which was rediscovered only a decade ago: and it's odd that it has never achieved prominence before because it is a real find: fullish on the palate but unoaked, with floral aromas and flavours of jasmine and mango.
The Passerina 2019 (£7 M&S stores only) is a rare grape local to the Marche region, but like the Famosa, it has got real individuality: again it is fullish on the palate with floral notes with a flavour palate that leans towards apricots and limey citrus. Both grapes have a bolder profile than a lot of other mainland Italian white, such as pinot grigio and will match fuller flavoured fish dishes as well as salads and lighter cheeses. Speaking of white, here is a fabulous pinot grigio from Romania's reliable and remarkably productive Cramele Recas operation, all zesty, refreshing, light citrus and jasmine flavours and at the price, the Sorcova Pinot Grigio (£7.79 waitrose.com) is something of a steal.
A really good, all-purpose fridge door white, one to grab after a hard day on Zoom. Aldi also has a couple of excellent new whites in their summer range, both of which come highly recommended: the South Eastern Australia Kooliburra Viognier 2019 (£6.99 .aldi.co.uk) is a really good value viognier, with typical new world punchy peachy honeyed flavours, while the Assyrtiko 2019 (£9.99 aldi.co.uk) is a classy bottle indeed. Very dry, with crisp and bracing minerality and complex and enticing citrus flavours, from grapes grown in the northern Peloponnese. Ideal with grilled sardines or mackerel on the barbecue.
Sauvignon blanc is of course among the very best grapes for reviving a jaded palate and the Marquis de Goulaine Sauvignon Blanc 2018 (£9.79 baythornewines.co.uk) does not disappoint: it's the restrained, Loire style in its original home: good minerality, some herbal, grassy touches, plenty of gooseberry flavours and some riper tropical fruit in the background – a lovely refreshing wine for a humid evening. Staying in France and moving to the southwest and the remarkable Plaimont co-operative, which specialises in reviving obscure grapes, has the Les Vignes Retrouvees Saint-Mont 2018 (£11.49 gustowines.co.uk) the name itself translates 'the rediscovered vines' and the grapes here in question are the local gros manseng, courbu and arrufiac and the result is a blend of floral aromas, exotic and intense tropical fruits and a lovely clean, but long finish.
Probably more one for the dinner table than the picnic rug. And certainly I'd drink the next wine at a special occasion, say the first socially distanced dinner party for a while: the attractively bottled Mar des Frades Albarino Rias Baixas 2019 (£18.95 greatwine.co.uk) is a fabulous wine – redolent of waves crashing on rocks and a whiff of salt spray in the air – hailing from the Atlantic-facing Rias Baixas area of northwestern Spain and made by exciting winemaker Paula Fandino, it is an enticing and complex combination of salinity, tropical fruits like lychees and mango and grassy citrus flavours, all brilliantly mineral clear on the palate. Guaranteed to liven anyone's taste buds and a lovely wine for a grilled prime Atlantic fish, such as a turbot or sea bass, eaten indoors or out.
Join our new commenting forum
Join thought-provoking conversations, follow other Independent readers and see their replies